What Are You Missing? April 3-16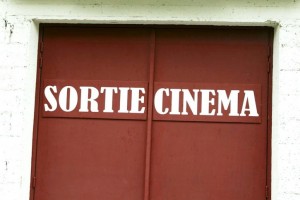 Ten (or more) media industry news items you might have missed recently:
1. Theater owners have responded angrily to the studios' premium VOD plans, with AMC Theaters issuing vague threats and some predicting theaters would curtail in-theater advertising for films with VOD deals, which one investment bank says gives theaters a leverage edge (a intriguing issue to debate), plus theaters now have James Cameron on their side. Meanwhile, theaters are turning to other forms of entertainment to fill seats, plus some better food, but they're also saying goodbye to projectionists.
2. Dish Network bought Blockbuster, for some good reason, I'm sure. Redbox says research shows that discs will still be the dominant home media format at least until 2015 (seems possible that legal issues with streaming will still be mired in legal arguments then too), and Best Buy says the DVD rental delay has helped sales. MG Siegler argues that Blockbuster's problem wasn't the decline of physical media but resting on its laurels as Netflix invaded, a lesson even the biggest of companies today need to heed. Comcast must have read that, getting up on its haunches amid claims that Netflix dominates digital movie distribution, while some indie studios are getting wary of Netflix's treatment of their films.
3. AOL has once again been unceremoniously awful to writers, this time in gutting Cinematical, thus bringing about the end of an era. The Academy of Motion Pictures Arts and Sciences says it's starting a new era with a revamped executive structure, with former Film Independent head Dawn Hudson installed as CEO. And conservatives are yet again trying to forge their own era within Hollywood, but Hollywood's just worried about targeting the mere 11% of us who attend movies frequently.
4. We were told Guitar Hero was dead; apparently it's not, it's only mostly dead. GameStop is trying to keep from dying by forging new digital distribution options, while EA Sports is enabling cloud-stored profiles for all of its games. Also new in gaming is an MTV videogame division for tie-ins with Spike and Comedy Central shows (Colbert-Stewart Mortal Kombat!) and an entry point into the Grammy Awards for videogame music, though Alejandro Quan-Madrid questions the implications of this change (and other Grammys changes are being decried). Finally, the FBI has its eyes on gaming fraud, shutting down three major poker websites with indictments and raiding a college student apartment over virtual currency fraud that might even tie in with terrorism.
5. Music labels and services continue to argue: Amazon insists its cloud service will pay off for labels (and Amazom is totally reputable these days); Spotify has put limits on its free music, which it will similarly have to do once it comes to the US any day now; and Google's just about ready to give up altogether. Maybe Perry Farrell can save us all. Meanwhile, music sales haven't been quite as terrible lately, and the bids for Warner Music suggest optimism, but stats showing that kids don't like to pay for their music are surely cause for concern. Bonus link: a Nielsen study on global music consumption.
6. Internet advertising had a record year last year, and search marketing is expected to grow this year. Bing is claiming an increasing share of the search market (apparently taking away from Yahoo and not Google), while check-in services may decline in 2011. And Congress has plans to meddle with the internet, including on net neutrality, internet sales taxes, and privacy. Looking back, Reuters takes an in-depth look at where News Corp went wrong with MySpace.
7. YouTube draws in more viewers than Netflix, but Netflix keeps them there for longer, and Mark Cuban insists that Netflix is hurting YouTube. Google is thus reorganizing YouTube into more a of TV viewing experience, fostering live streaming partnerships, adding a stage for live performances, and supporting new-generation studios. YouTube is also getting all schoolteachery with copyright violators.
8. Fortune digs deeply into troubles at Twitter, and others agree the service is headed for trouble, but Twitter's co-founder responds that this is just the press finally getting around to a predictable backlash, and changes are being made, plus Twitter is still growing. A serious competitor may be on the horizon, though.
9. We're not done with the Winklevii yet, as the twins lost an appeal ruling but vow to keep fighting. That other guy is still going after Zuckerberg for Facebook ownership too. Facebook is ignoring all of this, too busy with counting its increasing ad revenue and forging ahead with apparent plans to conquer China, but Kai Lukoff says Facebook needs to heed lessons from MySpace's China failure.
10. Some good News for TV Majors links from the past two weeks: AMC & OLTL Cancelled, Women Changing Habits, Univision Plans, Fox Threats, Genachowski Speeches, Oprah Finale Rates, Development Buzz, Cord Shaving, Comedy Central Profile, Cable Mistake, iPad Court Battle, TV Show Complaints, Beck Exiting, Mad Men on Netflix, Couric Leaving.