Film Your Troubles Away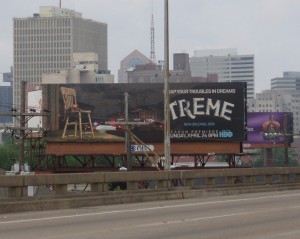 "Wrap your troubles in dreams," the sign read.  I saw the men hanging the billboard fabric. Suspended two stories above the highway on my drive to work, the men's legs dangled perilously around the image of a Mardi Gras mask on an empty wooden chair, pictured in front of a crime scene at night.  Beautiful disaster.  So begins season two of Treme.
Actually, for New Orleanians, the show never really stopped.  Production for season two started shortly after season one ended.  The program that made mold spots into Pollock paintings and Mardi Gras Indians into national heroes has turned my city into a Hollywood backlot.  Some streets have been off-limits for weeks. The cast haunts my favorite coffeehouses.  My 'secret' dive bars have become boho refuges.
And everyone seems to love it.
My neighbors vie to be extras. Not for the $100 a day, but to be part of it.
The it refers to a potent brew of film production incentives and tourism economics that has become a religion for recovery post-Katrina. These halleluiahs pre-date the storm.  Film production has a hundred-year history, mainly due to the combination of exotic locales, cheap labor, and fair winter weather.  Beginning in 2002, the state fortified its faith in Hollywood with generous tithes of tax incentives that today refund approximately one of every three dollars that major studios spent on productions.  Meanwhile, the slow erosion of shipping and oil revenues in the 1980s has made tourism the number one local industry.  City officials reminded locals to tell the world that despite the chaos and mayhem, tourist dollars would heal our wounded city.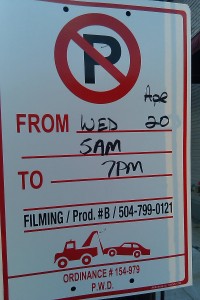 Together, the city wrapped its troubles in the dreams of a film production economy that would drive tourism.  Then came along a Hollywood series by a veritable auteur who threw a spotlight on everything unique about New Orleans public culture: the music, the food, the funky cottages, the dancing in the streets, and the 'fun' in the funerals. The disaster tours have rerouted to see the places featured in the series.  Praise Treme.
The real troubles wait for when the crews leave the neighborhoods gentrified and the authenticated culture overexposed in an infrastructure robbed of those Hollywood tax dollars.
I saw another billboard on the road, ironically, on my way to the airport.  "Be a Tourist in Your Own Hometown," it read.  As citizens wrap their troubles in the dreams of an unproblematic marriage of film and tourism, we become not unlike tourists.  We focus on the fleeting fun of producing those images of us, while ignoring the production policies that enable their economic power.  And we dream our troubles away.