Report From London: Scheduling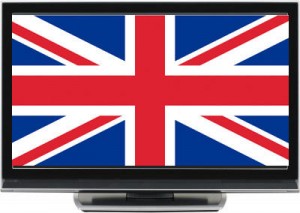 Though turning on my television set was the very first thing I did upon arriving at my new London flat last Monday (finding much to my delight that Diagnosis Murder was on BBC2), I haven't watched many British shows yet. This is mainly because I've been too consumed with catching up on the season finales of my favorite American shows, which I'm able to do overseas thanks to the Slingbox, the second greatest invention of the past decade.* The intensive season finale period is foreign to British television, which schedules programs on a year-round basis, not along a September-to-May season trajectory. A number of discussants at In Media Res last week argued that the primacy of season finales has lessened in the US thanks to new viewing and time-shifting technologies. However, particularly as a devotee of online TV discussions and a fan of Must See TV like Parks and Recreation, I couldn't fathom waiting until after my London trip to see these final episodes. Of course, now the US network television schedule turns to the summer black hole period, with Meh See TV reality shows and regular season cast-offs. Comparatively, British television keeps up a more standard schedule, albeit with fewer prestige shows and more escapist reality TV to accommodate summer lifestyles. Thus, with my weekly Good Wife and Community appointments having ended, I will henceforth turn my attention more fully to British TV.
Though I haven't immersed myself in programming yet, I have been looking at scheduling, which, as indicated above, is more variable in England than in the US. This has deep historical roots, going back to the early days of BBC radio, when there was minimal regular, "fixed point" scheduling of shows, the paternalistic logic of uplift being that a listener would turn on the set at any given time and hear something she might not have purposely tuned in for otherwise but would be enriched by. Scheduling became more rigid once television and ITV's commercial competition arrived, but inventive timetables are still evident today.
For instance, whereas the current series of Doctor Who has run in the US on BBC America every Saturday at 9pm, the five BBC1 airings in England have had four different start times (6, 6:15, 6:30, 6:45), with each announced only just over a week in advance. Doctor Who also illustrates how the BBC innovatively schedules across its multiple outlets for audience targeting. The current series premiered in April on the primary BBC channel at 6pm; a 15-minute tribute to the late Sarah Jane Adventures star Elisabeth Sladen aired following that on the children's outlet CBBC at 6:45; and the behind-the-scenes Doctor Who: Confidential then ran at 7pm on the 16-to-34-targeted BBC3. Except for news experiments by NBC and PBS multicasting, the US networks haven't used their affiliated stations' digital real estate for additional channel programming (opting instead to devote the space to high-definition), nor have they tried to foster scheduling compatibility like this via their conglomerate cable siblings.
I'm also quite taken by the patchwork scheduling of England's four flagship soap operas. Under a gentleman's agreement to not battle directly, none of them airs a single half-hour episode simultaneously. Channel 4's Hollyoaks is the only one that airs at the exact same time each weeknight: 6:30pm Monday through Friday. You can next tune in ITV's rural soap Emmerdale at 7pm all week, plus an extra episode at 8pm on Thursday. Coronation Street then appears on ITV at 7:30 and 8:30 on Monday and Friday and 8:30 on Thursday. Finally, the BBC's EastEnders jumps in between the Corries at 8pm on Monday and Friday and airs at 7:30pm on Tuesday and Thursday. You can also find repeats of each soap, including omnibus blocks on the weekend.
Other scheduling quirks here include shows starting at off-hour times, like 8:35 or 9:50, and the stripping of new dramas across the week, as with the BBC's recent three-episode drama Exile airing on consecutive nights. And multiple channels, including Channel 4, ITV1, ITV2, E4, and Dave (yes, there's a channel called Dave; it airs comedy programming), offer so-called plus-one (+1) digital sister channels that air the flagship schedule on a one-hour delay, thereby easing DVR recording crunches (though also, my British TV scholar friend Faye Woods pointed out to me, cheaply filling their digital allocations).
Does all this variability mean that British viewers come to rely even more heavily on DVR timeshifting and online catch-up services to manage their own schedules, representing a complete turn away from the legacies of the past, when schedulers felt they knew better than the viewer when programs should be consumed? Or does such flexibility actually accommodate allegiance to the traditional linear schedule, as a new BBC2 Review Show Special on the future British TV suggested and some recent statistics indicate? I look forward to testing my own spectatorship against these questions in the coming weeks (or at least after Glee mercifully comes to a season's end this Tuesday).
*Twitter is the greatest invention, and you can follow me there to read more of my reactions to British TV across the week.