The Rapture of New Network Shows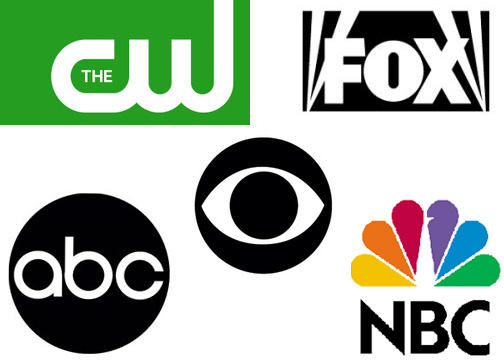 So, the promised Rapture last week never came. For us humans. For American television shows, the bloodletting and judgment day, however, arrived in the form of the network "upfronts." The upfronts, best described by analyst Amanda Lotz here and here, are an annual event in which each network takes a portion of a day to announce its schedule for the upcoming year to ad slot buyers who then gobble up those slots for their customers. Thus, it's during each network's upfront, or usually shortly before it, that we learn of all its cancellations and its pick-ups. What cosmic meanings can we make of all this?
This year was especially active. By one count, 34 scripted shows were given the axe (though some had been killed much earlier than this past week), 28 of those being freshmen. Tied for blood on the floor were for ABC and NBC, each canceling 9 shows, Better with You, Brothers and Sisters, Detroit 1-8-7, Mr. Sunshine, My Generation, No Ordinary Family, Off the Map, The Whole Truth, and V for ABC, and The Cape, Chase, The Event, Law and Order: Los Angeles, Outlaw, Outsourced, The Paul Reiser Show, Perfect Couples, and Undercovers. FOX too, though, cut 8 shows (Breaking In, The Chicago Code, The Good Guys, Human Target, Lie to Me, Lone Star, Running Wilde, and Traffic Light), CBS said goodbye to Shit My Dad Says, Chaos, Criminal Minds: Suspect Behavior, The Defenders, Mad Love, and Medium, and The CW cut Hellcats and Life Unexpected. By my math, that equates to 29 hours worth of television per week … before we add the reality shows (and Live to Dance, America's Next Great Restaurant, and Shedding for the Wedding seem to have fallen by the wayside).
Conversely, a whole lot of shows got picked up. ABC commissioned 13 new shows, NBC was close behind with 12, FOX added 9, CBS added 5, and The CW added 4. That's 35.5 hours worth of television.
I hope to blog about the previews and trailers for the new shows in more detail over at The Extratextuals later, but for now, I have a few general observations about the comings and goings and what they say about American television right now:
(1) Only two of the 43 new shows are reality shows: The X Factor and H8R. Otherwise, we seem to have weathered the storm of endless new reality shows. Each network more or less has its franchise shows (Idol on FOX, to be interchanged with X Factor based on season; Survivor and Amazing Race on CBS; Next Top Model on CW; Biggest Loser and The Voice interchanging with The Sing-Off on NBC; and Dancing with the Stars and The Bachelor for ABC), and scripted programming is back in development heaven.
(2) Who says the sitcom is dead? Four of the nine returning freshman shows are sitcoms, and the only two to be renewed well in advance of the upfronts (Raising Hope and Bob's Burgers) were sitcoms. Plus 17 of the new shows are sitcoms. And 7 of those are multicam. Sounds to me like the genre is doing just fine.
(3) I'm intrigued to see that FOX continues to commission animated shows (it's even commissioned a Flintstones reboot from Seth McFarlane for 2013), isn't canceling any, and yet is keeping them all on Sunday evening. While it now has enough to take up two whole nights if it wants to do so, I also like the idea that they'll have enough in store to switch them out between Fall and the mid-season. Here's hoping that allows for a better quality of writing and less burnout.
(4) There's a lot on offer for younger women in this new schedule. There are numerous sitcoms elsewhere that are female-centered (Apartment 23, Suburgatory, Whitney, Are You There Vodka?, Best Friends Forever, Bent, Two Broke Girls, I Hate My Teenage Daughter, The New Girl, and even Man Up seems to be as much for women to laugh at men), and between Revenge, Scandal, Good Christian Belles, Prime Suspect, Unforgettable, Hart of Dixie, Ringer, Secret Circle, A Gifted Man, and Smash, a whole bunch of the new dramas are female-centered or close to it too.
(5) And yet there's something of a gender bifurcation observable, as a notable clump of shows are aimed wholly at dudes. Last Man Standing, How to be a Gentleman, and Free Agents seem especially dude-centered, even aggressively so; Person of Interest seems like Burn Notice for the Lost and Batman fanboy set; and while they may all be aimed at women too, the troika of Pan Am, Charlie's Angels, and Playboy Club are clearly going for eye candy sales to guys.
(6) Speaking of which, what's with the crappy Mad Men wannabes?
(7) There's lots to complain about, but I must also give the networks credit for a few experiments. Terra Nova, Once Upon a Time, Awake, Smash, Revenge, and The River, for instance, all have some legitimately new things about them. Whether I'll actually watch them is another thing, but it's nice to see that we're not just getting yet more odd couple sitcoms and procedurals centered around brilliant deductive minds … though we're getting those too.
(8) 43 new shows and a whole lot of white. Really, Hollywood? Work It offers Prison Break's Amaury Nolasco the chance to share the lead (though when the show is canceled, that will be over), Charlie's Angels sees Annie Ilonzeh as one of the three angels, Scandal sees Kerry Washington lead the cast (with a disturbingly non-Scottish Henry Ian Cusack by her side), one of the Playboy bunnies in Playboy Club is African-American, and the hugely tall guy from Green Mile is in The Finder. I'm not impressed. Say what you will about the now-canceled Outsourced, but it had about as many non-white speaking roles in it as the entire slate of 43 new shows seem to have combined.
(9) For all those who saw promise in last year's short-lived Lone Star, fear not, for Kyle Killen is back, with Awake. While, as with Lone Star, I worry about where it could go, it's an intriguing premise – a man interchanges between alternate realities, in one of which his wife died in a car crash and in the other of which his son died in a car crash. I found it easily the most gripping of the trailers, and was amused to see that Killen learned his lesson about creating lead characters who we can't empathize with … cause who can't feel for the dude who lost his wife and his kid in a car crash?
(10) Finally, and speaking of those trailers, it's refreshing to see the networks make these so widely available this year. In past years, it's often been hard to get hold of them. For those of you who want to see more, I recommend going here for ABC, CBS, The CW, FOX, and NBC.