Tremé: Feels Like Joy and Pain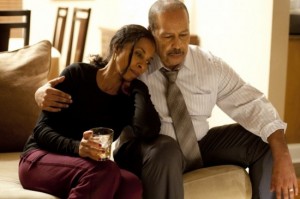 On July 5, 2009, I swayed shoulder to shoulder with tens of thousands of other black folk in the New Orleans Superdome performing regional variations of the Electric Slide as we sang along with Maze featuring Frankie Beverly. We didn't know at the time that this would be the end of a fifteen year run for the R&B soul band as the closing act of the Essence Music Festival and its three days of African American music, exhibitions, and seminars. For many black New Orleanians (local and ex-pat alike), Maze was Essence Festival, and we returned like pilgrims each year for the beloved concert ritual led by Maze singing the same songs and even wearing the same outfit to culminate the festivities. Of course, the Essence Festival, which doesn't even bother to include local musicians in its concerts, is not likely to be featured on Tremé; neither is Maze, which while claiming a certain affinity for New Orleans, originated in Philadelphia and boasts no native sons. Still, Maze's music resonates with New Orleanians from a broad demographic. We connect with songs whose titles – "Golden Time of Day," "Southern Girl," "Before I Let Go," "We Are One," "Back in Stride," "What Goes Up," "Joy and Pain" – flatter, instruct, console, and uplift us, hinting at the philosophical, moral, and even spiritual lessons that the music imparts. Maze's music reminds us that for all the talk of New Orleans' exceptionalism, New Orleanians also share many of the same ideals, desires, worries – and problems – as the visiting festival-goers whom we dance alongside.
Herein lies the challenge facing Tremé (and every other media representation of New Orleans): finding a way to balance a celebration of the city's unique cultural contributions with an acknowledgment of its more conventional, and often more damning, histories, memories, and contemporary realities. In the past weeks, this blog has attempted to meet this challenge with some columns referencing the city's unique sense of place and coolness factor and others critiquing persistent socioeconomic inequalities and racial divisions. Week 6's episode "Feels Like Rain" also responds to the challenge, self-consciously, if not always adroitly. Season two's shift from showcasing New Orleans cultural innovations to documenting the painful process of recovery for the city's cultural producers is epitomized by Antoine's (Wendell Pierce) hiring of a straw boss to manage the "regular shit" keeping the band from producing good music.
Ultimately, it is the regular shit that Tremé's characters – and New Orleans' community – must contend with in the aftermath of Katrina. Whether it's Desirée (Phyllis Montana-LeBlanc) pleading for her cousin to be enrolled in a decent, safe school; LaDonna (Khandi Alexander) avoiding a return to her bar where she was brutally attacked; Albert (Clarke Peters) vowing to relocate after mounting frustrations with the insurance company and the Road Home; or Toni's (Melissa Leo) and Terry's (David Morse) crusading against the criminal justice system, Tremé forces us to abandon momentarily the exceptional city – exotic, carnivalesque, romantic – in order to better understand the mundane, everyday issues that New Orleanians struggle with. These ongoing struggles attest to the fact that Tremé cannot be only a love letter to New Orleans, but must also, at times, be a "Dear John" letter. Such a letter has been contemplated, if not composed, by countless New Orleans residents (including Louis Armstrong, whom Antoine pays tribute to in this episode) hoping to escape economic, sexual, social, and racial exploitation or exclusion.
Episode 6 is sometimes heavyhanded in its efforts to describe the city's complexity and the ambivalent relationship some residents have toward it. Nelson, (Jon Seda) the Texas opportunist, compares the city to "a village on an island" where unscrupulous business elites, ethically-challenged politicians, and struggling neighborhood cultural groups are "all connected somehow." Annie (Lucia Micarelli) reflects on John Hiatt's "Feels Like Rain" as an allegory for the city: "a little dark sometimes and a little dangerous…like New Orleans." What they attempt to convey in words, Maze featuring Frankie Beverly, has been crooning to New Orleans audiences for over a decade. Their 1996 hit "Joy and Pain" tells an honest story about relationships by striking a balance between the debilitating and regenerative possibilities of love. Hopefully, Tremé will also continue to strive for such a balance.
Remember when you first found love how you felt so good
Kind that lasts forevermore, so you thought it would
Suddenly the things you see got you hurt so bad
How come the things that make us happy make us sad
Well it seems to me that
Joy and pain are like sunshine and rain
Joy and pain are like sunshine and rain