Report From London: Channels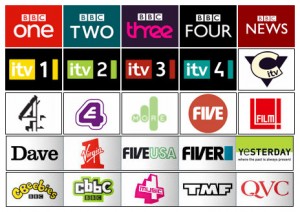 I'd like to take care of some housekeeping with this post and lay out the multichannel landscape here in England. (Hopefully this doesn't read like a particularly dry Wikipedia entry, but it's crucial basic info to know to understand what's going on today in British TV.) In previous reports, I primarily focused on the terrestrial channels, and together those five outlets remain more dominant than the major networks are in the US, drawing a 55% share of all TV viewing, compared to the usual under-40% primetime share for the US nets. (The later arrival of multichannel competition in the UK could explain part of that, but original programming, branding, digital services, and the license fee certainly play a role, too.) Even so, digital expansion has brought significant challenges to the traditional channels, yet it has also enhanced their operations in various ways.
Starting with the basics, the five terrestrial channels accessible to anyone via antenna are BBC1, BBC2, ITV, Channel 4, and Channel 5. The BBCs are funded by a license fee (£145.50 annually, about $239) paid by all TV households. The other channels are supported by advertising, though each also has certain public service mandates to follow. The expansion afforded by the digital switchover (which will be finalized next year, before the Olympic Games air) has allowed the terrestrial channels to add additional outlets: BBC3 (targeting 16-34s), BBC4 (high arts and culture), BBC News, BBC Parliament, BBC Alba (for Gaelic speakers), CBBC (targeting 6-10s), CBeebies (under 6), ITV2 (16-34s), ITV3 (upscale 35+), ITV4 (25-44 males), CITV (children), E4 (15-35s), More4 (arts and culture), Film4, 5* (newly re-branded as "fun-loving"), and 5USA (American imports). Some of these have +1 counterparts (flasgship schedule delayed by an hour), and there are also a handful of HD channels. All of these digital channels are available for no subscription fee to viewers via Freeview (requiring either a set-top box or an integrated TV tuner) and Freesat (a satellite service). The BBC has also developed a digital interactive service called Red Button, and there are a few other channels available on Freeview, such as Dave (male-targeted comedy), Yesterday (history programming), and Quest (a Discovery outlet).
Moving on to pay TV services, Sky is the primary satellite provider (in the news a lot lately for the News Corp. full takeover bid). Sky offers everything already listed plus an array of Sky specialty channels (such as Sky Atlantic, Sky Living, Sky Sports); a collection of UK versions of US cable channels (Nickelodeon, Animal Planet, MTV, etc.); and various other channels (G.O.L.D., Home, Living). Virgin Media is the dominant cable service, with similar offerings, and much of the content available on pay TV seems to consist of reruns of terrestrial programming, US imports, movies, and sports, with relatively few original productions compared to the terrestrial channels.
Out of approximately 25 million TV households in the UK, 15 million subscribe to a pay service, (with satellite having a nearly 3:1 edge over cable). This means that a substantial number of homes, about 40%, don't rely on pay TV, compared to only about 15% in the US. (One wonders how the US TV landscape would be different if a Freeview-type service had been developed. I recall a Broadcasting & Cable editorial from Harry Jessell over a decade ago calling for multicasting as a way for broadcasters to survive pay TV competition.)
Finally, internet users can click to live streaming of BBC and ITV channels plus free online catch-up services, including the BBC iPlayer, ITV Player, 4 on Demand, and Demand Five, as well as the subscription Sky Player. Until recently, a UK Hulu of sorts existed called SeeSaw, but it just shut down after a difficult few years of operation, while the planned internet TV video-on-demand service YouView has run into problems as well.
The burgeoning pay TV landscape has certainly hurt the terrestrial channels, both in terms of simple viewing share but also in regard to their ability to fulfill public service mandates under an onslaught of largely unregulated commercial competition. Announcing a reduction of ITV's news and current affairs coverage demands in 2008, the chief of Ofcom (Britain's FCC) said, "Audiences value public service programming highly, but strong digital TV take-up means it is becoming harder for our leading commercial broadcasters to provide this." Similarly, Channel 4's chairman said in 2007, "We may be faced with a stark choice. Either we will have to reduce our output of public service programming and focus more of our schedule on commercial programmes, or see Channel 4's finances continue to deteriorate." And the BBC has seen its very lifeblood, the license fee, threatened due to digital's elimination of the scarcity principle that helped to justify it in the first place. However, I'm also impressed by the extent to which the terrestrial outlets are forging new digital options themselves to stay alive, many of which have populist imperatives but which also stand to carry public service principles into a new era.