A Showrunner Goes To War: Doctor Who and the Almost Fans?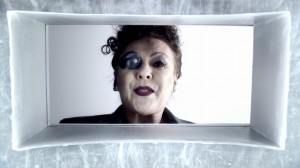 With episode 6.06 having transmitted in the US, and 6.07 – the 'game-changing' midseries finale – already broadcast in the UK, this week seems like a good time to ponder the issue of Doctor Who spoilers. Continuing my focus on authorship, I want to consider how the online fan culture of spoiler-hunting impacts on notions of authorial craft and control.
Showrunner Steven Moffat recently berated Doctor Who fans for posting full details of episodes one and two after the series six launch: "can you imagine how much I hate them? …It's only fans who do this – or they call themselves fans – I wish they could go and be fans of something else!" Seemingly having a "Bastards" moment (Russell T. Davies's infamous title for chapter three of The Writer's Tale discussing Internet fandom), rebellious fans were once again the problem.
I'm not interested in whether Moffat was right or wrong, but rather in the performative nature of his statement – in what it does more than what it says. Back in Triumph of a Time Lord I identified the "info-war" that's been symbolically fought between the fans and producers of NuWho. Sections of fandom have consistently sought spoilers ahead of broadcast, acting as pre-textual poachers by contesting the interests of brand guardians long before the TV text has unfolded. Already, following Moffat's critique, Internet fandom has divided into collaborative and rebel camps: Doctor Who Online has declared itself "spoiler-free", while Gallifrey Base continues to allow spoilers.
Readers may want to offer nuances here, but I'd hazard that US showrunners are rarely known for publicly criticising their shows' fandoms, and are quick to apologise if "dipshits" hits the fans. Yet Doctor Who has form on this; Moffat is following in the footsteps of Davies. Online fans might regularly criticise production teams, but I'm not aware of Radio Five Live mounting a feature off the back of this, nor BBC Breakfast Time inviting Benjamin Cook in to discuss what (Moffat's invented forum regular) Killdestroyer208 thought of last week's ep. The showrunner's cultural power extends beyond controlling what goes into the text, and into the terrain of the eminently newsworthy, especially when it's a 'showrunner hates fans' riff on 'man bites dog'.
What interests me is why Doctor Who seems especially prone to this, and from producers who are themselves life-long fans. Is it the perfectionism and the idealism of the fan – transposed into a production mentality – that gives rise to such 'ranting'? It certainly shares the edge and the sting of habituated fan commentary. Is it the fans' habitus, the critical voice of fan culture itself, that is on show (albeit professionally recoded) when Moffat and Davies chide sectors of fandom? To my ears, at least, they sound more than a touch like disgruntled fans unhappy at developments, assuming the freedom to say so very loudly as if posting to a forum rather than writing a book or speaking to a BBC reporter. Steven Moffat is Killdestroyer208… but what would have been forum grumblings now have a very different cultural reach.
Commentary has pondered the sense of entitlement felt by sectors of online fandom – but what of the entitled (fan-)showrunner? These privileged creatives seek to control a brand, but they can't (yet) control how their shows are read, nor how audiences behave. Moffat's stance implies that, for the show's benefit, he should be given a degree of spoiler-impeding control over both fans and the press. And the press may well play ball; they are industrially dependent on good will in order to gain access to preview discs, interviews, launches and the like. Fans, however, are less malleable; in the digital age they inhabit an informational economy – seeking spoiler information; scouring agents' pages for casting news; watching filming in public locations, and tweeting outsider info. And this is what Steven Moffat's dismay flags up: industry outsiders can't be silenced so readily.
There's another important context here, though: the BBC as public service TV. US commercial television operates within a discursive context of 'serving the consumer audience'. Even today, I'm less sure that BBC TV drama and its production cultures inhabit that same world, for good or ill. Moffat seems to work within a paternalistic value system where audiences don't know what's best for them, and where they need to be shown how to behave. This resolutely public service voice wants to set the rules of the narrative game in advance for citizen-fans. Not coincidentally, I think, Moffat's initial complaint about these detailed spoilers – in his 'Production Notes' column for Doctor Who Magazine 434 – also seized upon the "bungling, ham-fisted English" (2011:6) used by fans to write up eps one and two. Moffat isn't quite calling these 'almost fans' stupid, but their literacy is certainly called into question. This schoolteacher-showrunner isn't just entertaining the audience, he's educating and informing the naughty kids too. Properly disciplined, tutored and creative screenwriting calls for properly disciplined, tutored and creative audiences.
Well, you can send a love letter to the fans, e.g. 'The Doctor's Wife' recently, but telling them how to express their love? "I order you to love the show in this way (spotting the in-jokes and intertextualities crafted for you) but not in this way (sharing detailed spoilers which have fan-cultural currency and status)". Series five and six may be exploring the catchphrase "Silence will fall", but where Doctor Who spoilers are concerned this remains wishful thinking. Perhaps contemporary TV authorship means losing definitive control over the parcelling out of narrative shocks and surprises, and accepting that sections of fandom will frequently pre-view beloved shows. Though these fans may, like gangers, become devalued replicas or simulacra of fandom in the eyes of production personnel, they're not about to dissolve away. Producer-versus-fan tension rumbles on, when a showrunner goes to war.