A Report from CCA 2011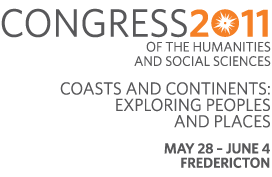 The Canadian Communication Association held its annual conference in bucolic Fredericton, New Brunswick this past week. The conference was one part of a much larger event, the annual Congress of the Humanities and Social Sciences that draws scholars from variety of disciplines to a different Canadian city each year. More than 70 different disciplinary associations participate on an annual basis, which allows for a range of difference conferences as well as the provision of broader receptions, dinners, and addresses that meditate upon the event's particular theme. This year's theme of  "Coasts and Continents: Exploring Peoples and Places" resonated strongly with the questions and issues raised at the CCA event.
The CCA began in a stirring fashion with a pair of panels entitled "The Crisis of Universities, Parts I and II". These panels were related to a special issue of TOPIA that is set to focus on these issues. Ian Angus addressed the diminishing availability of standpoints for reflection at a moment in which these institutions are changing extremely rapidly. He utilized changes to the form and function of university libraries, citation systems, and the rise of the network society to interrogate the effects of three decades of neoliberal policies on the university. Bob Hanke applied cultural theory to pedagogical practice in order to conceptualize the changing nature of pedagogy in these institutions while outgoing University of Western Ontario Faculty Association President James Compton drew on his recent experiences in labor negotiations to address the pervasive trend towards micromanagement and rationalization in the Canadian university system. Alison Hearn then addressed the emergence of various metrics to measure performance in this new 'spectacular economy of the university'; her talk on performance audit and promotion practices clarified some of the key changes occurring in our educational institutions. These panels affirmed the extent of the threat that the neoliberal political climate poses to the university and confirmed the need for broader collective action as the university enters a time of increased scarcity and scrutiny.
Darin Barney gave a thought-provoking presentation about the Alberta town of Battle River's purchase of its branch railway line as a democratic act constituted through the collective embracing of an uncertain but self-determined fate. Calling his work 'critical agricultural studies', Barney inquired into how infrastructural technologies mediate the experience of geographical spaces and what happens when communities refuse to embrace the twin poles of the imperative of technological progress and the nostalgia for lost lifeways. Tamara Shepherd, Sara Grimes, and Leslie Shade combined to offer a stimulating panel on youth engagement with digital spaces, the gender dynamics inherent in those activities, and the pressing need for adequate policy initiatives in these areas.

The CCA also featured excellent keynote addresses by Lisa Nakamura and Charlotte Brunsdon. Nakamura's talk, entitled "Race, Labor, and Indigeneity: The Birth of the New Media in the American West", presented a pre-history of 'new media' that focused on the ways in which various dominant groups or entities in American society (i.e. adherents of the counterculture movement, technology firms) have appropriated or exploited Native American culture to suit their own ends and interests. Examples included the application of Navajo weaving skills in the production of complex tech hardware and the fetishizing of the native American's authentic relationship to the natural environment on the part of hippies, which Nakamura adroitly connected to discourses of techno-utopianism. Nakamura utilized this discussion to explore the social relations involved in the material production of digital devices and to expose the race and gender dynamics involved in those processes. Suggesting at one point that women were the first form of software for the ways in which female workers operated the first mainframe computers, Nakamura drew an insightful distinction between 'free workers' (those who possess various forms of mobility) and unfree workers (those who do not). This discussion reaffirmed the persistent need to write against overly optimistic assessments of digital technology and the utility of historical work in this endeavor.
Charlotte Brunsdon's talk, which was co-sponsored with the Film Studies Association of Canada, focused on British Film and Television history and emphasized the need for an historiographical re-assessment of the audio-visual arts in Britain. Brunsdon focused on the issue of medium specificity and the ways in which various media forms depict other media forms and thus help to fix their discursive meanings for populations. Her focus on this area was in part a function of her belief that, as platforms become less important in the face of digital convergence, it is becoming more important for texts to assert or specify the sort of attention that they require. Brunsdon contended that medium specificity is a function of accumulated textual gestures rather than a property of media themselves. She analyzed examples of the ways in which British films have depicted television at different points in time in order to make the case that television has evolved from a force that constitutes a threat to the domestic space to an institution that often helps to constitute 'home'. However, this progression has lent the medium a socio-cultural meaning that tends to overpower it. Brunsdon argued that British television in the late twentieth century carries a metaphorical weight of banality and liveness that overwhelms any sense of historical fact. Thus, as the films Brunsdon featured demand a mode of engagement that is 'not like watching television', they also reiterate discourses of medium specificity that obscure our actually existing relationships with those media. Brunsdon then concluded by making the historiographical claim that Britain's audiovisual culture is properly located on television and not on film, as has often been argued. "We've looked in the wrong places," she said, as a sort of exhortation to use digital convergence as a means to look anew at historically-established discourses of textual specificity.
CCA 2011 featured an abundance of papers, gatherings, and activities that stretches far beyond my limited space here. It was a deceptively intimate conference that was defined equally by a fierce sense of intellectual curiosity and political urgency and by a pervasive sense of warmth and conviviality. This was my first CCA, but I can already say that I am eager to return for CCA 2012 in Kitchener-Waterloo.