Report From London: Content Regulation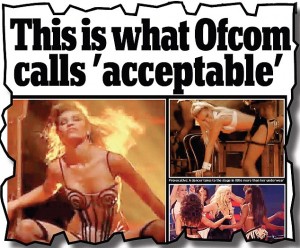 I've seen more testicles on British TV the past week than I have my in entire previous American TV viewing life. I've also heard enough f-bombs to think I must have HBO locked in. But no, it's just good old terrestrial TV here in London. It's commonly known that British TV allows more graphic content than US TV, and I can only confirm that. However, there are some intriguing recent complications to consider.
The regulatory qualifications that allow for graphic content here are the so-called watershed, the ever-present concept of public service, considerations of context, and channel warnings. The watershed is a regulatory term for 9pm as a content dividing line. Programming aired before 9pm should be suitable for children under 15 to view; programming after 9pm is intended for adult audiences, ushering in swear words, mature situations and images, and violence (with the latter primarily from US imports). The more graphic the content, the later it is supposed air, but what they deem to be more or less graphic here can be surprising to someone used to American standards. For instance, Channel 4's Comedy Gala special on Thursday shocked me with the following joke aired around 9:30pm (PTC-types, please avert your eyes): "How do you stop a dog from humping your leg? Pick him up and suck his cock." And this on a charity show raising money for a children's hospital.
Nearly all of the testicles I've seen are also courtesy of Channel 4. The Embarrassing Bodies series intends to show sheepish Brits who are afraid to tell their doctors about their medical conditions that others have it far worse and yet are willing to display their, um, issues on TV, and thus no one should be afraid to talk to a GP. And herein lies a justification for some of this content: public service under the banner of education. The regulatory overseer Ofcom has fielded complaints about Embarrassing Bodies but defends the series, even when it airs uncovered bathing suit areas pre-watershed, stating in one ruling, "[I]n principle, educational programming on medical matters, and in particular a programme which stresses the importance of viewers not needing to feel anxious or embarrassed by any medical conditions, is not unsuitable for children," and "discussing male genitalia and sexual problems clearly fell within the educational remit of the series."
Ofcom also has an extensive list of contextual issues which should be taken into account by programmers, including the likely size and composition of the potential audience and the channel on which the material airs (i.e. Channel 4 is allowed to air more boundary-pushing content because of its remitted mission to do exactly that). And Ofcom insists that channels provide proper warning at the start of shows as to what's coming along. Following ad breaks during E4's 10pm airing of Embarrassing Teenage Bodies on Friday, the interstitial announcer warned, "Expect full frontal nudity, intimate examinations, discussions of medical health, and scenes of detailed surgery."
The announcer also muttered after relaying the title at the start – no kidding – "Oh, my eyes." Such a cheeky quip seems indicative of the hip youth status E4 strives for, and it also indicates how readily this programming could be taken as exploitative and excessively sensationalistic. However, the educational intent does seem at least partly sincere, with the reminders to see one's doctor coming across as more than just cursory, and rarely does the content come across as sexually titillating. This shows a level of complexity about sexual content that US television (and culture) rarely approaches. (A friend on Twitter reminded me of the 2000 Tom Green MTV special about testicular cancer, which taught an acquaintance of his, who was not allowed to watch Tom Green, how to self-check, whereupon he found a lump and had surgery.)
Where the dog humping joke might fit within a public service remit is rather less clear (though it was in the name of charity, after all). It's also worth noting that while the British public is apparently ok with that, thousands complained about costumes and dancing from Christina Aguilera and Rihanna during pre-watershed performances for last year's X-Factor finale on ITV, which Ofcom later declared within the pre-watershed rules but "at the limit of acceptability." A government-commissioned report on the sexualisation of media content accessible to children, released just last week, highlighted that incident and has Prime Minister David Cameron insisting that he will impose tighter regulations if Ofcom and the television services don't voluntarily help to make pre-watershed television even more reliably child-friendly.
Ofcom has plenty of complaints to sift through already, with public concerns raised in recent days over the depiction of an assisted suicide on ITV's Emmerdale (which I watched, and it offered some of the most powerful scenes I've ever seen on a soap), a bed scene between gay lovers on EastEnders (which I also saw and thought was quite chaste compared to a similar scene on ABC's One Life to Live from last year), the use of the c-word on daytime BBC Radio 4 (yes, I'm censoring myself), and Rihanna's S&M music video. Ofcom can also prepare for more complaints after the airing of an actual assisted suicide in a BBC documentary Monday night. (And related to these TV issues, the British Board of Film Classification banned Human Centipede II last week.)
So while British TV truly is more permissive with content than American TV, concerns are currently circulating about increasing sexualization and lax regulation, particularly in regard to the potential moral impact of television on children. Meanwhile, American television's own decency regulations are in legal flux right now. (And it's intriguing to compare the vagueness of the FCC's rules with the extensive detail in Ofcom's Broadcast Code, which not only has many rules but even additional guidance notes on those rules.) But I somehow don't think that greater testicle allowance will be the end result.