The Pains of Winning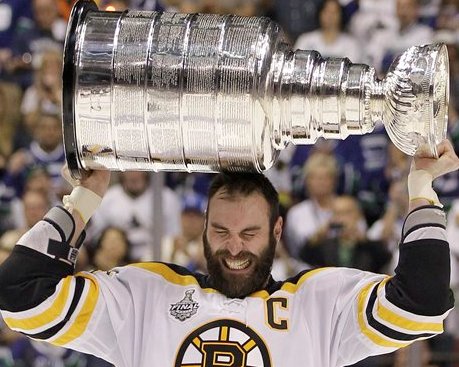 On Wednesday, my beloved hometown's beloved Vancouver Canucks lost the Stanley Cup finals, in Game 7, in their own building, to the Boston Bruins. Vancouver has never won the Cup, despite three trips to the finals.
You'd think that this would make me incredibly depressed, upset, angry, frustrated, or fill in the blank with another "grrrr"-style adjective. A little bit of each, yes, but most of all I feel utter relief. I'll discuss why shortly, but first, I owe Matt Sienkiewicz, loyal Bostonian, a glowing tribute to his Boston Bruins.
The Canucks were the clear favorites here. Henrik Sedin led the league in scoring in 2009-2010 and was judged its Most Valuable Player, Daniel Sedin led the league in scoring in 2010-2011 and should be judged its Most Valuable Player, Ryan Kesler was one of the best power forwards in the league this season, Roberto Luongo is a phenomenal goalie, and the Canucks topped the league in regular season play with more goals for, the least goals against, the best power play, and the third best penalty kill. When they're playing at their best, they're a thing of beauty. But they weren't at their best. If that sounds like a barbed compliment to the Bruins, I don't mean to suggest they won merely because Vancouver lost. Because off-paper, the Bruins were clearly the better conditioned. They came into the finals having played the same number of games as did the Canucks, and yet they looked fresh in each game.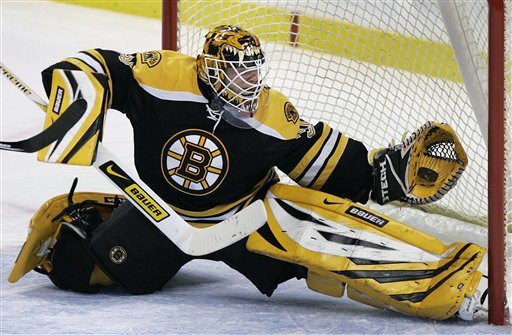 The Bruins slaughtered the Canucks. Even in the games they lost, they out-shot the Canucks, often out-hit them, had better special teams, and looked like they could and maybe even should win each game. In the games they won, they out-scored the Canucks as if Vancouver were a Junior A team, and skated around them as if I was on the ice for the Canucks, not millionaires who learned to skate before they learned to walk. Almost every member of the Canucks looked tired and beat up … yet the Bruins had jump in every game, and dominated.
Tim Thomas was, of course, remarkable, and well-deserving of the Conn Smythe trophy for the playoffs' Most Valuable Player. He allowed his team to get this far, and gave them the confidence to try things in all parts of the ice. Vancouver simply didn't know what to do with him. Yet I'm not so keen to make this all about Thomas, since the forwards (all Canadians plus one Czech, I have to add. This whole crap about it being the US vs. Canada is silly. If Vancouver won, a Swede would've picked up the cup then give it to his brother, another Swede. As is, a Slovak picked it up) were excellent. Marchand skated rings around the Canucks, Recchi looked half his age, Bergeron was always in the right place (damn him!), and the whole team had speed and style.
The Bruins deserved to win, plain and simple.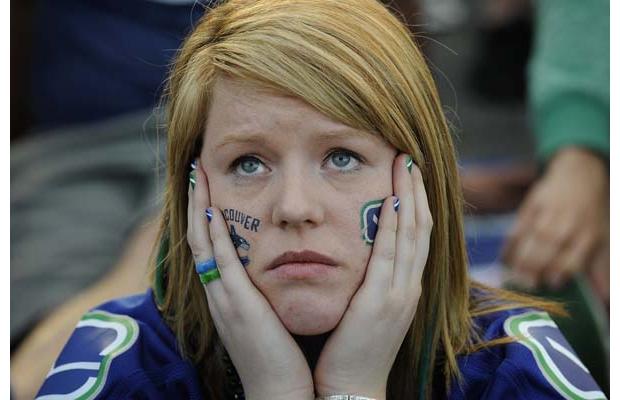 But back to my relief. Why relief? Well, these playoffs have been really, really hard to watch, and now the anxiety is finally over. Indeed, watching the games hasn't been fun. Sure, when the Canucks won, I felt happy for about five minutes. But then the anxiety would set in again: will they lose the next one? will they keep their 1-0 lead in this game? will they score in overtime? I could have been enjoying my summer way more if the Canucks lost to the Blackhawks in the first round. That gripping feeling in my chest would've gone away over a month ago.
Winning is supposed to feel good, but mostly it was painful. Maybe if the Canucks won each game with 8-1 blowouts like the Bruins were capable of, it could've been. But the time between games would still have been horrible. The anxiety that it would all come crashing down was overwhelming.
Which makes me wonder if that's why so many fans support such awful teams. Though their recent success makes their fans' whines seem annoying nowadays, for instance, Boston Red Sox fans wear their suffering with so much pride. English soccer fans will often support teams that always get beaten up, and that can hope, at best, to end with a fourth place finish in the third division. But these fans seem to have the answer: support a team that's bound to mess it up, and you can get on with your life, safe and comfortable in the knowledge that your team will fail. Championship playoffs are way easier and calmer when your team's absent from them. You can enjoy the sport more by watching teams without biting your nails or worrying about who wins. Maybe, in other words, to be a true sports fan, one needs one's team to lose and lose a lot?
Indeed, when I look at the Canucks, I still see a team with a really damn good assortment of players, most of whom are locked down contractually for another year (and whose loss in the finals will help the Canucks keep them if they want them) … but this means they might be back in the finals next year. Part of me would love that. But part of me needs another 17 years (the gap since they last made the finals) to recover, and to enjoy the playoffs. So, go Bruins!