Report From London: Final Thoughts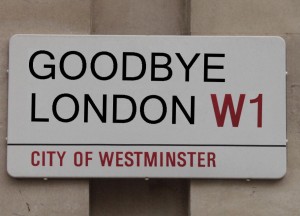 I've reached the end of my stay in London, yet haven't gotten close to the number of posts I could have written about British television. With one last dispatch to file, then, I offer quick glosses of some additional areas I would have liked to cover, if only my stay were longer.
1. Nearly all of my posts have been about prime time television, but there's much to say about other dayparts (though I can't say I've watched too much of them—choosing between exploring London and watching Jeremy Kyle isn't a toughie). Most of this programming is roughly similar in genre to American television: there are morning shows (more commonly referred to as breakfast television); daytime is full of talk, lifestyle, and game shows, as well as reruns; and late night brings out chatty hosts like Graham Norton and Alan Carr, though not as many, as often or as prominently as in the US. In fact, a few weeks ago, I saw a Twitter exchange between British viewers who said they didn't understand why Americans were inclined to stay up so late to watch talk shows. Of course, we don't get them as much in other dayparts as British viewers do, and it's intriguing to consider how much television scheduling practices can affect the rhythms of daily life.
2. I regret not writing anything here about radio, and I also regret not listening to it more while living here. Radio plays a much more central role in daily British lives compared to the US, particularly beyond music and thanks to the BBC. National radio services, paid for by the same license fee that covers TV, are key to the BBC's public service mission, and in addition to providing a wide range of programming types – news, talk, comedy, drama and, still going strong after over 60 years and 16,000 episodes, The Archers – the BBC has also taken advantage of new technologies to make radio additionally available via a range of platforms, such as Freeview TV, digital radio, internet radio, and podcasts. It's sad that public radio in the US is hanging on for dear life, when we just have to listen across the ocean to hear what cultural riches can come from strong publicly-funded support of broadcasting.
3. When I show a clip of a British TV show to American students and ask them what seems different from what they're used to, someone will always say, often glibly, "They speak with British accents." I've come to realize that this observation is more relevant than the person offering it ever imagines. Regional accents exist in the US, of course, but they're rarely a key factor on television, as a standard, relatively neutral way of speaking dominates (which is why Justified is such as delight to listen to, not just watch). But in both everyday British life and on television, accents are a crucial indicator not just of region but of class and identity. Just as how a character dresses instantly identifies them as a certain type, so too do accents function on British television. Because I'm not familiar with the nuanced distinctions among them, and the shows expect that their viewers are, I often feel like I'm missing key elements of characterization. There are certainly countless other cultural signifiers that escape me as I watch, but few seem as prominent and functional as variations in British accents.
4. Repeats of programs, even quite old programs, are common here, even in prime time. While you might assume this is mainly a budgetary issue, reruns often do quite well in the ratings. For instance, an episode of the 1970s sitcom Dad's Army aired on BBC2 a few Saturdays ago at 6:40pm and drew 2.21 viewers, making it the channel's 12th highest rated show of the week. This also seems tied to the Christmas special phenomenon, where new and classic shows alike air special one-off episodes during the holidays. As an example, the 1980s sitcom Only Fools and Horses was kept alive through 2003 thanks to Christmas specials. Programs linger strongly in the cultural consciousness here (Father Ted iphone app!), which has made me realize that London desperately needs a TV memorabilia shop. I would be more than happy to operate it should someone want to hand me the start-up costs.
5. Watching British soap operas, particularly EastEnders and Emmerdale, has renewed my love for the format. As American daytime soaps have fought over the years to compete with OJ coverage, reality TV, and prime time soaps and teen TV, it seems that their content has pulled further away from the fundamental attractions of the genre, namely depth of character relationships and emotions, and pushed more toward the shallow attractions of sensationalistic plotlines. Conversely, British soaps (at least the two I've been watching) appear to have retained their dramatic roots in social realism, and while they do draw on attention-grabbing plots like baby stealing, they seem much more adept at exploring the genuine human emotions behind such plot machinations than many American soaps have lately.
6. Perhaps the singlemost striking characteristic of British TV is the vast gap between the intellectual nature of its most erudite programming and the mindless joys of its silliest fare. Just one example: last week BBC3 brought viewers both Our War, a bracing documentary series about British soldiers in Afghanistan, which in its first episode showed footage recorded by troops on the front lines of a young soldier dying in combat, and World's Craziest Fools, a clip show rife with bad puns and hosted by Mr. T from his own living room. I would give anything to roust John Reith out of his eternal slumber to get his reaction to World's Craziest Fools.
7. Among the shows I've caught over the six weeks I've been here, the ones I most recommend for Americans to check out if they can are the BBC2's compellingly odd thriller The Shadow Line; the BBC2 comedies Lead Balloon and Psychoville, which capture a range of British sitcom from dry to absurdist; the BBC2 stand-up series Stewart Lee's Comedy Vehicle; BBC3's Our War; Channel 4's affecting observational documentary 24 Hours in A&E; and the delightfully skewed CBBC children's program Horrible Histories. Also, you absolutely must watch E4's Misfits on Hulu. You simply must.
Farewell, London. Your TV has been awesome!