Treme: It Matters a Difference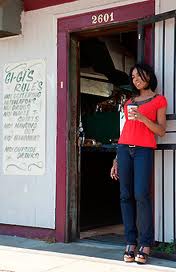 When I lived in New Orleans, one of my students, a native New Orleanian, explained that, "New Orleans is a hard place to live. It's an even harder place to leave." It is surely the case that the theme of leavings (both in the sense of departures and in relation to the parts that remain, like the way a melody lingers in your head after the trumpet stops playing) provides the narrative arc of the penultimate episode, "That's What Lovers Do."
Several variations on leavings occur in the episode: Toni and Sofia feel the consequences of Creighton's suicide; Toni searches, as she did last season, for lost evidence in relation to the murder of an African American man; Colson tries to aid Toni in her search while he discovers evidence of a potential police cover-up; LaDonna struggles with a sense of ruptured belonging to New Orleans after being raped; Annie responds, with others, to Harley's murder; Janette finds her way in New York City by cooking her versions of shrimp-n-grits and fried chicken-n-waffles.
This episode "reconstitutionalates" what New Orleans means not only locally, but also for those who find themselves elsewhere (displaced New Orleanian ex-pats such as myself, writing and watching Treme from New York City). One of the features of this episode that sets it off from previous ones is a privileging of the core female characters' experiences of leavings and of responses to remaining. The two female characters that have captivated my attention this season, and in this episode, are LaDonna and Janette. For different reasons, these two characters embody the complexity that accompanies ways of living in aftermath and of deciding whether or not to remain in a place that you call home. In the words of Dr. John, New Orleans, "it matters a difference" to be there or to carry it with you when you go.
The closing shot of "That's What Lovers Do," is of LaDonna's face after she and her husband have attempted to have sex. As they have an awkward conversation, LaDonna turns over on her side and looks toward the camera as she offers the following reassurance, "We're just out of practice, that's all." The camera cuts to black and the closing song, "That's What Lovers Do" begins to play as the credits roll. The song's lyrics point out that while lovers may drift apart, they should "pretend it's not the end" because, "that's what lovers do when they're still in love." As the series has so poignantly and powerfully shown, this refrain could describe the ups and downs of various relationships (friends, lovers, family) in the aftermath of Hurricane Katrina.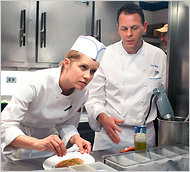 In LaDonna's case, this episode elaborates her sense of being at home with and violently repelled by New Orleans. As she tells her therapist, "I don't know where I am these days." Her therapist responds by suggesting that Gigi's Bar "represents independence, your sense of place, and a link to your past." Ladonna responds, "It's all I got…besides my family." To sell the symbol of her independence, her sense of place – even if that place is the scene of an assault perpetrated upon her – is also to lose or to leave herself. A later scene with LaDonna's family at the table in their Baton Rouge house sounds out her frustration. The sharp sound of cutlery scraping and hitting plates is punctuated by her son's request for his grandmother to pass the salt. LaDonna insists the family refrain from using extra salt and then she leaves the table.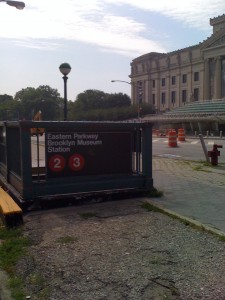 For Janette, newly nicknamed, "Gator," by David Chang at the fictional "Lucky Peach" in New York City, leaving New Orleans represents opportunities as well as limitations. As her musical parallel male character, Delmond, also finds in relation to the promise of the Big Apple, the meanings of the Big Easy and "outsider" perceptions of the city can be a source of inspiration as well as frustration for displaced or ex-pat New Orleanians. The movement between New Orleans and New York City was brought home for me during last week's episode when my subway stop, the 2/3 Eastern Parkway/Brooklyn Museum station, was seen in an establishing shot before Albert and Delmond visit the Brooklyn Museum's collection of African masks. Albert and Delmond return to New Orleans to make the recording. At the end of the recording, Delmond asks "Didn't that sound the same as when we cut it in New York?" Dr. John replies in delicious bons mots, that "New Orleans infect music. It reconstitutionalates it. I'm not trying to be no jive…sucker, but I tell you what, it matters a difference. Can you dig it?" Delmond can dig it and so can I.
That said, Janette also encounters the ways that New Orleans shapes daily life through what might be called ex-pat identifications. (I'm thankful to Vicki Mayer for mentioning ex-pat viewers who watch Treme). Janette represents the affective pull of (mobile) homes as she performs New Orleans in New York City. For us, as viewers of Treme it's a bittersweet broth, but as any cook worth their salt knows, this combination of affective ingredients is also the basis for many other things.