So You Want to Be a Grad Student Mama
Louis CK jokes that "You're not a woman until people come out of your vagina and step on your dreams." I set out for the ivory tower with plans to devote my life to the adventure of grad school, and got pregnant a month before I was supposed to arrive at my M.A. program in Maine. Many of my friends and family were surprised when I stuck with the decision to move from California to the East Coast and pursue an academic career with child, and perhaps they were right. It is a complicated role to negotiate, and there are costs and benefits to consider. But I made the decision, and I'm now a career student entering my fourth year of grad school as I work towards a Ph.D. I write this post to discuss my own specific experiences as a media studies grad student mama. I cannot claim to speak for all grad parents or academic mothers, but I can tell you that being a grad student mother is not for cowards.
In many ways, graduate school and being a young parent are very similar. As Springer, Parker & Reid, (2009) note, both positions place extreme physical and intellectual demands on mothers like me (that I happily signed up for, FYI). In fact, the similarities between becoming a parent and becoming a grad make the two positions seem mutually exclusive. Unlike faculty, who have already completed their training while obtaining their Ph.D., I'm still adjusting to the (relatively) new demands of academic research and instruction while similarly coming to terms with all that parenthood entails in a sort of on-the-job fashion. However, as the average age for women to complete their doctoral degree is 33.6, it is likely that female grads will be in school during their most fertile years (Springer, Parker & Reid, 2009). I am certainly not suggesting that all women want children, or that later pregnancies are not successful. But if you are thinking about having children and are weighing the costs and benefits, biological concerns are something to consider.
I also believe that the general discourse that encourages women who want children to wait until they've completed their Ph.D. is part of a greater patriarchal discourse that disciplines our bodies. I  think it is similar in many ways to the advice female faculty often receive to have their children over the summer. As if taming our biological reproduction to match the academic school calendar would make academia more amenable to parenting or mothering. One need only look around institutions of higher learning to see that these physical spaces were shaped by ideologies that were not child friendly. Whether it be finding a way to pump breast milk in a shared grad office, walking around campus with a stroller, or the atmosphere in the classroom, universities do not lend themselves to grad parent success. Flexibility on behalf of faculty and departments can create support, but also allows for inconsistency. I won't say that universities aren't child friendly, but there are constant reminders that parenting in this setting is not normative. Beyond this atmosphere, there is also the consideration that graduate mothers are less likely to be enrolled in higher ranking departments, and whether you had children as a grad or not, women with children are less likely to be faculty at a research institute. (Springer, Parker & Reid, 2009).
Some other general things you may want to consider. At my current home, UW – Madison, graduate health insurance for TAs is great. Although our governor is doing what he can to change that, I consider myself lucky, because not all institutions provide low-cost family coverage, and if you are considering parenthood as a grad, you cannot overlook the insurance issue. There is also the matter of department service and participating in the graduate student community. I feel like I try really hard to make sure that I get face time with my peers and my department faculty. I suppose on some level I do not want people to think I use my child as an excuse to evade responsibilities. But I also enjoy talking shop with my colleagues. Participating in the intellectual life on campus, such as attending department parties, colloquiums, guest lectures, etc., is crucial for any grad to stay plugged into department news and culture, opportunities and more. Plus, it is an expectation that continues into faculty-hood. I do usually skip the post-event pub crawl or drinks, and I don't apologize. I just make my good byes.
The last, and perhaps most vital thing I'll touch on is doing the actual work. I want this to be a post full of hope, but I will not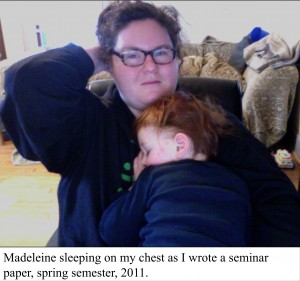 lie to you. Completing research and assignments while teaching and grading is difficult with a kid. To get things turned in on time, I have to plan my weeks out in advance, and no longer have the luxury of waiting for my muse to hit before I begin writing. I regularly have to write during my "free" time between class/teaching to get stuff finished. I would like to boast that perhaps being a mom makes me a more organized and goal-oriented grad. But I am not sure. Several circumstances have led to pulling all-nighters when my daughter Madeleine will only be soothed by me, and I am furiously working. The solution, thus far, is let her sleep on my lap as I type. I like these moments, but it makes the typing slower and can lead to typos. Trust me on that, I know it from experience (and so do my professors).
There are many other things I could write about, but I am going to end it here. I'm going to skip retelling sexist encounters I've faced as a grad mom, but trust me, they have occurred. And I kind of go out of my way to make my motherhood pretty visible. I do this because, as a feminist, I feel very passionately that greater visibility is part of the solution to making academia a more family-friendly culture. If possible, I encourage you to advocate for childcare for work meetings. I haven't done this, but will when I become a great and powerful professor (you guys make enough money for a full-time nanny, right?). If you are inspired, lobby for the availability of lactation rooms and changing tables. Bring your child to class rather than skip seminar. I have had to do this a few times, and my profs have always been pleasant and accommodating. Of course, that might be because I study media and cultural studies, and take classes with instructors like Julie D'Acci, who tried to enroll Madeleine in the Gender & Women's Studies program when I brought her to class. There are penalties and benefits to being a graduate student mother, but given the decision again, I could not choose between these parts of my life. I love doing research, I love teaching, and I love my kid. My greatest fear, which haunts the dark places of my mind when I go to sleep late at night, is that I will not finish my dissertation, or get enough pubs to find a rewarding faculty position. This is the folly of late night thinking, though, especially considering the immense support I get at Madison from faculty and peers.