On academic collaboration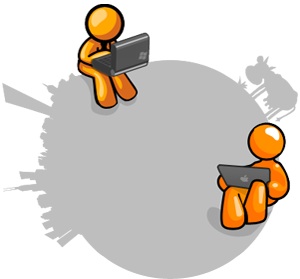 A couple of years ago an engineering company asked me to write a short article on one of their projects. For an English Ph.D. that should have been an easy exercise—after all, I write and edit for a living. And yet, it was harder than I expected, not because of the content (though I do know now what Offshore Supply Vessels are and do), but because of the very different way intellectual property gets used. I took over another person's writing, used his words, and played fast and loose with quoted material. To an academic, this more journalistic approach was strange and, after a while, oddly freeing—the ultimate purpose was the best article we could write, and it didn't matter who'd contributed a phrase or a quote. Moreover, my name wasn't attached to it when it finally came out (though I did get paid).
The humanities put a lot of emphasis on individual (and, thereby, especially in school, gradable) work. We spend a lot of time teaching (and evaluating) single-authored essays, even as the "real world" very rarely demands these forms of researched writing academia trains, and in its stead, a lot of commercial writing is collaborative. Likewise, plagiarism is not a clearly defined field, neither theoretically nor practically: what constitutes general knowledge shifts with audiences, and one person's obvious allusion is another's unreferenced citation. Meanwhile, I spend most of my career foregrounding thematic and generic references and repetitions in story telling, rejecting the Romantic Originalgenie, yet in my discipline the originality of theoretical ideas are still the prime, the only measurement of worthwhile academic writing.
Collaborations are frowned upon in the humanities in a way that's inconceivable in the sciences: monographs are still the prime currency in tenure and promotion, and our training doesn't prepare or encourage us for the give and take that collaborative writing demands. For me that's a shame, because I love writing with others. I learned early in grad school that I think best out loud and with and against others, and where I once had my fellow grad students, I later had fellow fan friends who'd think along and poke holes and challenge me to think deeper and further. But none of that compares to thinking with someone who has the same stakes in the project, who contributes not just ideas but also words to a shared whole.
As a result, I've started collaborating quite a bit. As an independent scholar I don't have to worry about the types of writing I do, and I've realized that collaborative thinking and writing suits me: being responsible toward another person keeps me on track, and being able to run ideas by someone moves me over my thinking and writing blocks. I've collaborated on conference papers, essays, book collections, and one book project with more than half a dozen different people, and I've been co-editing a journal for the past four years. Not all of these projects have been successful, and the failures have taught me as much about the process as have the successes. There are a few rules that I've learned along the way.
Be Balanced — One of the biggest dangers, I think, is that one person puts more time, energy, and ideas into a project than the other. Being balanced doesn't mean both people have to do exactly the same amount of work or the same type of work, but it does mean that neither one feels exploited or silenced. I've worked on projects where I wrote larger parts of the essay but my partner did all the stylistic fine tuning and much of the theoretical heavy lifting. I've worked on projects where we both wrote sections and then simply edited the other's writing. And I've worked on projects where we sent the essay back and forth so many times that neither one of us could separate out in the end what we'd written. The important thing is that no one feels they're working too much or that their ideas are being overlooked.
Be Clear — My biggest collaboration project failed not because we didn't get along or because we didn't want to do it, but because on some level we weren't writing the same book. We had written the book proposal together (which turned into a great essay after we'd aborted the larger project), but when working on the chapters, we kept on moving in different directions, pulling at odd angles. I feel that we may ultimately have been imbalanced (the idea wasn't mine, and I may never have been as fully committed) and we may not have talked enough up front about our expectations of the project and one another. Sometimes it's really useful to state up front and revisit the various goals one has in a project, practically and intellectually.
Be Honest — Being up front about how much time one has, what other commitments may have to take precedent, and what one hopes to ultimately accomplish is key. If one partner feels they work more and harder than the other, they need to speak up or it'll create frustration and anger. Likewise, it's important to retain one's own ideas if necessary. In one project, I'd been working together with my partner so closely that at one point I wrote her previously articulated ideas as ours. She felt comfortable enough to mention it, and we solved her concerns easily with a simple attribution. Collaborating doesn't mean all ideas are up for grabs, nor does it mean one gives up all sense of style and diction. It does mean, however, that adjustments may have to be made on all sides.
Be Timely — That's the biggest one for me, and my one major requirement at this point in any collaboration. I have to work with academic time and many academics' lackadaisical relationship to deadlines on too many fronts to want to put up with it in personal projects. For me, quick response time and reasonable turnaround are key to any working collaboration. What constitutes timely can differ from person to person and project to project, but it needs to be clear to everyone participating what is expected and what they need to do.
I've been extremely lucky to have had amazing collaborators, with work ethics similar to mine and the ability to share ideas and words. A good collaboration makes you forget who came up with what idea and who wrote (and revised) what sentence and paragraph. A good collaboration allows you both to look back proudly on your essay and know that the whole is better than the sum of its parts. A good collaboration, in the end, is one where you're still friends after the essay is published.