Throat Buckles and Nerd Glasses: Performance of White Hipster Celebrity Drag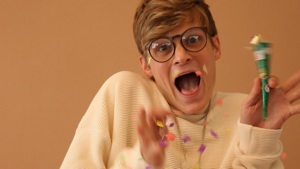 Despite variances in performance style and fan identification, drag performance has long been preoccupied with celebrity construction and the artifice of normative femininity. Explorations of such terrain shaped queer theory. Notable examples include Judith Butler's mediation on the racial dimensions of appropriation and subversion evident in Paris Is Burning, Jennie Livingston's 1990 documentary about New York City's ballroom community and Jack Halberstam's negotiation of various assertions of raced masculine performance in drag king culture.
Mediated drag images are often foregrounded, particularly as contemporary scholarship posits how reality television and music video challenge disseminated images of drag through parody and confrontational disregard for societal convention. Until recently, such representations were limited to television, film, and music video. But several drag artists have developed huge followings based on their online activity.
Christeene is a notable example. She successfully bridges traditional forms like the music video and live shows with extensive use of digital and social media to cultivate a kind of drag celebrity based on her confrontational and racially problematic performance style to a growing international audience. Influenced by Sinéad O'Connor and more in line with punk's anti-fashion, DIY aesthetic than contemporary pop music, what may be especially productive about Christeene's drag performance is her blatant disregard for passing as female.
Though perhaps not as conscientiously participating in what may reductively be termed "bad drag", I posit that there may be something productive about Drew Dreoge and David Craig's viral success impersonating Chloë Sevigny and Martha Plimpton. Both actors have ongoing Webisode series with notable followings. Suggesting an overlapping audience and crossover appeal, Dreoge appeared as Sevigny in an episode of "Simply Plimpton."
Craig's series documents imagined events in the veteran actress' personal life, like going out for auditions. Dreoge's segments as Sevigny recall the narrative trajectory of celebrity lifestyle guides that focuses on the actress' indie credibility. Following common tropes of drag performance, both personas rely on parody. Craig explores Plimpton's genderqueer persona by heightening her awkwardness and androgyny. Dreorge pokes fun at Sevigny's hipster pretensions by modeling deliberately ridiculous outfits, name-dropping obscure public figures, demonstrating casual fluency with avant-garde fashion and bizarre food items, and archly mispronouncing simple words like "birthday" and "spring". However, two points of departure from more conventional drag performances in these Web series appear to be the employment of deadpan, ironic detachment and a lack of emphasis on live performance and interaction.
I also wonder how fan identification is positioned in these two series. Are Dreorge and Craig's impersonations at all resistive or do they ultimately rely on previously-established modes of address? Traditional forms of drag performance tend to be built around hyperfeminine pop divas like Diana Ross, Judy Garland, Dolly Parton, and Madonna. Dreorge and Craig could be opening up the possibility of more heterogeneous forms of queer fan cultures by impersonating left-of-mainstream female celebrities like Sevigny and Plimpton. However, despite some superficial differences in gender performance, Sevigny and Craig's queer fan communities are not explicitly addressed in these Webisodes, much less differentiated. Without better attention paid to audience and how they organize their identities, we cannot quantify how these Webisodes are received and if they trouble previously-established drag conventions.
Finally, what do we do with the racial politics of the two series' repurposing of Plimpton and Sevigny? Halberstam notes in Female Masculinity that drag kings tend to fashion personas around cultural figures associated with specific racial and ethnic identities, like the pimp and the cowboy. By emphasizing these women's extravagant material wealth and high-born awkwardness, I am not sure if Dreorge and Craig subvert unchallenged assumptions about white femininity so much as they hang these stereotypes on different kinds of queer female icons.