What Are You Missing? Sept 11-24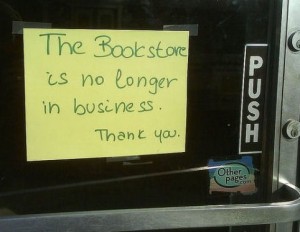 Ten (or more) media industry news items you might have missed recently:
1. With bookstores dying, chains and independents alike, many have great expectations for digitization. Thankfully, libraries might still matter in such a world, as indicated by Amazon making Kindle books available to libraries, even allowing you to make saveable margin notes and highlights. Amazon also has a Netflix-style e-book rental service in the works.
2. Amazon was also in the news for awful warehouse conditions, its Appstore quietly going international, and being targeted by new Internet retailer tax legislation in California. Cloud computing services are about to make the latter even more complicated. Also likely to get even more complicated is the Net Neutrality issue, which might see new rules go into effect on November 20, but those will likely be challenged in court. Meanwhile, we can all look at this cool infographic and lament that Eastern Europe and a lot of other countries are leaving the US in the dust when it comes to internet speeds.
3. You've heard all about Netflix's rough times lately, but you may not have seen this handy chart of the company's diving stock value or heard about its headquarters lawsuit. A possible future threat looms in the form of the studio-backed cloud service UltraViolet, which Wal-Mart might get on board with, while the indie world is watching SnagFilms and Prescreen with interest.
4. Oscar season might have more serious dramas in the mix, thanks especially to Sony, and it will also have some new publicity party rules, though those might mean nothing in the end. Serious drama of the non-fictional sort continues to play out in Iran, where the co-director of Jafar Panhi's This is Not a Film has been arrested. The British apparently prefer serious drama on screen to real life, as a BFI report found that the British public considers cinema to be more worthy of their attention than world news.
5. DreamWorks might expand production into China, while Paramount is expanding in its own back yard. Stephen Spielberg regrets expanding digital effects for an earlier release of E.T. and says he won't do it again, but you can plan to see (or not see) an expansive version of Top Gun in 3D, while James Cameron doesn't think just anybody should be able to make films in 3D.
6. Nielsen released a comprehensive report on social media use, including a person-shaped infographic; with a mere silhouette stance, it clearly signifies hipster. (Bonus international social media use infographic!) It was only a little over five years that us hipsters started using Twitter, though it was called Twttr then (slogan: "If you have a cell and you can txt, you'll never be bored again…E V E R!"). And now any hipster who wants to can join Google+; nearly 50 million already have (though according to my feed, only about five are regularly posting).
7. In Japan, the Tokyo Game Show was packed, but the Microsoft Kinect booth wasn't. In the US, video game makers are enjoying big tax breaks, and GameFly professes not to be worried by Netflix's move into video game distribution. And online, YouTube is a frequent destination for gamers, and online gamers might help to cure AIDS.
8. Spotify is now open for business to all Americans, but it's also dealing with significant dissension and defection from indie labels over low royalty payments. Spotify argues it's being fair, and you can compare for yourself via this handy primer on how much money a band earns from various outlets. The streaming competition is about to get even thicker; unfortunately, users seem to prefer ownership to streaming.
9. This headline deserves its own entry: "Actually, there really isn't that much porn on the internet."
10. Some of the finer News for TV Majors (@N4TVM) post from the past two weeks: Lost History, Facebook and Social TV, Making the Daily Show, Blockbuster Streaming, Farewell to AMC, Louis on Louie, The V-Word, CBS Likes Reverse Comp, Top Chef Transmedia, Downton Breaks, Netflix & Qwikster, TV Changers, SpongeBob's Effects, TV Everywhere Campaign.