Glee: Kurt and the Casting Couch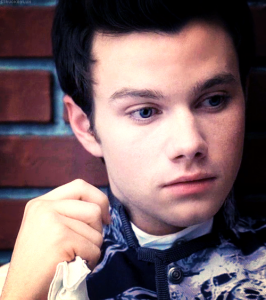 In the second episode of Glee's new season, "I Am Unicorn," Kurt's character loses the romantic lead in the school musical, West Side Story, to his more masculine boyfriend Blaine. The episode was both fascinating and confounding because instead of interrogating masculinist gender hierarchies, usually one of the show's great strengths, the show affirmed them, making the argument that Kurt could not sufficiently turn on women because he was too "delicate," "fragile," "too much of a lady" and "not Rock Hudson gay, but gay gay." The adjective "feminine," was oddly never employed, although it would have been much more suitable for describing Kurt than "delicate," especially given that the character had just performed an audition that displayed considerable upper body strength. "I am Unicorn" celebrates Kurt's "theatricality" while simultaneously trying to contain and deny any erotic response. This confused text exposes the social anxieties and gender biases of the powers that be, and suggests a larger cultural disconnect at work between the promoters of U.S. media culture and their audiences.
The central contradiction at work here was the assertion that Kurt could not be an object of erotic attraction for women and girls, when in fact, beyond Glee's textual confines, the opposite is true. Female (and many gay-identifying) fans eroticize Kurt/Chris Colfer constantly — more than any other character on Glee – at his concerts and in countless online fan sites. Kurt/Chris is a nexus of identification and desire for fans worldwide, and it is precisely his unique blend of feminine and masculine characteristics – his genderqueerness– that audiences find erotic about him. It is also what cultural authorities find discomfiting. Colfer is both feminine and an out gay man, and his popularity proves that his femininity and gayness do not preclude his eroticization; fan reactions to Colfer are notably not those of mere "tolerance" or "acceptance" but rather of passionate love and unbridled enthusiasm for the new queer erotics that he embodies.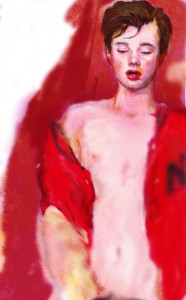 Internationally, Colfer is in good company. Feminine men are the heartthrobs of popular culture around the world, particularly in Asia and Europe. U.S. culture, however, has historically been more resistant to the feminine male performer, belittling him and disciplining his audiences by tying his femininity to the stigma of homosexuality. But American youth today have been raised with mainstream gay images, and they widely support gay marriage; they also embrace a variety of gender-transgressive behaviors and many identify themselves as transgender. Many youth no longer even recognize cultural content that used to be marginalized as "gay" or connotatively queer. As anyone who attended the Glee summer concert tour (as I did) knows, Colfer is a popular idol, and fans react to him with the same erotic intensity as they did to the Beatles: screaming, crying, and tearing at their hair in ecstasy. Colfer and Darren Criss (who plays Kurt's boyfriend Blaine) were the focus of the tour, which was attended by more than 500,000 fans. Colfer is mobbed in public, and he is the only Glee actor to have a permanent personal bodyguard because of the fervency of some fans.  Even as Colfer was galvanizing stadiums of fans this summer, however, U.S. media figures continued to make assertions that he did not have erotic appeal for girls. Even many who support gay rights or are even themselves gay, could not understand or did not support a feminine fashionisto as a mainstream erotic figure. One sarcastic 19-year-old female fan made a video retort to one such charge, made by a more masculine gay performer.
Trying to undercut Colfer's erotic appeal at this point, however, is like locking the padlock door after the horses have bolted. The sexual component of Kurt/Chris's appeal has actually intensified in the last 6 months. When Colfer first started Glee, he was an 18-year-old boy; he has since grown 5 inches, become leaner by 20 pounds, and become increasingly aware of himself as a sexual subject and object. His positioning as an erotic object in the text became decisive when the very attractive Blaine first kissed Kurt in March (a romantic moment between two men that was so intense it lost the program substantial viewers). The "Born This Way" number, which Colfer performed both on Glee this past April and on tour, represented Kurt's coming out not as a gay man but as a sexually confident one, ready to play. Gay male fans became more visibly interested in Colfer, and he started ranking in national gay polls as among the top "hot" young men. Even more than "Born This Way," Colfer's concert performances of "Single Ladies" were the sexiest of the set, considerably more sensual than his performance of the number on the series two years before; his pelvic thrusts, gyrating hips, head tosses, and protruding tongue signaled to fans that he was all grown up.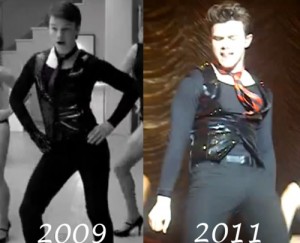 Colfer fans were thrilled to see that he had passed through puberty, and they felt freer to eroticize him as a result.
Colfer fans fetishize all parts of his body and his gender performance, both the standard features of the young male heartthrob (eyes, ass, chest, arms, bulge, pelvic thrusts, "grinding") and the more feminine or non-gendered aspects (clavicle, neck, tongue, profile, posture, fluidity of movement, hip gyrations, facial expressivess, "gay" hair, high-pitched voice). His talent as an actor gives a particularly affective charge to his androgyny, and Colfer is also a highly autoerotic performer, who frequently touches himself in areas that fans then eroticize. The beauty and variety Colfer offers make him ripe for fantasies of every kind, and he is an icon of Tumblr and other fan sites, which offer fan art, photocollages, videos, and fiction of Kurt/Chris in a variety of romantic/erotic roles that often transgress gender norms: (art credit alphonse-hummel.tumblr.com.)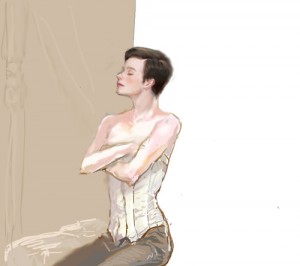 While some fans exhibited disappointment with "I Am Unicorn," they were undeterred. Colfer's unexpected popularity has opened up a space for the queer-identified feminine male as erotic object on U.S. television that is not likely to be easily contained. Fans have gone about their eroticizing business in defiance of the cultural authorities that seek to dissuade them, which is perhaps the most significant aspect of this entire discourse.