Report From the Association of Internet Researchers Conference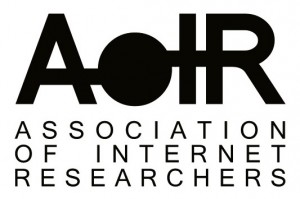 The annual Association of Internet Researchers conference was held in Seattle, October 10-13. Like all conference reports, this report will be incomplete, based on the observations of selected participants. For more takes on the conference, see Axel Bruns' coverage of the panels and keynotes and Fabio Giglietto's stream of contents.
Below are our respective takeaways from our time in Seattle.
Ben Aslinger: Nancy Baym talked about her ongoing interview research with musicians on how musicians manage their social media presences (and absences). Baym emphasized that musicians must navigate why, how, and where to be present, given the proliferation of online music services and social networking sites. David Phillips profiled the emergence of a Quantified Self community and the potential implications of data being used not only in the hacker spirit of obtaining self-knowledge but also for repression and surveillance. Rosa Mikeal Martey presented ongoing collaborative research on gaming practices and identifications in Second Life, where she and her collaborators constructed a game in order to do virtual world ethnographic work. Tama Leaver posed a series of provocative questions about digital media presence, profiling the ethics and problems of parents creating social media traces (and thus digital identities) for their children (how much should parents share on online social networks, microblogging sites, and photo services?) and how digital identities are handled after death. Tom Boellstorff's keynote featured a provocative discussion about how to treat the gap between the digital and the physical.  He drew interesting connections between his work on Second Life and his previous work on gay men and women in Indonesia. Alex Leavitt and Rosa Mikeal Martey's presentations raised questions regarding how we balance our work as scholars with the work of archiving and preserving our objects of study. Is it our responsibility to save our objects of study? What new tools, software programs, and skills do we need to learn in order to preserve an object for study or keep our object of study around long enough for us to complete a research project? And through it all, there was the kissing booth, an experiment in presence, absence, viewership, and subjectivity designed by Theresa Senft.
Sean Duncan: One of the most interesting gaming-related sessions was scheduled at the very end of the conference, featuring four papers on the topic of sexual identity in digital games (including one of the authors of this piece, Ben Aslinger of Bentley University, also featuring Todd Harper of the Singapore MIT GAMBIT Game Lab, Lee Sherlock of Michigan State University, and Kevin Rutherford of Miami University).  In it, issues of sexual identity and game studies were addressed from four quite complementary perspectives — Aslinger through an engagement with the question of what a queer game studies might look like, Harper through the development of A Closed World, a game project that he led at GAMBIT, Sherlock through fannish practices around World of Warcraft, and Rutherford through the analysis of game mechanics in Fallout: New Vegas that yield the gay male character option as the optimal one.  Through each of these talks, issues of sexual identity were addressed theoretically, through design, through investigation of fan practices, and through a look at the procedural rhetoric of a game.  As the beginnings of a queer game studies seems to be taking hold, it was heartening to see these scholars attempt to address not just how fans express sexual identity through their gameplay, but each tied these forms of engagement in some fashion to design, either the design of games to explicitly engage players with these perspectives (as in Aslinger's discussion of Stonewall Brawl and Harper's discussion of A Closed World) or the ways that game design and game mechanics are implicated in popular, commercial games (such as Sherlock's discussion of World of Warcraft and Rutherford's analysis of Fallout: New Vegas).  As the connections between internet studies and game studies deepens, it's a positive step to see us moving beyond an inordinate focus on synchronous virtual worlds such as massively-multiplayer online games to a broader consideration of the variety of games, their designers' intents, and the means by which they are engaged upon via the internet.
Liz Ellcessor: On Monday, before the official start of IR12, I attended the conference's doctoral colloquium. With over 30 Ph.D. students from a variety of disciplines, the colloquium took the form of small group meetings, in which 3-5 students were matched with mentors on the basis of shared interests or methodologies. These senior internet scholars led dedicated discussions of each group member's project, drew connections between projects, prompted reflection, and offered advice and support. Obviously, experiences within small groups varied, but in wrapping up the day, organizer Elizabeth Buchanan observed that the groups all engaged with challenges regarding interdisciplinary work, work-life balance, and the ethics of research in an era in which expectations of privacy may be shifting for both scholars and our research participants.
Some of these concerns regarding methods of Internet research were also addressed in Wednesday's Theoretical Reassessments panel. Ron Rice and Ryan Fuller began the session with an analysis of the prevalence of various concepts and theoretical found in article titles and abstracts related to online media in the past several years. Some concepts declined in popularity, such as "Web 2.0," while others grew, including research using uses and gratifications theories. In concluding, the authors suggested that the field could benefit from more theoretical work on credibility, participatory media, relationship management and cultural differences. Similar data analysis from Matthew Allen addressed the discourses of Web 2.0. Using Leximancer as a tool to analyze a vast corpus of data and locate the key terms and relationships, which centered on "share" and "use," he theorized that these uses of language ultimately produced a preferred "user" subject position, analogous to preferred reading positions, from which to engage with Web 2.0 media and technologies. Alex Halavais conducted a "genealogy of badges," describing the religious and military traditions from which badges emerged, and the blurring of their uses as signifiers of authority or identity and items of commerce. This "baggage of badges" carries over into their use in new media forms, whether in games, FourSquare, or the current MacArthur badges for learning competition. Finally, Annette Markham focused on the difficulty of protecting the privacy of human subjects when doing Internet research in the current, searchable, web environment. She argued in favor of fabrication, pointing out that research composites, fictional narratives, and fabricated conversations can be used ethically as a means of camouflaging particular online identities and communities while still drawing upon real themes and concerns identified through research.