How to be an Independent Scholar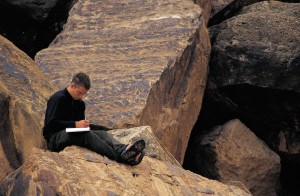 Becoming an independent scholar is quite easy: one merely needs to defend one's dissertation without a secure job prospect in sight. The next step, as affiliation privileges cease to exist, is to contend with university firewalls and forms where one suddenly has to define one's identity beyond the clearly demarcated hierarchies of grad student, assistant, and associate professor. Continuing one's job search into year two or three while teaching as adjunct instructor is generally accepted as merely a stepping stone. It is equivalent to eating Ramen noodles, and only worthy of being acknowledged once a position is secured and everyone gathers with their new colleagues to share job market horror stories.
But staying an independent scholar is actually quite hard: it requires the continuing desire to do research without the non-monetary but nevertheless quite real remunerations university positions afford. Depending on one's institution, research constitutes different percentages of the expected workload, but most places encourage (if not demand) research and publication as part of the job description—and therefore as part of what's done in exchange for a paycheck. As an independent scholar, however, research and publishing serves no quantifiable purpose. In a way, it's love for learning and passion for knowledge in its purest form—or at least that idea is how I sometimes comfort myself.
In reality, though, it means that for the independent scholar, research is not and can never be part of one's paid labor. It usually doesn't feed into upper class teaching, as the general wisdom for the necessity of research at the university level goes. It doesn't create lines on a vita necessary for tenure and promotion. And it doesn't justify time spent away from one's real jobs—be they family responsibilities, adjunct teaching, or some other way to keep yourself fed, housed, and comfortable. Being an independent scholar means that research and academic writing must be redefined as pleasure: I research instead of watching TV or reading a book; I write instead of meeting with friends or going shopping; I edit and do professional activities at the cost of my family time.
That's the reason, I think, why there are so few of us: trying to do research without access to libraries is difficult as is trying to maintain a collegial network without being able to go to conferences. But both are possible with the Internet, online communication, and networks; email, blogs, social networks, IM, Skype—all allow us to remain in touch and to create and maintain a community of likeminded scholars without ever leaving our house or hometown. The real difficulty is in weighing, each and every time, whether you rather want to go to the pool with your kids or write another 500 words, and whether it is really worth it. I love what I do! I love researching and learning; I love brainstorming and writing; and most of all, I love sharing and debating my ideas. I am well aware of the conceptual value of academic scholarship above and beyond the CV line, the academic pecking order, and the minimal monetary or time rewards research often yields. It is a daily decision, however, to return to the open document and the virtual library—not because I have to, but because I want to.
And that, in the end, is why I am an independent scholar: I love the friends and colleagues I've made and the intellectual community I've been given. I love mentoring younger scholars and seeing their achievements and successes. I love the ability to write what and where I like with no concerns of a upsetting or displeasing anyone who could harm my career. And, I admit, I sometimes love the self-righteousness I feel in knowing I have no vested interest, that my research is as neutral as it can be. Working in fan studies, where academics motives are questioned often, I can easily and openly declare my alliances with my fellow fans.
Wherever we end up after grad school, R1 or community college, liberal arts college or regional university, whether we are lucky or strike out, sacrifice everything for our career or make other life choices, I don't think we can do what we do without a deep passion not only for our subject but learning in general. As an independent scholar, that's what I get to keep; that's why I make this choice, over and over again, to continue to read, research, write, and publish.