Situation Without Comedy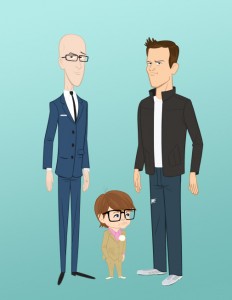 On November 6, a new episode of The Simpsons took an unexpected turn. While Homer tussles with a new co-worker voiced by Glee star Jane Lynch, Bart partners with brainy classmate Martin to take first prize at the science fair. Their winning project involves robotic baby seals so adorable that they lift grim spirits at the Springfield Retirement Castle. Disgruntled funeral directors sabotage the seals' programming, the seniors fall back into withering depressions, and the boys seek help from the nutty Professor Frink. Frink calls a meeting of the North American Man Bot Love Association, oblivious to the quibbles of his group who recognize the acronym of the controversial North American Man Boy Love Association, founded in the late 1970s to advocate decriminalization of sexual acts between adult males and consenting minors, and lowering the age of consent. How much of Fox's post-NFL audience would get the joke? The moment seemed more Family Guy than Simpsons, more Seth McFarlane than Matt Groening, randomly provocative—and gone in a flash. The robotic seals are repaired, the seniors enjoy life again, Homer gets his new co-worker fired, and the credits roll.
A half hour later, I re-read the scene as an intertextual jab at the second episode of Allen Gregory, a new animated series following The Simpsons. The title character (voiced by series creator Jonah Hill) is a precocious seven-year-old with two dads. His parents are a study in gay stereotypes: Richard (French Stewart) is natty, nasty, gossipy, and shallow; Jeremy (Nat Faxon) is a sweet if hapless hunk. Allen Gregory harbors a desperate crush on Principal Gottlieb, a gruff and gray-haired woman who towers, buxomly zaftig, over the boy in their scenes together.
Allen Gregory announces over the school's public address system that he has a sex tape featuring the principal and himself. While the claim goes over classmates' heads, back at home, Richard gleefully counsels his son on PR tactics. At school, the mousy guidance counselor, who turns out to be Gottlieb's husband, becomes more concerned that the tape might be real than he is with the boy's hypersexualization. Meanwhile, Richard banishes friends of their adopted daughter that he finds insufficiently attractive. Jeremy coaxes him to respect the girl's choices, and the girls are invited back only to be subjected to more of Richard's mockery.
In short, the series is as invested in humiliation as the cattiest zones of reality TV, and I struggled to find the comedy in Allen Gregory situations. According to the philosopher Simon Critchley, one of many who have offered such a definition, "humour is produced by a disjunction between the way things are and the way they are represented in the joke, between expectation and actuality." Not any old expectation; not just any actuality. "The genius of jokes," he writes, "is that they light up the common features of our world."[1] But there is a paper-thin line around comedy. When an attempted joke obscures rather than "lights up" the machinations of power, that line is breached, and sidesplitting laughter may turn to gut-wrenching disgust.
The pairing of The Simpsons' scene of fleeting pedophilic wordplay with Allen Gregory came on a day in which, already, a lot of ink had been spilled and bandwidth consumed regarding news emerging from State College, PA. On November 4, a grand jury had indicted a former defensive coordinator for the Penn State football team on forty counts related to sexual abuse of minors. (I resist naming him here, despite how frequently his name and picture are appearing in the press, in deference to his legal right to enjoy the presumption of innocence.) On November 5, the suspect was arrested, and the story dominated the weekend's news, occupying front pages and sports pages alike. Two other university officials were charged with perjury in connection to the grand jury. Allegations emerged suggesting that the beloved coach Joe Paterno, who had led the Nittany Lions since 1966, also may not have responded adequately to an assistant coach's report that he witnessed the retired coordinator sexually assault a young boy in team facilities.
For days afterwards, I found myself mulling over the ongoing newsflow from Penn State against the backdrop of Fox's Sunday night "Animation Domination" block of purportedly "edgy" programming, which has (as much as I hate to admit it) become less innovative vanguard than regressive curmudgeonry. (McFarlane's October 31 Family Guy episode, "Screams of Silence: The Story of Brenda Q," stirred up critique from several quarters for trivializing domestic violence — and for lacking almost entirely in humor.) I was reminded of Janet Malcolm's In the Freud Archives (1983), which recounts a battle over the legacy of the founder of psychoanalysis. In brief, a renegade psychoanalyst suggested that, in defiance of data accrued in his daily practice, Freud prematurely abandoned his original seduction theory, which identified the all-too-common trauma of childhood sexual abuse as source of adult neuroses. If the allegation was correct, Freud purposefully displaced evidence of the uncomfortable actuality of the sexual exploitation of children with fabulized Oedipal fantasies locating incestuous desire in the child's imagination and normalizing it as a developmental stage. Established figures in control of the Freud Archives took issue, and drove the young upstart from their ranks, protecting the founder of psychoanalysis from criticism.
Likewise, even as alleged victims in the Penn State debacle continue to come forward, Allen Gregory grabs the microphone, and propositions the principal. For a time, it appears that it is children that abuse adults, sexually and otherwise. Recalling Critchley, we might say that "expectations and actuality" are disjoined, relations between "the way things are and the way they are represented" are upended. But the joke falls flat. Instead of illuminating "the common features," however distressing, "of our world," Fox has, in this instance, rolled out only obfuscating, acid unfunniness that stings a little bit more in light of still unfolding events.
---
[1] Simon Critchley, Humour. London and New York: Routledge, 2002.