Late to the Party: Band of Brothers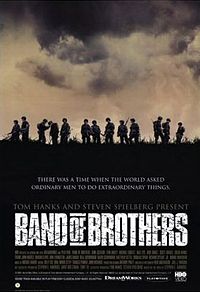 I first became familiar with Band of Brothers (HBO, 2001) when I was apartment hunting prior to taking up graduate studies at the town's university. It seemed as though the cable-equpped television in my room always featured some installment of the historical miniseries, no matter the hour of the day. Although I encountered only bits and pieces of the series' ten episodes, I found myself to be drawn in by those disjointed fragments. These chaotic battle scenes, intimate exchanges in foxholes, and moments of quiet internal reflection suggested a profound and meditative depiction of war. While BOB sometimes trades in conventional depictions of courage and heroism, it renders these values concrete through its emphasis on a prevailing sense of duty born out of the strong bonds in this particularly intense fraternity of fighting men. I resolved to view BOB in its entirety once I settled into life here in Madison.
Fast forward two years and I finally got around to watching the series and my viewing happened to coincide with the program's tenth anniversary. In the decade since its release, BOB has become a phenomenal success on DVD – it has generated upwards of $250M in DVD and Blue-ray sales – while drawing consistent audiences in rerun showings. So what is the key to the miniseries' enduring appeal?
It is difficult to come up with a straightforward answer to this question. Certainly, the fact that this story is grounded in a concrete sequence of historical events featuring a group of visible characters lends the program a compelling degree of immediacy and authenticity. At a time when we are losing our last tangible connections to World War II, the story of "Easy Company", 2nd Battalion, 506th Parachute Infantry Regiment assigned to the US' army's 101st Airborne Division resonates broadly. The story of this tight band of paratroopers is notable and somewhat familiar thanks to Stephen E. Ambrose's popular history , Major Dick Winters memoirs, and the posthumously published war memoir of David Kenyon Webster. There is also We Stand Alone Together: The Men of Easy Company, a documentary that features surviving members of the company describing their experiences in the war in a somber manner (this was included on the DVD release of the miniseries). All of this material lends a certain heft to the dramatization of the battalion's experiences, particularly given the way that each episode opens with relevant reflections from unidentified company veterans. This has the effect of establishing that this account has been sanctioned by those who suffered through the events depicted.
The program itself is beautiful in appearance and impeccable in its plotting and detail, albeit with a fair bit of poetic license and the odd inaccuracy. Executive Producers Steven Spielberg and Tom Hanks evidently took a great deal of care in mapping out the story and the result is a taut, exceptionally well-paced series that manages to feature a variety of perspectives while maintaining its focus and momentum. The episodes trace Easy Company's progression from its initial training period in Toccoa, Georgia to England and D-Day and the subsequent Market Garden and Bastogne campaigns. The final episodes, which see the company taking Hitler's 'Eagle's Nest' in the Bavarian alps and then functioning as an occupying force provide a welcome perspective on a seldom seen side of war.
Major Dick Winters is the ostensible center of this ensemble cast, but he is the narrative focal point of only three episodes ("Day of Days", "Crossroads", and "Points"). Other episodes focus on secondary characters in a manner that provides a well-rounded overview of life in the company over the course of these difficult campaigns. This is one of BOB's major strengths as this technique provides multiple points of identification while highlighting the complexity of the events depicted. This variety of perspectives helps BOB to avoid the tendency to slip into a simplistic glorification of classic war tropes like courage, sacrifice, and duty. Depictions of soldiers dying through preventable accidents, attempting to avoid exposure to harm in the war's later stages, and grappling with alcoholism undoubtedly contribute to BOB's credibility in this regard.
One other quality of BOB bears mention: the camera has a way of stalking the soldiers whenever they are in a position where they might potentially encounter the enemy. The perspective provided by this practice ratchets up the tension in scenes where this is deployed. For example, Day of Days (Episode 9) sees a patrol head out to explore the woods surrounding the occupied German town of Landsberg am Lech. The camera moves through the trees around the small group of soldiers as an eerie quiet descends. Just when the viewer thinks that the group might be subject to ambush, the soldiers encounter a clearing wherein they see a Nazi concentration camp for the very first time. The viewer's anxiety over a potential ambush gives way to a sense of horror at this discovery in a brief sequence that exemplifies the way that shot composition and plotting combine to produce moments of tremendous dramatic tension.
All of these these factors helped me to get past my skepticism and surrender to the narrative. Where I would normally be predisposed to a critique of the program's overt nationalism and its depiction of historical events, I quickly became wrapped up in the trials and tribulations of Easy Company. This is a function of the factors outlined above, along with BOB's superb production values and fine performances. Reflecting on the program, it occurs to me that perhaps the miniseries is the television format that best utilizes the medium's strengths. The format allows sufficient space for a long-form narrative to unfold while its set length and budget shield it from the economic concerns so that so often come to structure television productions. In the case of BOB, it provided the means to create a perfectly contained storyworld that illuminates an aspect of the past in a manner that is often instructive and always entertaining. My experience with this program has motivated me to seek out other miniseries. While I think I will begin with The Pacific, HBO's companion piece to BOB, I would welcome any suggestions readers might be willing to provide in the comments.