Fantasy Football: Fandom Fail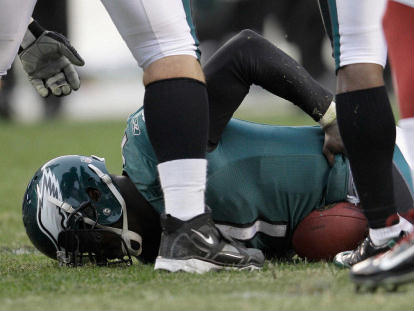 The highlight of my inaugural fantasy football experience was picking my team name. The ten league participants were academics, and our leader cleverly dubbed us the Acafantasy group. We were invited with the lure that we could give our teams TV-related names and play in divisions dubbed Dillon and East Dillon. I went with McKinley High Mathletes. I was quite pleased with this as a marker of my Freaks and Geeks fandom, plus I liked the fact that it connoted competition among academics, and I also loved that the team slogan it lent me sounded like football: First block! Yes, that was the high point; it was mostly turnovers and injuries from there.
I've always been a passionate sports fan, and my dad instilled in me the principle of picking one team per sport to root for and sticking with them for life. I grew up in the Chicago area, so that's had its upsides (the Bulls) and downsides (the Cubs). Rooting for anyone other than the Chicago Bears in pro football has never been an option I've entertained. But by participating in fantasy football, I'd have to mostly root for anyone but the Bears, or more precisely, its individual players.
Our group opted for a computer-generated draft, and when I saw the team assigned to me, I had some pleasant surprises – I got the Bears defense! – and some dismaying ones – I got Michael Vick. I've thought back on who is the most detestable athlete I ever rooted for simply because he was on "my team," and I come up short of Michael Vick with every name. Sammy Sosa went sour, but public awareness of that came largely after he left the Cubs. Dennis Rodman is a creep, but he was more charmingly wacky in his Bulls days. Bears quarterback Jay Cutler frowns excessively, but that's no crime. So having dog killer Michael Vick on the Mathletes probably put me in my most awkward sports-rooting situation ever.
It was also my oddest experience of fandom ever, because it meshed fandom and anti-fandom. Fantasy league players are matched up against another group member each week to earn the highest point total, which means you end up rooting not just for your players but against the ones yours are matched against. It would be as if you're invested in Sons of Anarchy but need for Breaking Bad to stink that week for it to truly pay off for you. Or more accurately, you need Charlie Hunnam to fake anger more expertly than Aaron Paul. And, because friends of yours are running those other teams, it's as if Kurt Sutter is rooting for Vince Gilligan to fail (perhaps a bad example; Sutter might do so). You're even rooting for players you didn't start to flop so you don't regret passing on them, akin to hoping for Julianna Margulies to perform poorly in a Good Wife episode because you didn't have time to watch it. Of course, this is less like fandom and more like gambling, with the expected stress and alcoholism attached.
So I rooted for the dice to come up Vick, and they mostly did…until he got hurt. I can only assume that the karma of violating my long-held anti-dog killing principles started to reverberate at that point. Halfway through the season, to make the fantasy experience less miserable and more like traditional fandom of rooting for lovable things, I traded for the Chicago Bears' stellar running back Matt Forte. He promptly forgot how to run fast and then went down with a season-ending injury. He wasn't alone; across four weeks, I lost five starters to major injuries, including Vick. I started to think I should drop all of my players out of concern for their future ability to frolic with their children after retirement. The final indignity came when I lost a late-season matchup to someone not paying attention and starting a player who wasn't even suited up. Watching the usually glorious NFL RedZone channel that day was like being poked repeatedly with a sharp stick, every cut to a new sequence of plays reminding me where I went wrong, the ticker a loop of regret.
When all was said and calculated, I actually finished the season among the top points-earners in the Acafantasy group but was relegated to fifth place thanks to matchup losses, so had no trophy to show for it. I felt like Community, ranked high in most critics' Best lists but unmentioned at the Emmys. (Though I was quite happy that The Perd Hapleys won the group. Ya' heard?) In the end, I decided that I didn't like the fan that fantasy football created in me. I rooted against the Bears. I rooted for a dog killer. I rooted against friends. I listened to radio shows that spent hours debating if Beanie Wells should start over BenJarvus Green-Ellis. Next year I'll just go back to rooting for my Chicago Bears, no fantasy fandom involved. There will still be regrets, and Jay Cutler will frown excessively, but at least I can watch RedZone with contentment again.