To Rule the World from the 50-Yard Line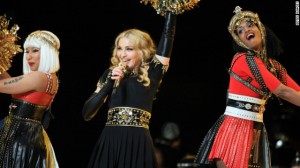 Who gets to play the Super Bowl? As someone with only a basic grasp on American football, to me the Super Bowl serves to generate revenue by premiering new ads for familiar products and action movie trailers (and gin up controversy by running racist political ads). So if there needs to be some kind of musical element to the proceedings, the performer must have mass appeal.
What does Madonna's half-time performance mean? It might mean progress. That a female pop singer with a decades-long career is at the center of such masculinist spectacle instead of a big-tent rock band is still worth mention. Of course, we've seen pop stars play the half-time show. Britney Spears, N*Sync, rapper Nelly, and R&B singer Mary J. Blige performed with Aerosmith for Super Bowl XXXV, though I find it upsetting that "Walk This Way"—a song Rick Rubin pushed on Run DMC—is still deployed as an anthem for generic intermingling. But Super Bowl XLVI began with Kelly Clarkson belting the national anthem, which suggested that female entertainers' presence on the stage was welcome and not noteworthy unto itself.
Madonna isn't even the lone viable female performer, or at least not the only substitute for Janet Jackson. Björk might be too much of a niche artist, but she has no problem captivating Stephen Colbert's audience or delivering a riveting performance at the Olympics. If Beyoncé weren't on maternity leave, she'd strap on gold shoulder pads and charge the field with her all-female band. Women dominate pop music. A number of them project Madonna's sense of drive and self-possession, which may better reflect of the spirit of athletic achievement than a group of guitar-slinging white dudes. Pete Townsend doesn't know how to be a star like Tom Brady does, but Madonna either wrote the playbook or stole it.
But what is Madonna's performance about? Her dense semiotic play always makes that question too daunting to answer. I have no idea why "World Peace" was displayed in lights at the end of her performance, though it contradicts the gladiator regalia, which is entirely in keeping with Madonna's politics. I recognize that performing "Like a Prayer" was a loaded moment, but only if you knew that her Pepsi ad was pulled from the Super Bowl because of the song's supposedly blasphemous music video. But I liked seeing her dance with an army of warrior women, many of whom were women of color. I liked seeing her crack wise with her queer-coded male dancers. I liked seeing her stick her tongue out with (at?) LMFAO. And I especially liked seeing her fumble a dance step on a set of bleachers and strut past the moment in stiletto boots like it was nothing.
Yet I have trouble working through Madonna's collaboration with Nicki Minaj and M.I.A. on "Gimme All Your Lovin," the lead single off her forth-coming album MDNA. To some extent, including these transnational pop stars—Minaj is from Queens by way of Trinidad, M.I.A. grew up in England and is of Sri Lankan descent—helps destabilize the notion of a home team. This was further illustrated by the rappers' uneasy pairing of cheerleading uniforms with ethnic headdresses. As a football non-fan, I didn't see as strong a sense of regional pride that I saw mobilize around the Saints and the Packers in previous years. Neither Eli Manning nor Tom Brady seems to represent their teams' geographic location so much as function as tradable branded commodities.
Ultimately, I encounter the same problem that bell hooks articulates in her 1992 essay "Madonna: Plantation Mistress or Soul Sister". I want to read Minaj and M.I.A.'s participation as progressive and recognize their agency in this participation. But Madonna's model of liberal feminism so centralizes the blonde white woman who profits from patriarchal power while two female rappers of color hold pom poms for her. This is especially surprising, given Minaj's fascinating vocal play and "sea-parting" cameo in Kanye West's "Monster".
M.I.A. is also a scene stealer. Her confrontationally pregnant Grammy performance with West, T.I., Jay-Z, and Lil Wayne still feels revolutionary to me. As a fan, I'm fascinated and troubled by how negative reception of her subaltern signification intensifies as she gets further away from an imagined Sri Lanka. What is she getting at with the video to "Bad Girls"? Is it a response to Beyoncé's "(Girls) Who Run the World" refracted through the ugly American Orientalist materialism that sunk Sex and the City 2 and reframed by the women the film condescends against? Maybe.
However, I did like that Madonna performed with Cee-Lo instead of simply providing a platform for him. Yet I wonder whose performance  we were watching. M.I.A. prompted NBC and the NFL to speak out against her for raising her middle finger. Flipping the bird may have been an empty gesture, especially after she apologized for it. But what is perhaps even more telling is that Madonna hasn't responded.