Imported by Justin Bieber: Carly Rae Jepsen and Transnational Stardom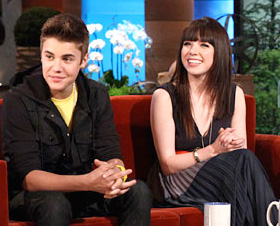 When I clicked on a Twitter link promising Justin Bieber, Selena Gomez and Ashley Tisdale performing a lipdub, it was out of an ongoing curiosity with how these young stars are navigating their early stardom, prompted by an airplane viewing of Bieber's concert film/biography Never Say Never, a recent screening of High School Musical for a franchising course, and the continuing influence of sharing a department with someone working on tween stardom (the wonderful Lindsay Hogan).
What I did not expect, however, was the cognitive dissonance when I realized the lipdub was to a song by the third-place finisher from the fifth season of Canadian Idol, Carly Rae Jepsen. This particularly discovery has sent me into a mode bordering on obsession, not so much with the song itself – although "Call Me Maybe" has been stuck in my head for a while now – but rather with the intricacies of this transnational stardom originating from my home and native land.
Specifically, I'm interested in how the narrative of Jepsen's previous success in Canada is being elided as she gains American success (the song hit the U.S. Billboard Top 10 this week, and currently sits in 6th position on iTunes) and as she is presented as Justin Bieber's "found artist" and protégé, introduced to American television audiences on the March 23rd episode of The Ellen Degeneres Show.
Despite the awkwardness of an 18-year-old mentoring a 26-year-old who entered the music business before he did, Bieber is very much the reason for Jepsen's breakthrough success in America. In a fascinating display of his growing starpower, particularly through social media, Bieber tweeted to his nineteen million followers about "Call Me Maybe" while home in Canada over the holidays, and continued to tweet about the song in subsequent weeks, with his girlfriend, Selena Gomez, joining him. Jepsen lacked American representation, Bieber's manager Scooter Braun has recently started a record label, and thus a logical connection was made: Jepsen signed with Braun's label, Schoolboy Records, and the lipdub video was an incredibly clever (and enormously effective) way to leverage Bieber's star text (and the star texts of his famous friends) to help launch the single in addition to copious tweets from Bieber et al. encouraging fans to purchase the single on iTunes.
However, the way the narrative has been presented on Ellen and elsewhere, you'd swear Bieber had wandered into a random coffee shop and discovered Jepsen sitting on a stool with her guitar playing to a handful of disinterested patrons. Her own star text may be confined to Canada, but it is not insignificant: a second-runner-up on Canadian Idol, Jepsen transitioned into a series of generally well-received singles that received solid radio play. Bieber heard "Call Me Maybe" on the radio in Canada, meanwhile, because it was already on its way to being the number one single in the country, only the fourth single by a Canadian artist to earn this distinction since 2007 – while Bieber's tweeting throughout January was no doubt helpful in this endeavor, the single was already a hit before he laid claim to it.
It has resulted in a fascinating case study of transnational stardom, or perhaps more accurately a case study for how difficult it is for stardom to remain transnational when moving into the American market. The Hollywood Reporter cites Jepsen's Ellen performance as part of her "breakthrough into the music scene" without making any national distinctions, and the interview with Degeneres begins with Degeneres marveling that she got on the radio without a record contract (which Jepsen is forced to correct). It's not as though her past is a secret: her Canadian Idol audition has seen a dramatic increase in views on YouTube, videos from past hits like "Bucket" and "Tug of War" have seen similar bumps, and her Wikipedia page (which predated her sudden American stardom) remains organized in chronological order. In addition, local radio interviews have more time to delve into her past, albeit always with a note of novelty: the B96 Morning Show in Chicago's interview with Jepsen talks about Canadian Idol, but mistakenly calls it "Vancouver Idol," and while they discuss the fact that she has had past albums it's Jepsen who has to provide a title.
In other words, while her Canadian past remains part of her star text, the degree of that success threatens the narrative of discovery driving her appearance in the American market. Bieber actually suggests ownership over Jepsen when presenting her to Degeneres' audience, introducing her as "my artist," and that level of ownership seems to come with a degree of narrative control. Bieber and Braun are tapping into Bieber's own career trajectory, but while Bieber truly was an undiscovered talent busking on the streets, Jepsen was a nationally-recognized artist. Their efforts to elide this (if not erase it) are similar to how reality singing competitions like American Idol or The Voice tend to shy away from the fact that many of their artists have already had record deals: narratives of discovery are less impressive when someone else has discovered them before, whether it's a small record label or another country entirely.
When we start dealing with transnational stardom, particularly in the American context, it raises questions about cultural imperialism, but I do want to acknowledge that the Canadian market and the American market are two different beasts: Braun's strategy to utilize YouTube (with the lipdub garnering almost thirty million views to date) and leverage Bieber's stardom is demonstrative of convergence-era marketing potentials which impressively transitioned the single and Jepsen from a national success story to an international one.
However, as her story becomes reframed for national television audiences, and as that story becomes rebroadcast to other countries (with "Call Me Maybe" sitting at #1 in Australia, and likely to hit #1 in the UK on Sunday, in addition to success in Ireland and New Zealand), the nuance of her Canadian star text might be reduced to this borderline parodic backstage game posted to Ellen's YouTube channel: maple syrup, hockey, and a legacy of other Canadian stars who went from "nothing" to something by making it big south of the border.