Which Direction?: The Homoerotic Masculinities of the Modern Boy Band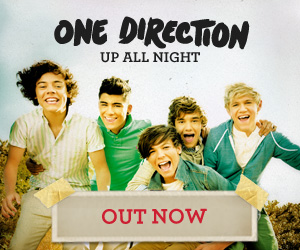 Whether you saw their performance on Saturday Night Live, heard the insanely catchy "What Makes You Beautiful" playing over a mall sound system, or just happen to know a 12-year-old girl, it's possible you've already encountered One Direction, the first truly viable boy band of the current musical era. The four British (and one Irish) teens were made into a group in 2010 during auditions for the UK's X-Factor reality competition. Following their third place finish, they have made a remarkably quick transition to transnational tween stardom, complete with a solidly-booked U.S. arena tour and legions of screaming fans.
Niall Horan, Zayn Malik, Liam Payne, Harry Styles, and Louis Tomlinson, the five boys who make up One Direction, are a fascinating case study in the changing dynamics of the modern music industry. While they share similarities with American boy bands of the past (from New Kids on the Block to *NSync) and with those original moptops of the British Invasion, they also represent a shift in the way such bands are formed, marketed, and made visible to the public. But what interests me most is the way in which the boys' open, affectionate, and even homoerotic interaction represents a new (and welcome) shift in Western youth culture.
Perhaps the primary appeal of One Direction as a boy band is the combination of youth, exposure, and authenticity that is inherent in their marketing. The boys are all between 18 and 20 years old, already younger than the boy bands of the late 90s, but their youthful image is exacerbated by the rough, unpolished style of their marketing. While bands like *NSync and the Backstreet Boys spent years honing their dance moves, media training, and constructed personality archetypes in countries like Japan and Germany before hitting the Anglo-American market, One Direction has boarded an immediate and unstoppable roller coaster of international fame. As a result of this compressed timeline, the boys can't actually dance (as anyone who saw their SNL appearance could attest), and their encounters with the press tend to be awkward and unpracticed.
In the era of instantly-posted YouTube clips, personal twitter accounts, and livestreaming webcam video, the boys of One Direction aren't just reality TV stars – they are reality TV stars positioned in such a way as to appear stripped of almost all mediation and editing. This aesthetic celebrates notions of authenticity and connectedness with the fanbase, following the model my colleague Lindsay Hogan has studied regarding the stardom of Justin Bieber. As a result, YouTube is flooded with videos of the boys acting young and goofy in casual (or perhaps "casual") settings: teasing each other, playing games, and generally acting like the teenage boys they are.
These kinds of shenanigans are not new. They are strikingly similar, in fact, to clips from the videos my own tweenage musical love, Hanson, would sell to the fans on VHS. The boys of Hanson, like One Direction, were younger than their '90s boy band counterparts and thus free to act sillier. But Hanson was a band composed of brothers, and thus their videos lacked the final element of One Direction's "authentic" portrayal of boy band friendship: comfortable homoeroticism.
Even a casual observer of One Direction and its marketing would notice the fact that the boys can't seem to keep their hands off each other. They hug, grope, and fall asleep on each other constantly, pretend to kiss each other for laughs, and joke about queer relationships between them – to the extent of planning out elaborate hypothetical Valentine's Day dates with each other. They are also remarkably affectionate, proclaiming their love and devotion to the other boys in the group without a hint of irony.
This is not, of course, the first time the idea of the boy band has been queered. "Popslash," the term for homoerotic fanfiction about boy bands in the *NSync/BSB era, was one of the first large-scale internet fandoms for so-called "real person" fanfiction. And charges of queerness have always been levied at these types of bands by anti-fans seeking to use sexist, homophobic language to devalue the music tastes of young women. But past incarnations of boy bands always kept up defensively heterosexual presentations, to the extent that *NSync member Lance Bass did not feel comfortable coming out of the closet until 2006 (long after the band's indefinite "hiatus").
There are many possible explanations for this phenomenon. First and foremost, the One Direction boys are all quite open about their heterosexuality, publicly tweeting with their current girlfriends and giving interviews about their exes. Their homoeroticism, then, can be seen as a variation on the "bromance" trend – they can play with queerness because their heterosexuality is constantly reinforced, both in the reports of their personal lives and in their aggressively heteronormative song lyrics.
Yet this seems an inadequate explanation when, unlike the highly-constructed joke setups of bromance comedies, One Direction relies so heavily on an aesthetic of honesty and authenticity. What seems more likely is a phenomenon like the one sociologist Mark McCormack presented in a Huffington Post report, which points out the ways in which British teen boy culture is becoming less and less homophobic and more and more accepting of demonstrative male friendship. While the equivalence with American school cultures is less clear, the boys' rapidly-growing transnational stardom, despite no national differences in marketing, may point to an increasing acceptance of this gentler form of masculinity in the American classroom.
Whatever the explanation, the casual affection and homoeroticism of One Direction opens up new avenues for analysis in the study of tween music cultures. How, for example, is the target tween girl audience responding to the softer masculinities of these presentations? And what effect might this marketing have on tween boys, particularly queer boys struggling to come to terms with their own sexuality?
I don't have the answers right now, but I plan to keep looking. As soon as I finish listening to "One Thing" on repeat.