Who (does HBO hope) is watching Girls?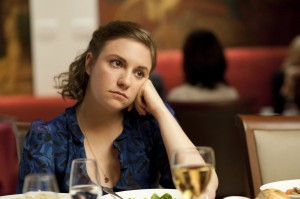 In the pilot episode of HBO's new series Girls, Hannah Horvath (Lena Dunham) begs her parents to continue to bankroll her Brooklyn lifestyle by arguing that she is "the voice of my generation." Seeing the skepticism on their faces, she scales back and says she is at least "a voice of a generation." This amusing moment has become a sign of Hannah's simultaneous uncertainty and self-importance, but it's also an indication of HBO's hopes for the series.
Beaten into silence by the unrelenting media buzz surrounding the premiere of HBO's new series Girls, I've had time to think about my response to the series' first two episodes. The HBO-stoked hype around Girls suggested that showrunner Lena Dunham, with guidance from Judd Apatow, would speak for a new generation in this dark comedy about life after college in New York City. In case you've been under a rock since the series premiered on April 15th, let me summarize the response so far: Girls has been critiqued for its lack of racial diversity and for its characters' focus on the trivial problems of the privileged. It has been applauded for its realistic portrayal of women's bodies and for its ability to find humor in awkward situations.
It's a challenge to find traction for a solid review after a single episode, but after two episodes of trying to decide how I feel about the show, I started to wonder: Who does HBO hope will watch Girls? Vulture pointed out that HBO likely released the Girls' pilot free online to draw a twenty-something audience to the show, but media users like Dunham's character, Hannah Horvath, who in the pilot was "cut off" by her parents, likely don't have the income to subscribe to HBO, and likely wouldn't subscribe for only one series (though they may use their parents' HBO GO account to watch subsequent episodes).
Though HBO is fairly tight-lipped about their subscribers, The Wall Street Journal reported that Time Warner's premium cable networks HBO and Cinemax lost 1.6 million subscribers in 2010, while companies offering broadband distribution of movies and TV shows gained subscribers (Netflix, for example, gained almost 8 million subscribers). HBO finished 2010 with 28 million subscribers, its lowest number since 2005; this loss is no doubt due to a range of factors, but has been tied to HBO's inability in recent years to produce a major hit like The Sopranos or Sex and the City.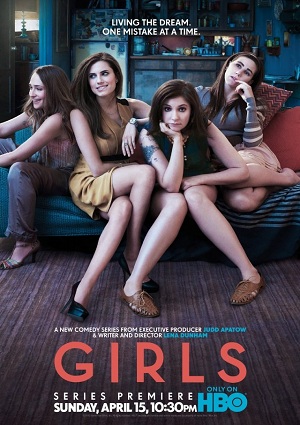 Unlike The Sopranos' 10 million viewers (its pilot drew 3.5 million) and Sex and the City's 6 million viewers (its pilot drew 3.7 million), the Girls' pilot drew 1.1 million viewers over two opening night airings. This suggests that HBO's massive advertising campaign, which created a buzz through both mainstream and alternative sources, unsuccessfully targeted a population they can't draw to subscription TV—twenty-somethings are more likely to watch the show online illegally or wait for the DVD release (though Jezebel pleaded with readers to save for HBO subscriptions to keep Girls in production).
But Girls' small initial audience also suggests that its audience "isn't easily defined." I suspect that HBO believes Girls can draw a loyal fanbase built from (mostly white, mostly privileged) women older than their twenties—a more typical HBO subscriber. A moment in Girls' second episode, "Vagina Panic," gives this older audience a small nod when Hannah's gynecologist, bewildered and overwhelmed by Hannah's seemingly endless monologue about her obsession with AIDS, pauses her exam and says, "you couldn't pay me enough to be twenty-four again." Girls' focus on self-indulgent panic attacks and cringeworthy sex scenes allows older viewers a chance to identify with its (admittedly narrow) coming-of-age stories. And while most older viewers might agree that they don't wish to repeat their twenties, HBO is betting that some will want to look back and laugh through the discomfort and embarrassment of their memories. If, as Dunham suggests, the show's heart is the relationship between Hannah and her best friend Marnie, it may have a chance at developing a respectable following that enjoys the show for more than its uncomfortable humor and shock value. If Girls can build upon what viewers of all ages share (and Dunham fulfills her promise to add racial diversity to the show), it may truly become a series that is "a voice of a generation."