Little Mosque on the Prairie: Humor as a Medium of Translation [Part 1]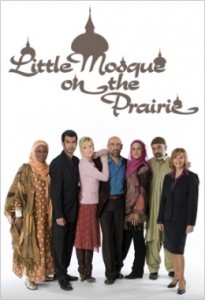 From 2007 to 2012, in an atmosphere of moral panic about the threat of global terror, the Canadian Broadcasting Corporation aired a gentle half-hour comedy called Little Mosque on the Prairie about Muslims in a fictional small town in Saskatchewan. The show was notable because it was a popular success (Canada has had few successful scripted comedies) and because it deftly raised issues of religion, especially Islam, in post-9/11 North America.
Over the next two weeks, at the kind invitation of the editors of Antenna, I will be writing a series of entries about Little Mosque on the Prairie, whose producers met with resistance for years as they tried to syndicate the show in the United States. Last month, they struck a deal with Hulu, meaning Little Mosque (no longer "on the Prairie," at least on Hulu) will finally be available to US viewers, as of June 28.
I've spent the last year and a half interviewing the people involved in Little Mosque's production, including its creator (Zarqa Nawaz), its executive producers (Mary Darling and Clark Donnelly of Westwind Pictures), its writers, and one of the executives at the CBC (Anton Leo) most responsible for getting the show green-lit. I wanted to know how humor becomes a medium for "translating" religion, especially Islam, in North America. My questions were prompted in part by reviews such as this one by Michael Murray, printed in the Ottawa Citizen on January 20, 2007, right after Little Mosque's premiere:
One of the ways that new communities gain acceptance into the mainstream is through humour. Once you're able to laugh at yourself and your environment, everybody tends to relax, and a sense of security sets in. And there is nowhere people feel more relaxed and secure than in front of the television set. So often the success of new sitcoms signals the acceptance and recognition of a new culture into the mainstream.

Through sitcoms, we've seen black, Italian, gay and Jewish cultures, amongst others, take their place in North America. Now, it seems, with the debut of CBC's Little Mosque on the Prairie […] it's finally time for the Muslim community to show Canada that they're just another wacky and lovable family living amidst us.
Humor becomes the medium through which the Muslim community is transformed and ultimately domesticated (in the sense that Muslims become "mainstream" North Americans). But what exactly does this transformation look like, and what factors influence how it takes place?
The answer to that question, I've discovered, is complex. Humor, as Mucahit Bilici writes in an essay in Islamophobia/Islamophilia, holds the potential to draw stereotypes into question by casting them in a strange, unexpected light. The sitcom, however, is characterized by certain conventions that are fundamentally conservative, in particular the return-to-stasis that is typical of their episodic structure. These two features would appear to work at cross-purposes. In the case of Little Mosque, which feature prevails?
My purpose in these entries will be to answer that question, at least to a limited degree. In my next entry, I will address the genesis of the show, examining the role of the CBC's mandate to reflect Canada's multicultural nature. Then I'll examine the program itself to address the question of humor head-on. After that, I'll consider the obstacles that Westwind Pictures faced when trying to syndicate the program, especially in the United States, and the role of different logics underpinning network and on-demand distribution. I'll conclude with some reflections on my initial question about humor as a medium of translation.