The MTV Tony Awards: Television's De-Theatricalization of Broadway's Biggest Night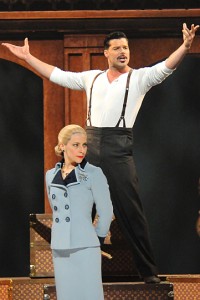 Head to the NYC theatre district and you'll find the likes of Spider-Man: Turn Off the Dark, How to Succeed in Business Without Really Trying (with Harry Potter, a Glee cast member, or a Jonas Brother), Ghost: the Musical, and Ricky Martin's revival of Evita (known in the press as "Living Evita Loca"). Welcome to the popular face of the Great White (tourist) Way. While folks often consider theatre to be highbrow entertainment for someone other than themselves, Broadway consistently targets Middle American tourists with plays filled with television and film stars and musicals hoping to catch fire and spark cross-country, Vegas, and European tours (see Mamma Mia and Jersey Boys). These major commercial theatres shoot for high spectacle and strong name recognition. Actors and actresses like Julia Roberts, Denzel Washington, James Gandolfini, and Cynthia Nixon beckon mainstream audiences who long to see their favorite stars in person, while flying chandeliers and helicopters, singing puppets, onstage fornication, and jukebox musical after jukebox musical wow the audiences as they duck, ooh and ah, and sing along. Cash is king and the tourists need a reason to spend it on Broadway.
As a lifelong musical fan and once theatre artist, I continually tune into the Tonys and find myself crestfallen by the broadcast's dismissal of my ilk and need to embrace the otherly occupied masses. True to form, this year's Tony Awards laid bare its undying need to appear youthful, popular, and hip, all the while marginalizing the spirit of American theatre and those who participate in it. The broadcast looked less like a celebration of New York theatre and more like the Oscars, Emmys, and Grammys rolled into one. The—given, totally engaging—opening number aptly set the metaphorical and literal stage as a performance by the Book of Mormon cast showcased film, television, and music stars (e.g. Ricky Martin, Judith Light, Matthew Broderick, and James Earl Jones) and culminated in the introduction of three-time host and How I Met Your Mother star Neil Patrick Harris. (Given, Harris has at least graced the Broadway stage—ex. Assassins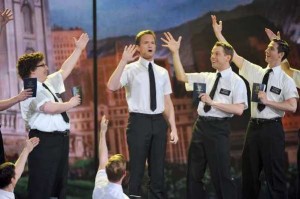 [2004] and Cabaret [2003].) The star-studded parade continued throughout the evening, with tangential Broadway figures—and everyday mainstream musicians and Hollywood actors/producers—such as Josh Groban, Sheryl Crow, James Marsden, and Tyler Perry presenting. Meanwhile, folks whose careers largely revolve around the stage fell to the wayside. It's a night full of stars, ones imported from other stages. (Notably, ten-time Tony winner and producer Emanuel Azenberg's Lifetime Achievement Award is somewhere on the cutting room floor while Hugh Jackman's "special" Tony was front and center.)
Okay, sure, the night shone with musical number after musical number. Who doesn't want to see a torturous snippet of the new and ill-conceived Ghost: The Musical or riveting (really) numbers from revivals of Jesus Christ Superstar or Porgy and Bess? Such moments have defined the Tonys, as America gains an annual glimpse into the Broadway stage and shows that might be coming to local touring houses near you. To maximize time for the stars and shows to shine, however, the producers creatively edited the show to reinforce the notion that actors and directors make magic on stages with spontaneously appearing choreography, costumes, settings, etc. (Admittedly, the Oscar producers do the same thing to some degree.) While acting awards provide an opportunity for the latest crossover star to flaunt his or her new theatrical cache, the less showy nominees find their awards presented during commercial breaks. Seconds of the winners' speeches appear in clips during the transitions back to the show from commercial. Editing reduces Best Choreography, Best Book for a Musical, all of the design awards, and others to asides so that Amanda Seyfried and Hugh Jackman can remind the audience of the upcoming—and likely appalling— Les Misérables film adaptation.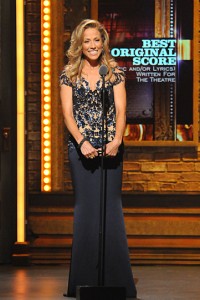 After all of this pandering, the Tonys did what many think they do best: produced a ratings disaster. Despite the star-studded list of presenters and an almost complete erasure of the greater Broadway community, the show brought in its most dismal ratings of all time. With viewership down significantly from last year, the show garnered a whopping 1.0 rating in the 18-49 demographic and 6 million viewers—33 million fewer than either the Oscars or Grammys. (This was its worst showing in twenty years.) So, fine job Tony producers. They seemed to suffer from the same ailment as many who adapt the musical from stage to screen. In shooting for the masses, they forgot that the masses often don't care about musicals—or theatre for that matter—and the compromised tripe that emerges—I'm talking to you bungled adaptations of Evita and (mark my words) Les Mis—hurts the souls of those who truly care. Perhaps the whole thing could be solved by just weaving the "important" Tony winners into the Grammys, Emmys, or Oscars.