Little Mosque on the Prairie: How Little Mosque Found a Home [Part 2]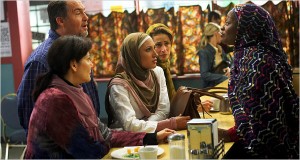 In the 1991 Broadcasting Act, in an effort to encourage more diversity in Canadian television, Canada's Parliament gave the Canadian Broadcasting Corporation a mandate to "reflect the multicultural and multiracial nature of Canada." Clearly, Little Mosque on the Prairie helped the CBC do exactly that: it was a show with a half-dozen principal Muslim characters from a wide range of ethnic backgrounds, as well as a half-dozen equally diverse non-Muslim characters. What's more, Little Mosque helped the CBC meet a second mandate, namely to "reflect Canada and its regions to national and regional audiences, while serving the special needs of those regions": it was a show about a Toronto-raised lawyer-turned-imam who traveled to the "hinterlands" of Saskatchewan to serve a rural mosque. As Christopher Cwynar points out (in an excellent article that is still forthcoming), the show fit well in the national broadcaster's mode, intertwining the dual national meta-narratives of multiculturalism and regionalism.
Thus there might be the temptation to see these mandates as a causal factor in the show's genesis, but to do so would be short-sighted. Instead, in my interviews with Zarqa Nawaz (the show's creator), Mary Darling (one of its executive producers at Westwind Pictures), and Anton Leo (the former CBC executive who advocated that the show be green-lit), people told me that they were responding to a much more complex web of relationships: the one between non-Muslims and Muslims in North America, the one between majority and minority (or "mainstream" and "multicultural") Canadians, and the one between viewers and the various members of the television industry. To be sure, these relationships overlapped and shaped each other: the relationship between non-Muslims and Muslims was influenced, for example, by the relationship between majority and minority Canadians, although it was in many ways distinct.
The various people involved in Little Mosque's production were positioned differently in the communities between which they were mediating, and as a consequence, the factors that influenced their creative decisions differed, too. The factors shaping Zarqa Nawaz's creation of Little Mosque were both intrinsic (related to identity) and extrinsic (related to global geopolitics). Nawaz was concerned about the growing conservatism of Canadian mosques due, as she saw it, to the influx of imams trained outside of Canada. Her identity as a Muslim and her convictions as a feminist provided an initial impulse, which was shaped in turn by factors deriving from global geopolitical events as well as her experience in Canada's broadcasting and film industries.
The factors influencing Little Mosque's executive producers, Mary Darling and Clark Donnelly of Westwind Pictures, were also intrinsic (related to identity) and extrinsic (related to global geopolitics and the Canadian television industry). As with Nawaz, questions of religious identity played an important role in the decision by Darling and Donnelly to produce the show. Darling and Donnelly are Bahá'í, holding unity across religion and race as a central value, and their faith plays a central role in their decisions about which shows to produce. Like Nawaz, they were concerned about the growing mistrust between Muslims and non-Muslims. However, their decisions were also shaped by their assessment of a show's potential for success and their ability to secure funds for its production.
For Anton Leo, the creative head of CBC television comedy in the mid-2000s, extrinsic factors (the CBC's regional and multicultural mandates) outweighed intrinsic factors (identity). Leo was well aware, of course, of the CBC's multicultural and regional mandates, but for him, the question of those mandates was inflected through – and gained its relevance from – that of identity. He thought that Little Mosque had promise because it told a universal story, that of the immigrant experience, in a country where everyone (except, of course, for First Nations) came originally from someplace else. Multicultural programming, in his view, was programming to which a country of immigrants could relate.
There are many interesting things to note about how the people responsible for Little Mosque understood their relationships to the communities between which they were mediating. One is worth noting here: for Nawaz and Darling, the show was about religion, or even more to the point, about belief. For Leo, it was about culture. This difference shaped Little Mosque's evolution, in conjunction with other features of the program that resulted in a complex show with multiple contradictory interpretations and meanings, as I describe in my next entry.