Brave: Changing Our Fate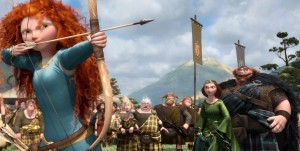 Having children in my life has changed the way I look at the media. All year I've sat through movie after movie feeling neither absorbed nor entertained—except for one particular trailer that promised to "change your fate." Though it's usually the heat that draws us to the movie theater in the summer, we were first in line for tickets to Pixar's latest release, Brave. We truly enjoyed it, but I've found its reception in the popular press to be both encouraging and frustrating.
Brave caught my attention because it shines a bright light on Pixar's main failing: the majority of stories the acclaimed studio tells are about and targeted to men and boys. Released on June 22, Brave tells the story of a young, determined Scottish princess named Merida who struggles with her mother for the right to make her own way in life. The film makes a strong break from the fairy tales parent company Disney usually tells about girls' lives: Merida is not perfectly groomed, she does not put others before herself, and though she has a good relationship with her horse, Angus, animals do not flock to Merida as if she is Mother Nature. More importantly, Merida has no interest in learning to properly present herself as a princess and she is more interested in archery than romantic love. In fact, Brave's plot is driven by Merida's attempts to avoid the forced marriage for which her mother has spent years grooming her. Though Brave is by no means perfect, it has won critics' praise for being "shockingly radical for a mainstream movie" and "a much-welcome corrective to retrograde Disney heroines of the past and the company's unstoppable pink-princess merchandising."
Princess stories aside, Brave also has called attention to the influence of the studio's male-dominated workplace on the stories it tells.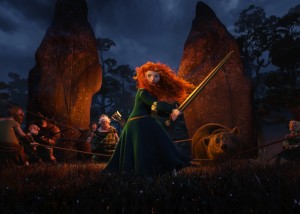 Brave is the first Pixar film conceived of and directed by a woman, Brenda Chapman (the film's story is reportedly based on Chapman's daughter), but Chapman was removed from the film in October 2011, apparently due to "creative differences." Chapman's dismissal raises questions about Pixar's innovativeness—and the media industry's attitude toward feminine formats as a whole. Time's Mary Pols put it best: "I have no doubt there are a lot of good men at Pixar, but if they'd grown up in an environment in which it was totally normal for them to see movies with girls in the lead, maybe it wouldn't have taken 17 years for the studio to get around to making a girl the star."
Since its first feature, Toy Story, in 1995, Pixar has built a reputation for being one of the most innovative and successful animation companies in Hollywood. Pixar's distinctive stories and visual style have been well received by critics and audiences of all ages:  its twelve major releases have earned a total of $7 billion in box office sales and a long list of honors, include Emmy, Academy, and Grammy Awards. Brave's first weekend draw of $66.7 million keeps intact Pixar's record of first place openings with every feature since Toy Story—in fact, Brave's opening was Pixar's fifth best. Despite this, many critics have suggested that Brave is a sign that parent company Disney has finally consumed Pixar's innovativeness. For example, The Wall Street Journal warned, "This is less a film in the lustrous Pixar tradition than a Disney fairy tale told with Pixar's virtuosity." Salon's review suggests that Brave is a "departure from Pixar tradition in many ways" and argues, "Brave feels a lot more like a Disney film than a Pixar film." Indiewire asserts that Brave marks the end of Pixar's quality entertainment, "A once-complex house of stories has been downgraded to the happy meal alternative: 'Brave' is a movie for six-year-olds." Merida is spunky and adorable, but I hardly think that a female-focused film with a feminine storyline will destroy Pixar's status. But these reviews raise important questions: if Pixar is truly a cutting-edge animation studio, why did Brave take seventeen years? And are innovation and feminine forms incompatible?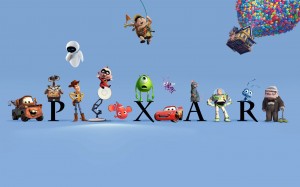 The answers to these questions suggest that the media industry assumes that "quality" means men's and boys' stories packaged in normative (read: masculine) narratives. This was made clear in the Huffington Post's concern about "Whether young boys will push their parents to see the film once they hear that it's a quintessential mother-daughter story with only a smattering of action set pieces." Having endured much of what the industry has offered my son (even excluding the most offensive stuff), I can say that there is a relatively untapped, assuredly lucrative market for smart media that enriches children's lives instead of dumbing them down—and I think it's especially important for boys to learn to value stories by and about girls. Brave is a late, but great start, and my son and I thoroughly enjoyed it. With twin daughters growing up right behind him, I'm hoping that Brave's success and its positive reviews will send a strong message to studios like Pixar, encouraging them to be brave enough to produce media for girls and boys alike.