Campaign Contributions: "Mainstreaming" the Emmy Race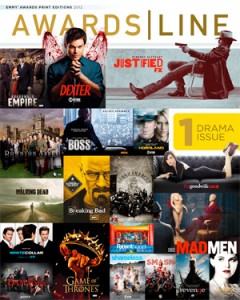 Within mainstream culture, an entertainment award show is a two-to-three-hour television event that celebrates a particular industry, or a particular niche within an industry, on a grand stage. Here at Antenna, we've been covering these award shows within this context, considering their impact and significance as "media events."
However, behind every award show is an extensive process wherein nominations are determined and winners are chosen—in other words, we can distinguish between the "televised award show" as a media event and "entertainment awards" as a semi-transparent process. This process eventually becomes a media event when the nominations and winners are announced, but otherwise it remains a niche point of interest.
This is not to say it is invisible. The process behind the Academy Awards has been particularly visible in recent years, with Harvey Weinstein helping usher in a new era of competitive campaigining and numerous websites popping up to cover the "race for Oscar" by engaging in meta-discourse with "For Your Consideration" campaigns launched in the trades. Such sites make visible the efforts of studio executives, agents, and other industry players to campaign on behalf of particular films, or particular performers, taking discourse that might remain within industry channels and sharing it with communities of readers who follow the race as amateur prognosticators or curious bystanders.
However, while sites like Sasha Stone's Awards Daily or Tom O'Neill's Gold Derby—which expands beyond film to cover awards in Theater, Television, and Music—have built a niche covering entertainment awards long before they enter into mainstream culture, the ongoing campaign surrounding the 2012 Emmy Awards has expanded into popular sites such as Deadline and Entertainment Weekly sooner than ever before. Mirroring an existing trend at Gold Derby, both EW—through their "Emmy Watch" feature—and Deadline—through AwardsLine coverage—have turned over their digital pages to interviews with key Emmy contenders, offering a platform to extend their campaigns for a nomination and an eventual victory.
It is common for entertainment sites to predict potential nominees, or for critics to offer their own personal choices if they had an Emmy ballot; doing so engages with readers who have their own opinions, tapping into cultural and critical hierarchies that stir debate and, subsequently, page views. However, the recent trends at Gold Derby, EW and Deadline expand beyond this meta-discourse into becoming part of the discourse of FYC campaigning. This isn't EW's Ken Tucker or Deadline's Nellie Andreeva offering their perspective on the Emmy Awards: this is two publications choosing to allow the pages of their websites to become nearly identical in function to the "FYC" ads appearing in Variety or The Hollywood Reporter.
In other words, to take EW's "Emmy Watch" feature as an example, the audience here isn't the casual reader of Entertainment Weekly looking for the latest entertainment news, but rather the Emmy voters who could potentially nominate an actress like Revenge's Madeline Stowe—who of course hasn't even considered what episode she'd submit, lest she appear cocky—for an Emmy award. While the expanding audience for online coverage of television news and reviews means these interviews are not exclusively valuable to voters, as I wouldn't turn down an opportunity to read Aaron Paul discussing a standout moment in Breaking Bad's fourth season, the context EW places them in seem tailored to the elites who make the decisions rather than the audience who watches the awards from home.
Each "Emmy Watch" post opens with the following spiel:
"Between now and June 28, the deadline for Emmy voters to return nomination ballots, EW.com is running a series called Emmy Watch, featuring highlight clips and interviews with actors, producers, and writers whom EW TV critic Ken Tucker has on his wish list for the nominations announcement on July 19."

While EW ties the feature to a critics' wish list, the inclusion of the voting deadline seems like unnecessary information for casual readers, designed instead to ensure voters who land on the post are given this key reminder. Indeed, stopping the series before June 28th doesn't make sense unless the goal is to directly influence the voting process: while speculation has value up until the July 19th announcement, active campaigning has an earlier expiration date.
Rather than informing their readers, these pieces serve the interests of agents/publicists—who, from personal conversations I've had with journalists, actively seek outlets to promote their clients' Emmy aspirations—and networks searching for visibility within crowded ballots.[1] Why is EW willing to become an outlet for what amount to puff-pieces designed to promote specific contenders? It's likely the same reason Deadline is producing six AwardsLine print editions in the buildup to the Emmy Awards—in addition to their online coverage—that award voters can have sent directly to their door for free: by producing content related to the race for Emmy nominations and eventually an Emmy victory, and by explicitly aiming that content toward Emmy voters, publications have a better chance of drawing the "FYC" advertising dollars being spent by the networks.
Gold Derby has been following this model for a number of years, but the trend's expansion into major publications like EW and Deadline raises new questions about entertainment journalism's relationship with the "For Your Consideration" process. While this may present a new frontier for advertising revenues, allowing these publications to continue momentum from the Academy Award "FYC" process earlier in the year, the willingness of these publications to generate content strategies consciously designed to better facilitate those revenues casts aspersions on their independence from the industry they cover.
---
[1] While networks are often responsible for Emmy campaigns, some contenders are instead submitted directly by agents or managers. The Emmy ballots often feature performers who have no chance of winning an Emmy, and are the only person from their series submitted, suggesting overzealous representation looking to impress a client.