Report From Console-ing Passions 2012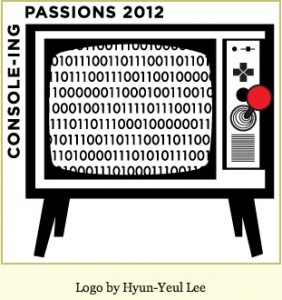 The Console-ing Passions conference turned twenty this year. First held in 1992 at the University of Iowa, this year's host city was Boston. Organized by female professors at four Boston universities (Nina Huntemann at Suffolk University, Suzanne Leonard at Simmons College, Miranda Banks at Emerson College, and Deborah Jaramillo at Boston University), this year's conference featured a wide mix of topics, including panels about gaming, technology, race, queer theory and pedagogy, celebrity, fandom, media history, television, and many others (see the conference program here). As this select list demonstrates, feminist media studies strives for diversity, inclusion, and rigor.
The opening night plenary demonstrated this diversity in action.[1] The first speaker was Marsha Kinder from the University of Southern California, who presented personal reflections on the development of media scholarship over the past fifty years, tracing her own intellectual journey. María Elena Cepeda of Williams College spoke as an academic activist, calling on attendees to read and more fully acknowledge the innovative work coming out of feminist Latina studies. Bambi Haggins reflected on the work that "exploded her mind," delivering a loving tribute to the feminist scholars, particularly those of color, who have most inspired her work. Mary Celeste Kearney concluded the plenary presentations with a rousing feminist manifesta, passionately declaring that the stakes for feminist media studies have never been higher and the work has never been more necessary.[2]
Among the values of CP is the way conference presenters engage with difficult questions. During a workshop about teaching race in media classes not dedicated to race and representation, presenters Racquel Gates and Kristen Warner provided practical suggestions for how to incorporate discussions and representations of race more frequently throughout media history and analysis courses. They also admitted to ongoing challenges, like how to account for D.W. Griffith's Birth of a Nation or how to teach whiteness to an all-white class. These challenges are difficult to solve, but the conversation in that panel was inspiring, making the possibilities for genuine change seem achievable. This conversation was also a stark reminder why academics continue to travel to attend conferences in person, despite the many technological means for virtual participation. While the sharing of research remains valuable, it is the sharing of ideas in dialogue that sustains the conference model in the digital age.
CP is a particularly friendly conference for graduate students. For example, attendees were offered the opportunity to reserve a room in a Suffolk University dorm. Sure, the dorm provoked a series of funny stories of thirty-something women awkwardly climbing into lofted beds, reminding us all that we are no longer 18. For those students or non-tenured faculty without financial support for academic travel, a dorm room at one-third the price of a hotel can be the means through which conference travel becomes economically feasible. The dorm option also conveyed the tone of the conference: friendly, humble, and accessible.
Panels also featured a range of experience levels, with graduate students sitting alongside more established academics. This multi-generational arrangement not only facilitated dialogue between emerging and experienced scholars, but it also assured graduate students that their panels would be well attended. Console-ing Passions also carries a spirit of genuine curiosity and respect, which allows graduate students to present their research in a safe and encouraging setting. There is tremendous value in a conference that allows scholars to experiment, even to fail, and this can only happen in a room in which everyone wants to see you succeed.
As a first-time presenter at CP, I was validated by the questions posed by panel attendees, eager to help me find what should be the next steps of my project. A more senior scholar also helped me work through some questions about how to incorporate interview material, and her gentle guidance was not only apt but also something I really needed to hear at this stage of my research.
If I have one critique, it was that there was not a more pronounced engagement with the past of CP. I would have loved to attend a "20 Years of Console-ing Passions" panel featuring founding board members of CP reflecting on the organization's original goals and to what extent this conference has helped them achieve those goals. The desire for some sort of comprehensive "state of the industry" discussion was apparent in a panel organized by Northwestern students Leigh Goldstein and Meenasarani Linde Murugan featuring a discussion of Jane Feuer's Seeing Through the Eighties. At this panel, the attendees and panelists discussed fundamental challenges to our work—from the struggle to account for television history in our research and classrooms, to the ways scholars approach television as an aesthetic and industrial medium. As the panel ended, it was clear that attendees would have sat for an hour more, just to listen to Feuer's stories and observations about our place within media studies.
As a first-time Console-ing Passions Conference attendee, I learned that CP is more than a conference—it is a revival. Console-ing Passions has found in feminism the ideal way to draw connections across methodological differences and disciplinary distinctions. The mediating power of a dedication to the examination of race, class, and gender unified the efforts of every conference attendee, reminding us that these are conversations we can and must continue outside the walls of Suffolk University.
---
[1] I was unable to attend the closing night plenary, which boasted an impressive lineup of speakers including feminist author Jessica Valenti; senior writer for Newsweek and The Daily Beast, Michelle Goldberg; social media activist and technology consultant, Deanna Zandt; founder of New Voices Pittsburgh: Women of Color for Reproductive Justice, La'Tasha Mayes; media historian Allison Perlman; and Boston-based activist Jean Kilbourne as moderator.
[2] Per Alyx Vesey, Mary Kearney's model for the feminist manifesta was Bikini Kill front woman Kathleen Hanna's "Riot Grrrl Manifesto," which was part of that musical movement and has since made its way into women's studies curriculum.