Scripting the Olympic Games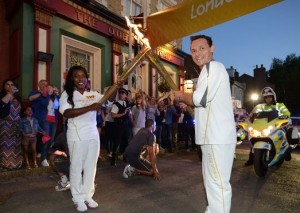 I watched the first series of Twenty Twelve, a mockumentary sitcom centered on a fictionalized London 2012 Olympics organizing committee, when it premiered on BBC Four in March 2011. My initial reaction was similar to many: it was merely okay, not funny, farcical, or biting enough. But because I'm both an Olympics and a British TV junkie, I was willing to return for its more prominent second series — it got bumped up to BBC Two for its April 2012 four-episode run — and happily found the show's writing sharper, Jessica Hynes dialing Siobhan Sharpe's hilariously empty PR rhetoric up a notch, and plot lines like the multi-faith centre conflict squarely hitting their satirical targets.
Then again, maybe the show just seemed more spot-on due to the confluence of its fiction with actual snafus in the ramp up to the Games. In that regard, the scheduling decision to split up the second series and air its final three episodes in the weeks leading up to the Opening Ceremony was a stroke of genius, as the confluences have compounded with time growing short, leading to a flood of articles praising the show for its prescience and enabling Twenty Twelve writer/director John Morton to direct a clever jeer at the real planners: "Why can't they make up their own problems?" For me, the pleasures of Series 2 are rooted more in mockery of language than events (a single word: Jubilympics). But whether the catalyst was actually in script or newspaper pages, Twenty Twelve vaulted in critical esteem from "not as amusing as what it's trying to send (a little bit) up" in its early episodes to "a perfectly played and painfully close-to-home satire" in its final ones. No mockumentary has benefited more from how the reality of its subject matter coincided with its airing.
It's also striking that the BBC, responsible for bringing the Olympic Games into British homes, albeit not organizing them, has been eager to present mockery of Games planning and bureaucratic incompetence at a time when its own oversight structures are perilously up for debate. But this seems suitably British. Slate's June Thomas describes, "Pessimism is as ingrained in the British character as a craving for steak and kidney pie…It's as if Britons believe they can inoculate themselves against disapproval by bad-mouthing themselves earlier and more viciously than any outsider would dream of." Of course, Twenty Twelve isn't all that vicious, and committee head Ian Fletcher is actually pretty good at his job (after all, he's Lord Grantham). But fittingly, Fletcher's primary talent consists of papering over real problems with meaningless words, as displayed in the Telegraph this week, yet another venue for the real and the fake to come together.
But for all the whinging Londoners have done about the Olympics, another BBC show this week unearthed the sincere excitement and pride Britons are apparently fostering underneath those layers of pessimism. It was announced in December that on the BBC's flagship soap opera EastEnders, the oft-beleaguered character Billy Mitchell would be an Olympic torchbearer, with actual London 2012 chairman Sebastian Coe speaking of him and the fictional borough of Walford as if they were real. Then on Monday night, EastEnders inserted a live segment into an otherwise pre-taped episode depicting Mitchell carrying the torch to its next bearer, with the start of the live portion signaled by Mitchell's portrayer, Perry Fenwick, winking at the camera.
http://youtu.be/Hlm-4Ttks28
This was yet another form of the scripted and real coming together, as the image shifted from polished soap aesthetics to liveness connoted by the unsteady, distant camera, while fictional Walford residents cheered on Mitchell/Fenwick as he ran with an Olympic flame. It was almost a disaster, of course — Billy was trapped on the Tube as his allotted time neared — but the problem wasn't caused by organizing committee incompetence or a transport breakdown; it was just Billy Mitchell's usual bad luck augmented by standard soap opera delay drama. In other words, it was good TV. And the tweets from British viewers watching the episode indicated its effectiveness:
Lovely, uplifting TV there on #EastEnders. Well done everyone! You should be very proud. #EElive — David Brown (@MrDavidEBrown) July 23, 2012
still trying to work out why Billy with the Olympic torch was really really moving. oh brain. you work so weirdly. #eastenders — Grace Dent (@gracedent) July 24, 2012
Umm..I just watched the Eastenders live Olympic torch ep.. And cried.. Could be the rum or the fact that Eastenders is the best soap ever! — kaya scodelario (@kayascollywogs) July 24, 2012
Watching eastenders from Monday when Billy carried the torch made me more excited than when I saw it in denham the other day! #GOBILLY— Ellie Druce (@Elliedruce) July 25, 2012
I'm calling it. Live #Eastenders was a f**king triumph. — Lisa Moran (@Lisa_Moranio) July 23, 2012
There were still cynics, inevitably (see the comments section here, if you must). But I sense that a significant majority of the nearly 8 million British viewers watching this segment genuinely enjoyed the unifying live experience of a real international ritual carried out on some of the country's favorite fictional streets. In both this case and Twenty Twelve, the real and the scripted blending together made for compelling entertainment, whether it celebrated patriotic joy or colossal failure.
______________________________________
– Twenty Twelve's final two episodes air on BBC America Saturday night at midnight Eastern Time.
– It should be noted that the visit to the EastEnders set wasn't part of the official Olympic Torch main route
– Olivia Colman is an incredible actress. That is all.