The 2012 Sight & Sound Poll: Don't Call it a Consensus
On August 1, British film magazine Sight & Sound released some initial results of its Greatest Films poll, a once-a-decade event begun in 1952. The poll is the largest and most cited of its kind, and this year the editors cast their net wider than ever before, collecting ballots from nearly 850 critics, scholars, archivists, and programmers—a nearly sixfold increase over the 2002 poll.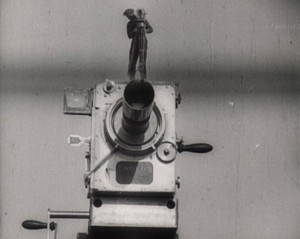 The poll was eagerly anticipated and the meaning of its results hotly debated—a phenomenon exacerbated by the boundless (and exhausting) opportunities for discussion online. The "news" this year was that Citizen Kane, after fifty years at the top, was replaced by Vertigo. In addition, Dziga Vertov's Man with a Movie Camera made the celebrated top ten for the first time.
Many critics and journalists leapt to attribute these developments to major shifts in critical tastes and priorities. Sight & Sound's Nick James argues that Vertigo's victory "reflects changes in the culture of film criticism. The new cinephilia seems to be not so much about films that strive to be great art, such as Citizen Kane […] but more about works that have personal meaning to the critic." Peter Bradshaw of The Guardian speculates that the presence of three silent films in the top ten might be due to the influence of 2011's pseudo-silent, Oscar-winning film The Artist. Jim Emerson suggests that the first-ever disappearance from the list of Battleship Potemkin is "bigger news than the spot-swapping of Kane and Vertigo."
Such claims are hasty and overblown. If you inspect the runners-up in the 2012 and previous polls, it becomes evident that many of the apparent shifts are actually slight reshufflings of the deck—attributable more to chance than any definitive turn of the zeitgeist. Potemkin received just one fewer vote than the number ten entry, and another silent, The Passion of Joan of Arc, has been in or near the top ten for all seven editions of the poll. In 2002, Vertigo received only five fewer votes than Kane.
The Sight & Sound poll does reflect changes—in critical and scholarly priorities, in availability and exposure—but tends to do so glacially, not in sudden shifts (the most prominent exception is L'Avventura, which placed second in 1962, scarcely over a year after its European release). And to trace these, one has to look beyond the top ten and add a bit of historical context. Combing through back issues, we found that Tokyo Story—number three in this year's poll—is a case in point. The 1953 film was "discovered" in the West largely on the basis of a 1958 showing at London's National Film Theatre among a program of classic Japanese films. It so impressed a small group of British critics that six voted for it in the 1962 poll. The film continued to receive a handful of votes in 1972 and 1982 before making the list at number three in 1992—aided, like so many other films, by increased availability on home video, as well as by influential monographs like Donald Richie's (1977) and David Bordwell's (1988).
This year's poll-crasher, Man with a Movie Camera, had a similarly long and curious ascent. Vertov's films were championed largely by documentary-film specialists before they were embraced in the late 1960s by radical critics and filmmakers as a model of anti-bourgeois film practice. Movie Camera received a single vote (from Time Out's Verina Glaessner) in 1972, but that year editors of the radical French journal Cinethique voted for several other Vertov features alongside films from Maoist China and works by the "Groupe Dziga Vertov" collective (which included Jean-Luc Godard). Through 1992, the film received votes largely from those with commitments to radical left-wing and/or modernist filmmaking, such as Annette Michelson. Her writings gave the film increased salience among scholars, whose fascination with self-reflexivity made Vertov's film supremely teachable. It became a staple of undergraduate film courses; most of the votes it received in the 2002 poll were from university professors. It's possible that some of the additional votes in 2012 were from their students.
Ten years ago, Movie Camera appeared on 5% of the ballots; this year, it entered the top ten with just 8%. What these small numbers suggest is that the "ten greatest films of all time" are not quite the recipients of the general acclaim that the popular media—and Internet grumblers—assume. This year's critics voted for over 2,000 films. Within that huge number, Vertigo only needed to appear on 19% of ballots to place first (its actual share was 23%). It is likely that, as in 2002, the majority of films in the poll received only one vote. Many had speculated that the rise of the Internet would promote a fracturing of critical consensus, and initially this year's results appear to bear this out.
But in fact the poll has rarely been characterized by genuine consensus. Diversity, rather than unanimity, was the dominant feature almost from its beginnings. Since 1962, no winner has ever been placed on more than 37% of total ballots. The threshold for placing in the top ten in 1972 was just 10%. That this tendency toward statistical dispersion is intensifying is beyond doubt. But it is doing so slowly, less due to the Internet than to the increasing numbers of those polled—and to their increased geographical, generational, and professional diversity.
What does this all mean? While the top ten gets all the press, beneath it there has always been a much larger, more heterogeneous body of films just as—if not more—revealing of trends in film culture (and culture in general): the rediscovery of a pre-revolutionary Chinese cinema, the emergence of a contemporary Iranian art cinema, and the explosion of scholarly interest in films of the 1900s and 1910s.