Pinning Postfeminism

Even if you've not used Pinterest, you've probably heard something about it, as it's been part of the zeitgeist for awhile now. For the uninitiated, here's the short version: Launched in 2008, Pinterest is a social media site that allows users (called "pinners") to curate images they find online. By "pinning" these images, pinners are able to create a virtual bulletin board full of materials they find interesting or potentially useful. Pinterest is more than a bookmarking program, though–it's a visually appealing way to survey the things you, your friends, and anonymous pinners worldwide find worthwhile. (See the screenshot of the Pinterest homepage below for a visual.) Pinterest has grown exponentially since the site's 2008 launch. The blog Compete.com reports that by May 2012, the site had more than 20,000,000 unique visitors–up from 700,000 in May 2010.
A Visual.ly infographic highlights that 83% of American Pinterest users are women, and that the most common areas of interest for those users are crafts, special events planning, hobbies & leisure, interior design, fashion, and blogging resources. This certainly holds up in my experience, where the pins I see most often fall into those categories, along with others including exercise tips, babies/children, humor, and food/drink.
There's a lot to say about Pinterest, but what has struck me most about the site (which I've used heavily for over a year) is the way that pinners perform postfeminism. As the statistics provided indicate, the vast majority of American pinners are women, and many of the most popular categories of use are ones that are coded as "feminine" in our culture. But what does femininity, as displayed on Pinterest, actually look like? Below is a screenshot of the Pinterest homepage I captured at random on a Saturday afternoon. Images of fashion appear alongside exercise and cleaning tips, DIY decorating suggestions, ideas for back-to-school, and recipes. To the casual observer, such a selection would appear to heavily reinforce dominant codes of femininity–the female pinners (note the users' names underneath each image) are collecting ideas for keeping their homes clean and their bodies fit and well-attired. They're focused on the parties they'll throw, the children they're sending back to school, and the meals they'll prepare. But these pins only tell part of the story.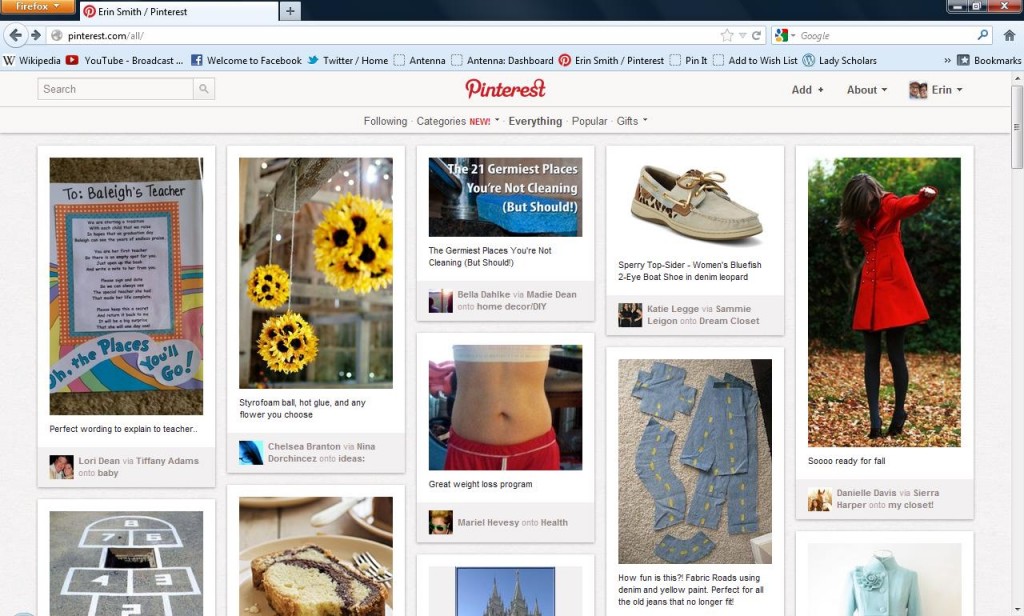 On display across Pinterest is the juxtaposition of feminist and anti-feminist ideas that comprises the heart of postfeminism. Alongside such content as exemplifies dominant notions of the feminine (crafting, cooking, cleaning, mothering, decorating) are pins that fly in the face of such ideas. Images such as those shown below (all found on Pinterest) subvert the dominant paradigm in ways that would be recognized as feminist: quotations from Madeleine Albright about the need for women to help women, images poking fun at the idea that women should obey men, or asserting that little girls have as much interest in stereotypically "boy" play as "girl" play.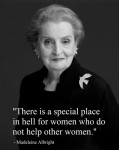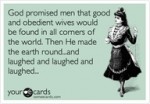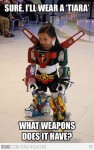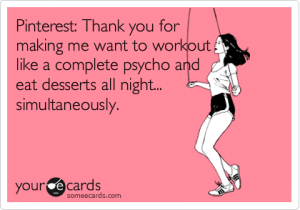 Due to juxtapositions such as these, postfeminism has caused a great deal of consternation and confusion–women understand that they're allowed to "have it all," but are unsure what that means or how to achieve it. The experience of using Pinterest has been described as similarly confusing. As the image at right shows, the pins displayed side-by-side on the site, and the messages embedded within them, are not only disparate but oftentimes completely contradictory.
Blogger Jane Roper notes that Pinterest can easily make users feel inadequate. Roper writes, "Every time I go there…Pinterest inevitably reminds me of the various ways in which I am not good enough." She includes a litany of "feminine" qualities presented on Pinterest which she lacks, suggesting that in contrast to most pinners, she is "slovenly…a boring cook/baker…a bad mother." Tellingly, however, Roper concludes her post: "But the upside of Pinterest–or perhaps the huge, ridiculous irony–is that people also love to post gorgeous graphics … of inspirational sayings: 'Everybody dances to their own rhythm!' or 'I won't worry my life away!' or 'I will love myself more each day'!"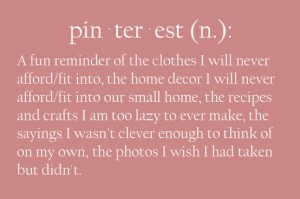 Not only is the content on display on Pinterest exemplary of the postfeminist moment–the experience of pinners exemplifies the daily lived experience of women who encounter these mixed messages and are supposed to make meaning out of them, making the site a fascinating (if ever-changing) snapshot of contemporary ideology.