"You Want Me to Be Anderson Cooper": Negotiating Queer Visibility on Husbands
As an early start to the fall TV season, the second season of the web series Husbands offers a look at what it means to be gay, married, and famous in contemporary America. Created by YouTube star Brad "Cheeks" Bell and veteran TV writer Jane Espenson, Husbands explores  newlyweds Brady and Cheeks' negotiation of married life, with the second season premiere focusing on the public's reception of Brady and Cheeks' marriage. Brady (a major-league baseball player) and Cheeks (an extrovert celebrity) each face contradicting expectations from the media and fans. In the season two premiere, Cheeks' tendency to share intimate moments from his marriage via social media causes a public relations nightmare for Brady. His conservative fans "don't want to think about our sex life." Chastised by his agent, Brady declares that Cheeks should try to be "less gay." Specifically, Brady and his agent ask Cheeks to be less obviously queer and more in line with Brady's "wholesome" (read: normatively masculine) self-presentation.
The events of the season premiere allow Husbands to engage in a multi-layered critique of queer visibility in American culture. On the most obvious level, the episode offers a blunt attack on what frequently passes as acceptance of LGBT culture. As Brady's agent Wes puts it, "Acceptable gays are overweight, over forty, overly professional with their lovers in public." Cheeks refuses to feed into this veneer of acceptance. While the arguments arising out of Brady and Cheeks' conversation have the subtlety of a sledgehammer, they are nevertheless an important commentary on the state of queer visibility on network television. After all, many gay and lesbian characters fit into tightly defined cultural norms: they are white, wealthy, professional, and live in monogamous relationships whose intimate aspects remain largely invisible.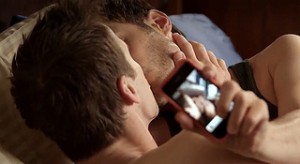 Husbands takes a stance against this narrow definition of queer visibility (a stance that Espenson and Bell have discussed in a number of interviews). While Husbands offers a verbal critique of this definition, a visual critique remains largely absent so far. For a variety of reasons, it seems unlikely that we will see Brady and Cheeks get down and dirty in future episodes (e.g. Husbands' distribution via YouTube requires the series to abide by YouTube's TOS, which prohibits explicit sexual imagery). Beyond the issue of depicting same-sex intimacy, Husbands does not really challenge the current norms of queer visibility. Brady and Cheeks are white, out-and-proud professionals in a committed relationship. As such, they inhabit the type of queer visibility that television has promoted as default mode of LGBT representation in programs such as Brothers & Sisters, Glee, and the upcoming The New Normal.
This overlap between Husbands and network TV is particularly interesting considering that the series also uses Brady and Cheeks' diverging ideas about how to represent their relationship as means to articulate differences between traditional TV and web series. The crux of the argument between Brady and Cheeks in the season premiere comes down to Cheeks' uncensored use of social media, including Instagram and Twitter. Via tweets, Cheeks constructs a picture of his marriage that diverges from Brady's carefully constructed public image—an image managed by Brady's agent. Considering Espenson and Bell's embrace of Web-based media production, it is easy to read Cheeks as representative of web series while Brady embodies the conventions of traditional TV production.
From this point of view, Brady and Cheeks' conversation about which public image of their marriage to project is also a rumination on who produces these images and to what end. Various statements by Espenson illustrate that she and Bell consider their web series a departure from and challenge to the TV industry. Explaining her interest in Web-based TV, Espenson emphasizes "[s]peed and maneuverability–being able to be very hands-on, without having to guess what the powers above me might want"; regarding the possibilities of LGBT representation, she explains that "[w]e wanted to do content that was a little spicier, a little intriguing, something you can't get everywhere else and online is totally the place to do it." Espenson and Bell's emphasis on independence beyond the reach of network notes echoes in Cheeks' insistence on using social media to connect directly to his fans, regardless of the "notes" sent by Brady's agent. Whether Web series, including Husbands, are always as independent or provocative is up for debate, but the articulation of this critique via Brady and Cheeks' debate about queer visibility is intriguing.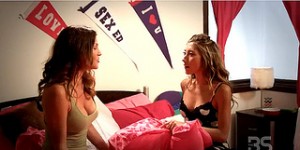 The season two premiere of Husbands ends on a provocative note. A brief post-credit scene features recognizable TV figures Tricia Helfer and Dichen Lachman lounging in skimpy clothes and discussing their boyfriends before having sex (off-screen). The staging recalls a set-up aimed at the straight male gaze and the scene draws on the "experimenting in college" trope. In contrast to the overt critique in the earlier conversation between Brady and Cheeks, this scene is presented without any introduction. Rather, it relies on the viewer's ability to recall that the Helfer/Lachman scene was playing on a TV in the background during the episode. Presumably, this extra scene critiques mainstream representations of sexuality by pointing out that faux-lesbian sex is acceptable on TV whereas Brady and Cheeks' marriage and sex life are not.
While I agree with this critique, I wonder if the lack of framing undermines the provocation issued by this extra scene. Another aspect that undoes the critique for me is that the "plot" of this scene relies on in-jokes about the characters these actresses played in Battlestar Galactica and Dollhouse: "My boyfriend back home thinks college is gonna turn me into a sex robot," Helfer's character remarks. Lachman's character replies, "Tell me about it. Mine thinks it's going to turn me into a brainwashed sex doll." Does the in-joke outweigh and deflect the critique? Or could we see it as a critical commentary on what types of roles are available to women, especially in genre programs? I would like to think so, but, as with the earlier critique of queer visibility, I am not sure it pushes far enough.