"Uhhh…": Negotiating Tina Belcher's Sexuality
Bob's Burgers begins its third season in September. While its viewership is competitive with the other programs on FOX's Animation Domination Sunday night line-up, Bob's Burgers has the trappings of a cult hit. The program was created by Loren Bouchard of Home Movies. He developed the project with Jim Dauterive, who made a name for himself as a writer and executive producer on King of the Hill. Both shows' investment in character detail, deadpan comedy, and flights of surrealism is evident in Bob's Burgers. It also features the formidable talent of contemporary improv and alt-comedians. The main cast includes H. Jon Benjamin, Eugene Mirman, and Kristen Schaal. Sarah Silverman, Megan Mullally, and Mr. Show alum Jay Johnston voice recurring characters. Amy Sedaris, Paul F. Tompkins, Aziz Ansari, and Patton Oswalt made guest appearances. Yet Bob Belcher's thirteen-year-old daughter Tina is arguably the program's breakout character and has the potential to be one of American broadcast television's most subversive girl characters.
At first, Tina seems like yet another socially inept teenage nerd, a late bloomer in the mold of Freaks and Geeks' Bill Haverchuck and King's Bobby Hill. Yet what I find refreshing about those two characters is what they share with Tina, who holds her weirdness with dignified self-possession. Nowhere is this more evident than in her sexuality. For many pubescent girl characters on American television–King's Connie Souphanousinphone, The Cosby Show's Rudy Huxtable–menstruation defines female sexuality. Tina met this milestone with little comment before the series began. Some characters explore their sexuality in other ways. For example, Mad Men's Sally Draper masturbated at a slumber party (her friend Glen Bishop has articulated his desire in other ways). Older girls test the choppy waters of romance and sex, usually with their male counterparts. Often, these journeys of self-discovery are the focus of an episode or a character arc. But Tina's active, idiosyncratic fantasy life–filled with zombies, mating insects, her dentist, Garfield and 60 Minutes fan-fic, most of her class, and especially the son of her father's business rival–is a running joke on Bob's Burgers. Refreshingly, her family doesn't panic or ignore her desires. They acknowledge them and sometimes voice their discomfort, but never make her feel ashamed. Thus, the joke comes from the novelty of Tina's matter-of-fact delivery, not her family's response. Unfortunately, a girl who confidently articulates her desires is still novel for American television.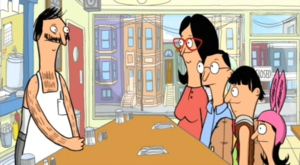 It's worth considering if the show gets away with giving voice to Tina's hormonal impulses by using Daniel Mintz's monotone to articulate them. In the original pilot, Tina's character was a boy with the same name as the actor portraying him. Apart from sex and gender differences, they were basically the same awkward, withdrawn, frank character. Such voice casting is more common for women playing pubescent male characters whose voices haven't dropped, a conceit whose queer potential King exploited to the hilt by having Pamela Adlon breathe life into Bobby, a kid whose flamboyant, effeminate tendencies bemuse and terrify his good ol' boy father.
Tina's ability to challenge normative girlhood cannot be championed without an interrogation of white privilege. Although Tina seems to be an equal-opportunity fetishist, her fixation on a Brazilian capoeira instructor, a Cuban minor league baseball player, and the family's Asian American dentist suggests a potentially problematic longing for the Other. Furthermore, Tina's dialogue could be considered in conversation with Lena Dunham's Girls, an HBO dramedy heralded for its artless depictions of human sexuality that fails to consider the desires and needs of women of color. Who gets to be candid?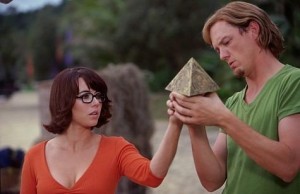 While Tina is a fan, she is also the product of fan-fic culture. A quick Google search opens up a hellmouth of Tina-inspired pornography. In my research (which I won't share here), I noticed particular focus on her bare, post-training-bra chest. She is also rendered in a number of graphic scenarios and positions that makes any reminder of her age and lack of evident consent all the more troubling. Tamer examples demonstrate fans' quickness to sexualize Tina by making her older and more stylish by shaping her bob, shortening her skirts, and lengthening her knee-high socks. This mirrors similar fan and Hollywood makeovers for nerdy girls like Ghost World's Enid Coleslaw and Scooby Doo's Velma Dinkley and potentially minimizes the actors' radical potential.
I don't want to suggest that Tina is subversive because she's not conventionally pretty. However, having Tina fit into an animated storyworld where no one is particularly attractive takes emphasis away from her appearance is important. Tina is thirteen, an age when most girls are accustomed to critique and objectification and diminish themselves in the process. That the Belcher family loves Tina without fretting too much about her looks or proclivities is a decent attempt at raising a healthy, self-actualized human being. The Simpsons couldn't accomplish this without entering Lisa in beauty pageants and getting Marge in Playboy. The ways in which Family Guy confirms Meg Griffin's dowdiness for an easy laugh is cruel and dispiriting. Through Tina, Bob's Burgers demonstrates animation's ability to destabilize and redefine girl characters' relationship to their bodies and desires. However, animation is also vulnerable to fanboy exploitation, initiating a process of negotiation that must always keep girl characters from being more than the whim of someone else's fantasies.