What Are You Missing? Sept 16-29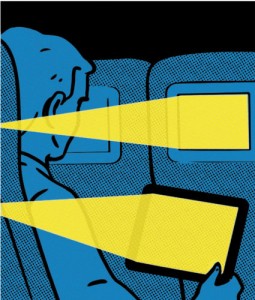 Ten (or more) media industry news items you might have missed recently:
1. In-flight airline entertainment is at a crossroads, as airlines decide between spending on wifi upgrades to let people use their own devices and on airplane entertainment technology like seat-back systems. JetBlue is going for the wifi option, and Boeing is upgrading wifi systems on their planes, while a few international airlines are passing out pre-loaded iPads to keep passengers entertained. In addition to the ever-rising costs to access in-flight wifi, there's also the matter of it inevitably being slow.
2. Netflix has new competition to keep an eye on: Sky made a deal in the UK with Warner Bros., the new Redbox-Verizon service plans a Christmas debut, there's word Disney could jump into the fray soon, UltraViolet might finally make some noise, and cable VOD stands to encroach further on Netflix's territory.
3. Predictions are starting for the Foreign Language Oscar race, but you can take Iran off the table for the back-to-back win because it will boycott the Oscars due to outrage over Innocence of Muslims. Or at least that's the reasononing Iran's culture minister claims. Alyssa Rosenberg thinks there might be more to it. Either way, Iran won't be thrilled to hear that more film projects about Muhammad are in the works.
4. Theaters continue to struggle, with the iconic Lumiere Theatre in San Francisco and the Roxy Theater in Philadelphia darkening for good. A pair of designers believe new design thinking can help turn theaters around. Theater owners might also follow the branding advice of AMC Theaters' Shane Adams, who impressed many on Twitter last week. At least AMC and other theaters can continue to charge whatever high prices they want for snacks, thanks to a lawsuit dismissal.
5. There was a huge deal in the music business, as Universal Music Group finalized the acquisition of EMI Music's recorded music unit following European Union and US approval, which was contingent upon the new combo selling off some assets, including the contracts of some prominent artists. Even after that, Universal will end up with control of about 40% of the US and European music market and immense power over the future direction of the industry.
6. Alyssa Oursler insists that Pandora and other music services have nothing to worry about from the Universal deal, and Pandora's attention is elsewhere right now anyway, specifically on supporting a proposed bill called The Internet Radio Fairness Act that would lower streaming service royalty fees to put them par with what satellite radio and cable companies pay. Independent stations also support the bill.
7. There's a redesigned PlayStation 3 coming out, but don't expect to get a cheaper deal on a previous model. You can expect more mobile options from Sony, and Electronic Arts is also trying to take advantage of multi-platform gaming. You'll be able to play multiple Hobbit games on multiple platforms, and Sesame Street is also pointing the way toward the future of gaming.
8. Wal-mart won't be selling Kindles anymore. The stated reason why is somewhat vague, and it could just have to do with frustration with Amazon. Some readers are getting frustrated with higher e-book prices from Amazon, while Amazon will try to hook more with Kindle Serials. Amazon will have a new competitor thanks to a new e-book venture formed by Barry Diller and Scott Rudin.
9. Conditions at China's Foxconn factory, which makes the iPhone 5, got even worse, with a riot temporarily shutting down production. This has come at a tenuous time for China's corporate environment and raises larger questions about Chinese manufacturing, while Foxconn's owner is looking to expand his business efforts beyond the country. Apple insists it is improving foreign factory conditions.
10. Some of the finer News for TV Majors posts from the past few weeks: Cheers Oral History, Live TV Controversy, Auction Plans, The CW Signs With Nielsen Online, Dish Talking Internet TV, Changing Households, Variety Buyer, Cable Battles Consoles, Emmys Coverage, Female Employment, Netflix & A&E, Measuring Social Buzz, Tweeting Isn't Watching, Microsoft Hire, New BBC.