What Are You Missing? November 4-17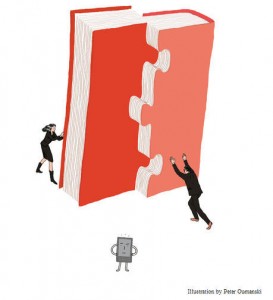 Ten (or more) media industry news items you might have missed recently:
1. Giant publishers Penguin and Random House are combining forces, a move which some say is absolutely necessary for survival against the onslaught of e-book competitors, and it's likely that consolidation will continue, with money rather than culture driving publishing. A new era is also heralded by the Macmillan Dictionary going online only.
2. Brooklyn is becoming a key moviegoing region, thanks to new ventures like a hybrid theater/DVD rental store/bar. Further south, Virginia has seen its status as a movie production region boosted through tax incentives, with Lincoln providing a model example. The loser in that scenario is Los Angeles, which has lost over 16,000 production jobs since 2004, and now LA stands to lose porn workers too.
3. It's shaping up to be a decent year at the movie box office, and there's also increasing money to be made in video-on-demand, foreign markets (though China's now a question mark), product placement, and branding.
4. Warner Bros. is beset by in-fighting, while Sony Pictures' financial struggles continue. And though Sony insists the studio's not for sale, Viacom's CEO says fine, we totally don't want to buy your stupid studio anyway. And now here comes Michael Eisner getting back in the game with Universal, which might mean…Are you sitting down? (Right, you're probably sitting at a computer)…a new Garbage Pail Kids movie.
5. 33% of North American peak residential downstream internet traffic now involves Netflix, but while Netflix's growth may have drawn some online video pirates away from BitTorrent, traffic via BitTorrent is still increasing. Mega is getting back in business in New Zealand, while Pirate Bay's founder, already in detention in Sweden, is looking at new charges.
6. Spotify's valuation just went down, but the music service has had a good 2012, with new investors and expansions and plans in place to rescue the music industry after it finally craters. Web radio is also doing well, though the battle over online royalties stands to get fiercer, and musicians are growing more dissatisfied with Pandora. The impact of such services on music fan habits is muddled, but at least one big label is now at a digital tipping point. And through it all, the hated Nickelback just keeps making bank.
7. You've heard this before: Console video game sales are down, the eleventh straight month of declines. Though the impending release of new generation consoles could break that streak, rumors are that there might not be as many physical games to buy soon anyway. But here's something new: good old-fashioned board games are growing in popularity, apparently sparked by online gaming and the desire for social alternatives.
8. Election night was a big internet and social media night, as Twitter and Facebook saw huge activity, and Instagram also made its mark. Google+? Not so much. President Obama spent considerably more on social media than his challenger did and took greater advantage of internet marketing and data, and Obama's tech team is getting high praise for its role in his re-election success.
9. Former Hollywood exec Peter Chernin has joined Twitter's board of directors, and it seems he has some catching up to do as he helps to plot a new future for the social media service. That future will include tweets from the Pope, though His Holiness might want to get on board with the impressive Tumblr too.
10. Some of the finer News for TV Majors posts from the past few weeks: Social Media Data, Amazon Money, Time-Shifting Down Too, ESPN's Tebow Obsession, TV Wars, First & Second Screens, +3 Compared to +7, +7 Ratings, House of Cards Trailer, New MTV Programmer, BBC Crisis, Fox News & the Election, Rove's Performance, Return of The Killing, Gay TV Impact.