What Are You Missing? January 6-19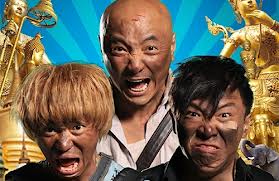 Ten (or more) media industry news items you might have missed recently.
1. China had a big box office year in 2012, though a good chunk of the revenue came from American studio imports, like Life of Pi. The Hangover-esque Chinese comedy Lost in Thailand has become the country's biggest domestic hit ever, though, and some expect the rise of China to global number one movie market status to come courtesy of shallow blockbusters.
2. Hollywood studios are turning to outside funding to support its films that aren't shallow blockbusters, while Disney is looking at budget cuts for everything. DreamWorks is still a great place to work, though. Video game makers want greater control over the films Hollywood makes from their properties, while Disney is meshing together gaming and its movies with the upcoming Disney Infinity game.
3. We're getting more info about Redbox Instant, which is expected to launch in March, because a group of users have gotten to beta test it. We know that it will be focused on movies, not TV shows, and Redbox's CEO also says the company won't abandon DVDs. But Austin Carr isn't impressed with the service.
4. Home video revenue finally rose a bit last year, halting a seven-year skid, with streaming getting most of the credit for the uptick. UltraViolet also continues to grow, and Walmart's "disc to digital" cloud service has been improved. Don't expect Amazon to extend its "Amazon-purchased CD to digital" plan to movies, though.
5. Amazon has also launched a new mp3 store targeted toward iPhone/iPod users, offering a shot across iTunes' bow. iTunes now has a partnership with Rolling Stone, whose iPad magazine will have links to Apple's music store. The blog Asymco has graphed the iTunes economy.
6. 2012 music sales indicate the CD's impending demise and the digital single's growth. Other trends revealed from the figures are that big hits take up an increasing share of download sales; rock and pop music dominated, though country music sales rose compared to 2011; and indie labels grabbed one-third of album sales.
7. The number of children reading books on digital devices is rising, though over half of kids still have never read an e-book. Libraries are also said to be losing their influence among children, but maybe video games at libraries can help. There's also a plan in the works in Texas for a bookless, all-digital library.
8. The Wii U is bringing in more revenue than the original Wii did in early sales, but that's only because it costs more. Nintendo's president says sales of the Wii U are "not bad," given the competitive landscape, and Nintendo is merging its console and handheld divisions to better deal with that landscape. Xbox 360 has finished its second year as the best-selling console, and Microsoft says that the next Xbox system will fill your living room with images to immerse you in games. And we can now say goodbye to the dominant console of the past, the Playstation 2, which will no longer be made.
9. Pingdom offers a slew of stats on how we used the internet around the world in 2012, from search to mobile to email, while Mashable has an infographic specifically on social media use in 2012. The FCC is looking to expand Wi-Fi spectrum space so we can do even more online in 2013, like look at video ads.
10. Some of the finer News for TV Majors posts from the past few weeks: Anger Management Returns, CNN-SI Change, OWN Hopes, Double Your FX, TCA & Twitter, The Killing Will Return, Dish & CBS Battle Ropes in CNET, Corrie Coming to Hulu, Five-0 Ending, Time-Shifted Viewing, Soap Revivals, Video Sharing Passed, Netflix & Ratings, Al Jazeera America, PBS at TCA, The CW at TCA, CBS & Showtime at TCA, Arrested Development at TCA, ABC at TCA, FX at TCA, Fox at TCA, NBC at TCA.