What Are You Missing? Jan 20-Feb 2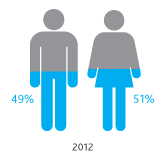 Ten (or more) media industry news items you might have missed recently:
1. The big news in Hollywood last week that caught many by surprise: Kevin Tsujihara was named CEO of Warner Bros. The studio is hopeful he'll bring stability, but especially digital distribution savvy. Also shooting for stability is MGM, which is reworking its credit line to free up more money, while 20th Century Fox also cut a new financing deal. Unrelated bonus link: a Nielsen demographic study of movie audiences.
2. Fruitvale was a big winner at Sundance, which Variety critics thought was a successful, if commercially inclined, festival this year. Also of note was the equal gender balance of directors in competition, a first for the festival. This is representative of a higher percentage of female directors active in independent cinema than Hollywood studio filmmaking, according to research shared at Sundance by USC researchers.
3. There are still some Blockbuster stores left to shutter, and sadly, 3,000 jobs will be lost in this latest round of closings. Stores are also closing in the UK. Dish is still backing the Blockbuster brand, though, with a new On Demand redesign coming. But iTunes rules the online On Demand world right now, while discs fight to maintain home video sale prominence.
4. The music industry is having trouble making streaming royalties worth it to musicians. Too bad they can't all enjoy a Super Bowl sales bump from being a halftime performer or make $8 million in ad deals like "Gangham Style" (though you have to watch out for sound-alikes) or have fans who are big pirates.
5. The company that supplied my very first video game console one lovely Christmas morning way back when has filed for bankruptcy, though apparently Atari hasn't been what it used to be for awhile now, and it will even sell the iconic logo. Some other gaming bummers: THQ is being dissolved, Disney is closing a game studio and laying off fifty people while shifting to a focus on mobile and social gaming, and weak Wii U sales and 3DS piracy are hurting Nintendo.
6. Despite those bummers, the video game industry's many challenges, and EA posting a recent loss, EA executives are optimistic about the future of console gaming. There's a new Xbox coming with more processing power, and we'll soon hear more about a new Playstation, though some think Sony should just move on from that platform's legacy.
7. Samsung is warning that major smartphone growth is over, but maybe the company's just bitter that Apple has surpassed it as top US phone vendor. The iPhone is declining in Asia, though, and Apple is losing tablet ground globally to Samsung and others. Apple's still doing good work with tax loopholes, though. And at least it's not BlackBerry.
8. France is having none of your English-language "hashtag" business on Twitter. For the French, "mot-dièse" will be the word for # on Twitter. (Mot-dièse means "sharp word," though a sharp symbol leans the other way than the hashtag symbol, but hey, quoi que). France is also demanding that Twitter identify users who tweet with racist and anti-Semitic hasht…er, mots-dièse. Back in the US, Twitter's dealing with a porn problem on the new Vine platform and is trying to censor porny hashtags. I doubt the French would respect that. #prudes 
9. GIFs are on the decline?!
10. Some of the finer News for TV Majors posts from the past few weeks: Soap Contract Conflicts, Glee's Song Theft, Super Bowl Ad Issue, Netflix Strategies, More on Netflix, 30 Rock Reflections, Spoiling Super Bowl Ads, CNN Changes, TWC & Dodgers, Aereo Update, The Following Criticism, Pilots Updates.
Programming note: Because I recently took on some new time-consuming duties, like Associate Online Editor for Cinema Journal, I've regretfully had to step away from WAYM for the time being. But don't fear: WAYM will still be here! Eric Hoyt's media industries course will be taking over for the rest of the semester on the regular bi-weekly schedule, and I can't wait to see what they can do with it. (Sage advice: When in need of a good link, Lionsgate and porn are always there for you.) See you later!