Rebooting Sex and the City: How The Franchise Carrie-s On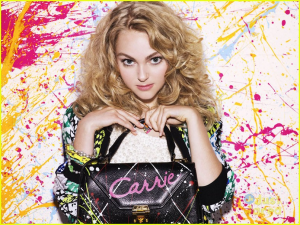 When we last saw Carrie Bradshaw, she was making her way across a desert on a camel. As we tried quickly to erase SATC 2 from our memories, a new iteration of television's single girl emerged to reboot the franchise. Last month, the CW premiered The Carrie Diaries, a prequel to HBO's Sex and the City series and ancillary juggernaut. Based on Candace Bushnell's spinoff YA books, the one-hour drama premiered as a midseason replacement for Gossip Girl. It follows Bradshaw (AnnaSophia Robb) as she navigates her teen years in a 1980s Connecticut suburb. Before Mr. Big and Vogue, a 16 year-old Carrie must deal with her mother's death, grieving father, rebellious younger sister, and the innocent relationships of high school.
The show's producing team combines SATC's creator (Candace Bushnell), GG alum (Josh Schwartz and Stephanie Savage), and former SATC writer turned showrunner (Amy B. Harris). The series chases the network's target audience and the CW teen drama formula. Yet, it also marks the SATC franchise's continued shelf life and ability to regenerate across multiple platforms and generations. Based on the first couple of episodes, The Carrie Diaries reflects three key aspects of contemporary franchising:
1. Cross-company convergence
The Sex and the City franchise history is a journey through Time Warner's various media divisions and institutional changes since the 1990s. Significantly, the franchise is flexible enough to work and adapt to the production practices and specific brands of three Time Warner divisions—HBO, New Line Cinema, and the CW. The SATC series (1998-2004) helped to build HBO's model for edgy and "quality" adult programming by focusing on the sex, relationships, and female friendships of Carrie, Samantha, Charlotte, and Miranda. After the series ended in 2004 it continued to benefit from strong DVD sales and syndication across Time Warner owned networks like TBS.
Within four years, SATC jumped to the big screen under Time Warner's New Line Cinema, a specialty division built on male-oriented genre and B films. New Line's management was restructured and a portion of the production schedule refocused on mid-budget female dramas and rom-com vehicles. Due to 2008 film's strong box office performance, many industry professionals argued historically overlooked and underserved female audiences were finally "Winning the B.O. Battle of the Sexes." New Line's cycle of romantic comedies released between 2008 and 2011 quickly cooled. The critically panned 2010 sequel underperformed and led Mr. Big himself to declare the film franchise is dead. Yet, SATC persists in spite of the movies. This is due largely to the expansion of Bradshaw's world beyond the initial series and away from its dependency on Sarah Jessica Parker.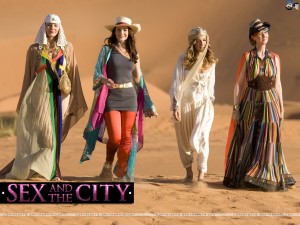 The Carries Diaries brings Bradshaw back to television. Launched in 2006, the CW (a joint venture between Warner Bros. Entertainment and CBS) built its brand and audience on young adult dramas targeted at 18-34 women. The series also follows the model of adapting popular young adult books (Gossip Girl and The Vampire Diaries) into one-hour serial dramas. Despite cries of diluting or sanitizing SATC into a bland rom-com or inconsistencies between the HBO and CW series, the SATC property is managed in a fairly organized and collaborative process across creative teams and Time Warner divisions. Most notably, the franchise fits a variety of institutions, platforms, and demographics from niche to mainstream to youth.
2) Cross-property "Carrie-overs"
Labeled a female icon and fashionista, Sarah Jessica Parker is synonymous with her TV character Carrie Bradshaw (as well as launching the cupcake trend and giant flower accessories). Yet, rebooting the franchise requires disconnecting its protagonist and the SATC universe from Parker. As illustrated by recent comic book film reboots, franchising practices are less about rebooting beloved stars and more about recreating story worlds (sadly, RDJ can't play Iron Man forever). So, how much of SATC is Carrie-d over? The Carrie Diaries relies heavily upon a few franchise conventions, namely the first person voiceover, fashion, and Manhattan. The central narrative device continues to be Carrie's voiceover. Her opening and closing monologue frames each episode, ties together storylines, and offers a look into a young writer's thoughts on love and friendship. Instead of a busy Manhattan lifestyle and casual sex, Carrie negotiates suburban teenage problems alongside her three friends (Mouse, Maggie, and Walt). The foursome navigates virginity, coming out, rivals, and breakups at their local diner. Her "Carrie style" voiceover wrap up the storylines by the final scene. Episode 2 ends not with Cosmos but complaining about their ex/boyfriends over peanut butter and crackers in Carrie's kitchen.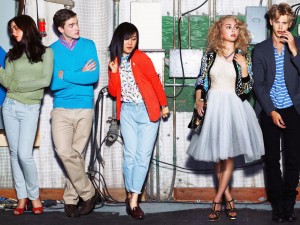 Carrie's budding relationship with Manhattan parallels the clumsy and alluring motions of teenage love. Due to an internship and unlikely friendship with a fashion stylist, Carrie takes audiences on a journey through 1980s New York (albeit a far less gritty and edgy one than most New Yorkers remember). This Carrie's Big Apple is based on a 1980s illusion of spandex, big hair, full skirts, and heavy cell phones.
3) Cross-generational access
The Carrie Diaries offers different access points into the franchise for Gen Xers, Millennials, teens, etc.. Familiarity with the HBO series is not necessary but does rewards knowledgeable viewers with "Carrie-overs." Yet, the show's central aim is to introduce Carrie Bradshaw to a new TV generation. SATC's post-film viability is its ability to appeal to different audience segments. (This accessibility is limited though, particularly considering how the franchise projects a narrow view of white girl privilege). The show capitalizes on contemporary 1980s nostalgia by featuring popular songs and period fashions. The costuming offers a level of access and participation for younger fans. As a departure from Parker's Bradshaw gracing Vogue, Robb's character has inspired a string of YouTube fashion guides (here; here). As part of a young female produced video genre offering fashion advice and online community, one key entry point for younger audiences has been these materials for fan interaction and consumption through digital platforms. Whether Dior or DIY, SATC still promotes female agency through consumerism.
One of the most significant features of this franchise is its adaptability and ability to transcend production models and multi-generational fan engagement within different industrial moments. In the end, it may be too soon to tell how The Carrie Diaries fares. Yet, I have my suspicions that we have not heard the last from Carrie Bradshaw.