Turning Twitter into Work: Digital Reporting at SCMS 2013
For the 2013 Society for Cinema and Media Studies conference, Cinema Journal established an official conference twitter account. @CJatSCMS was created as a way to report on and generate conversation at the conference and fits nicely with the CJ editorial team's goals of extending the "dialogue sphere" around the print journal. I had assumed that tweeting under an "official" title would be similar to tweeting under my own name. But I actually found the experience to be quite different, and therefore, instructive. Below I discuss a few things I learned:
Responsible Tweeting

In the past my approach to conference tweeting has been a mix of straightforward reportage, meta-commentary, and non-conference related conversations with fellow conference participants. But when tweeting under the @CJatSCMS handle, I took more time and care in composing each tweet, waiting until I found an effective and accurate way to summarize a point in 140 characters before hitting the enter key and keeping editorializing to a minimum. In other words, the pseudo anonymity of the @CJatSCMS account made me less concerned with my personal Twitter brand (i.e., snark) and more concerned with the transmission of information. Which is, I suppose, how it should always be when recounting the scholarship of others. Likewise, in the weeks leading up to the conference, everyone involved with the @CJatSCMS account agreed on a loose set of Best Practices (including requesting permission before tweeting panel/workshop content). Asking permission seemed to ease presenters' minds about the prospect of having their work reported to a broader audience.
Less Tweeting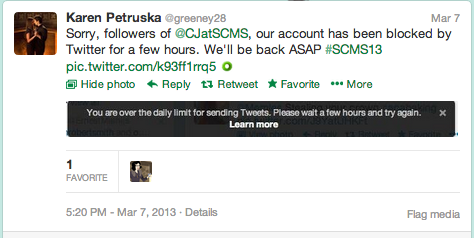 When live tweeting a TV event like the Oscars I generally aim for speed, volume, and humor. If you don't move fast, your voice gets lost in the furious river of tweets moving past your screen. In the past my conference tweeting followed a similar speed/volume model. However this time around I discovered that fewer tweets packed with more information (i.e., "thick tweets") are ultimately more useful in the conference setting since most people reading the Twitter stream are searching the conference hashtag (#scms13) for information, not a play-by-play. Indeed, the very conditions of the shared account forced me to lower my own tweet volume. On Thursday afternoon, when all five @CJatSCMS "reporters" were tweeting at full capacity (thus exceeding Twitter's 100 tweets per hour limit), we found ourselves locked out of the account (the dreaded "Twitter jail"). This meant that we all had to tweet more sparingly the next day, thinking even more carefully about what and when we would share information.
The Labor of Digital Reporting

As Suzanne Scott notes in a recent blog post about experiencing SCMS remotely: "SCMS is a space to test our new ideas, and learn from old ones, and it makes sense to develop a corresponding digital space that evokes those same principles that we embrace for 5 days a year in perpetuity." This year, more than any other, the digital space of the conference came to life for me. The official Twitter feed was a conduit for valuable scholarly exchanges, providing access to the conference to those not physically present, and then relaying their thoughts and questions back into the spaces of the conference. In many ways, I felt like I was part of an actual news team, with the attendant desire/responsibility to report on what was happening at each panel. Indeed, numerous panels and workshops at this year's conference (including "Publishing on Digital Platforms" [B21], "Digital Humanities and Film and Media Studies" [J23], and "Gender, Networking, Social Media, and Collegiality" [E23], to name just a few) were examining these questions of academic labor: what do we count as labor in the world of digital and social media, what is the "value" of that labor, and how do we document it? To me, live tweeting the conference felt like labor in the same way that serving as secretary for a university committee feels like labor.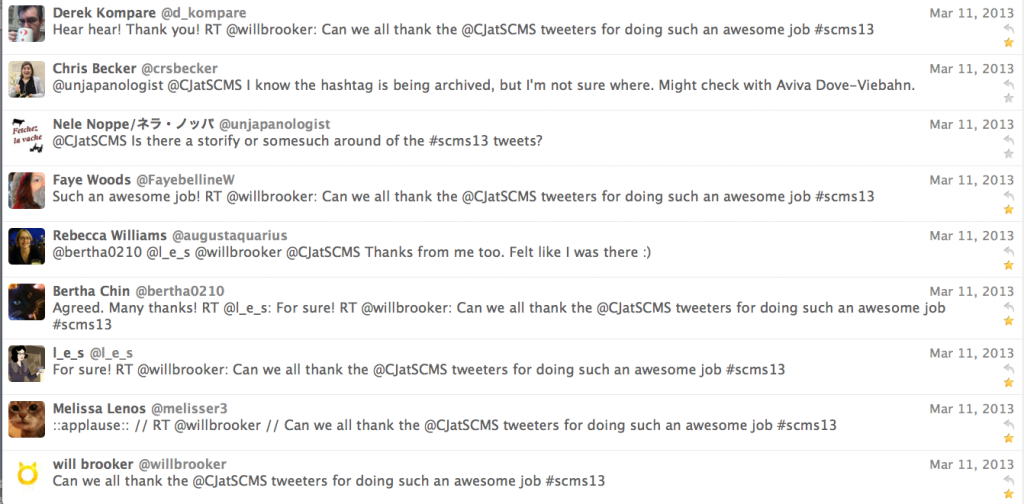 Ultimately, the experience of tweeting as a "CJ Reporter" has led me to reconsider the delicate work of tweeting about the scholarship of others, the necessity of establishing clear guidelines and best practices for conference tweeting, and the value of digital labor. I look forward to SCMS 2014, when hopefully even more groups — representing various academic journals, blogs, special interest groups, or even individual departments — will establish their own reporting teams. A proliferation of these group Twitter accounts at future conferences could encourage more rigorous online conversations about the scholarship being presented, generate twitter feeds that can tackle a more diverse range of panels and workshops, and, hopefully, further justify the value of the labor performed within the actual, and virtual, spaces of the conference (as well as our home institutions).