Letterman's "Stooge of the Night" and Late Night Politics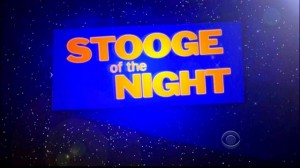 On April 22, Late Show host David Letterman introduced a new segment called "Stooge of the Night," targeting the 46 senators who voted "no" on the Manchin-Toomey gun control amendment. Each night Letterman identifies and attempts to shame a different senator, contrasting their vote with the percentage of constituents who support it ("Georgia Senator Johnny Isakson voted 'no' on gun reform legislation despite the fact that 91% of the voters in his state want background checks") or highlighting campaign donations to the senator made by pro-gun entities ("Remember, ladies and gentleman, there is no background check if you plan to buy a senator.")
"Stooge of the Night" may be pretty feeble stuff when compared to the biting progressive satire of Jon Stewart and Stephen Colbert. However, when considered within the context of network late night television, the segment is startlingly bold. Unlike Stewart and Colbert, who preach to the choir, network host Letterman's audience is a demographic mix that skews much older and more conservative than Comedy Central viewers. Late night talk shows tend to avoid overt commentary on political policy, particularly in such a direct, cringe-inducing manner. For "Stooge of the Night," the senator's official head shot and Twitter feed fills the screen for at least a full minute, an agonizingly long interval during which Letterman offers a few tame riffs ("[Iowa senator Chuck Grassley] enjoys ceramics, big band music, and his 'A' rating from the NRA"), but is also content to let the audience sit in awkward silence. ("Let's just leave that up there a little longer," Letterman says of the photo of Sen. Jim Inhofe's rictus, as the audience titters nervously.)
In a sense, Letterman's decision to enter this particular debate should be uncontroversial, as an estimated 90% of Americans support background checks on gun buyers. However, recent polls also suggest that only 65% of Americans believe the Senate should have passed the Manchin-Toomey amendment. And indeed, "Stooge of the Night" has drawn the ire of the conservative blogosphere. However, Letterman has already been targeted by conservatives for his alleged liberal bias, a charge that dates back to a 2009 monologue joke about Bristol Palin and Alex Rodriguez, which Sarah Palin (most likely willfully) misinterpreted to be a "sexually perverted" joke about the "rape" of 14-year-old Willow Palin. After that exchange led to Letterman's vilification by the conservative media, the host has continued to aggressively confront right-wing pundits like Bill O'Reilly and Donald Trump, while fawning over Rachel Maddow. (Having said that, Letterman has also not shied away from criticizing Democrats, for instance recently challenging Al Gore on the hypocrisy of selling Current TV to Al-Jazeera.)
With "Stooge of the Night" Letterman operates from a position of power, not only as arguably the most iconic late night host in television history behind Johnny Carson, but more importantly, as a man with job security. Unlike NBC, which forced Jay Leno to retire (again) to make room for Jimmy Fallon, CBS is allegedly content to allow Letterman to choose his own retirement date. Leno's impending departure offers Letterman the chance to top the ratings for the first time since Conan O'Brien took over The Tonight Show in 2009; Letterman could benefit from "the Jimmy wars," snatching up Leno's older viewership while the two younger hosts cannibalize each other's ratings.
Letterman's more confrontational political approach runs the risk of alienating conservative viewers, but it also offers a point of departure from the Jimmys, whose interactions with politicians are more obsequious and inoffensive (e.g., Fallon's "Mom Dancing" skit with the First Lady). Fallon's "nice guy" demeanor, similar to Leno's, may ultimately prove a better fit for the wide general audience sought by the networks – "Mom Dancing" has over 15 million hits on YouTube – but Letterman, even the checked-out Letterman of recent years, will continue to produce television that is frequently sharper and more thoughtful than his network competitors. Letterman's prickly personality and disdain for the celebrities he interviews has been his trademark from the beginning; applying this cantankerous attitude to politics adds an additional layer to the generally innocuous late night talk format, aligning it more closely with the popular Daily Show and Colbert Report.
Critic Ken Tucker argues that Letterman alone offers "a core of seriousness that has enabled [him] to surge ahead of his genre colleagues in moments of national drama, whether it's presidential politics or the entertainment industry's vexed reassertion into post-9/11 American culture." Bill Carter quotes an anonymous executive who wonders "how the younger hosts will handle being in the heat of a presidential election where they have to be accountable and ask tough questions." With his contract up in 2014, it's unclear if David Letterman will be around for another presidential election. But as one of Letterman's key comic strategies is excessive repetition (both of comedy bits and key phrases, extracted from their context) it seems likely that "Stooge of the Night," at least, will appear in all its awkward glory for at least another month.