The Post-Closet Politics of Smash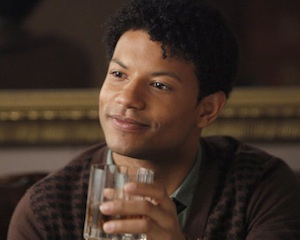 There's been some concern surrounding this month's cancellation of several network television series that featured gay and lesbian characters. For me, though, it's hard to get too worked up about it considering the dreadful quality of most of the axed shows. The only one I'll truly miss is NBC's high-profile ratings failure Smash, which concluded its second and final season this weekend. There's much that I loved about the ridiculous and flawed Broadway drama, starting with the RuPaul's Drag Race-worthy performance by Anjelica Huston. But there's even more about the series that I loved to hate — nothing and no one more so than Ellis. As the cartoonishly conniving assistant involved with the production of the Marilyn Monroe musical Bombshell, Ellis eavesdropped, schemed, meddled, manipulated, and poisoned his way to primetime infamy.
I was just as invested in hating Ellis, however, as in following the show's treatment of his sexuality. In contrast with its matter-of-fact presentation of everyone else's sexual identity, Smash began to draw curious attention to Ellis's sexuality in the pilot when Bombshell songwriters Julia and Tom debated whether he was gay or straight. She thought Ellis was straight; he believed Ellis's kitchen-organizing skills and interest in Monroe indicated otherwise. When viewers learned a few episodes later that Ellis was in a relationship with a woman, the information was presented like something of a "big reveal" intended to surprise viewers who assumed he was gay. (Unlike the show's other couples, he and his girlfriend Cynthia hadn't previously mentioned their relationship and were only shown hanging out like friends.)
The first season continued to toy with expectations about Ellis' sexuality, most notably when he slept with a man to advance his career. Prior to that storyline, E! revealed Ellis would soon have a "same-sex hookup," concluding: "So for all of you who were shocked Ellis had a girlfriend in the first place, this might end up to be the least shocking TV twist of all time. And solid proof your gaydar is not broken. Congrats!" While E! believed this sexual encounter proved Ellis was gay, many viewers contested this interpretation by arguing online that he seemed motivated by professional ambitions rather than hidden gay desire. It's the type of fan response I'd hoped for given that Smash didn't seem concerned with defining Ellis: he never bothered to clarify his sexual identity and didn't express confusion, discomfort, shame, or defensiveness about it. Such a depiction seemed capable of prompting viewers to think beyond binaries and stereotypes to accept that Ellis wasn't necessarily gay simply because he slept with a man, a point that actor Jaime Cepero similarly emphasized when talking about his character.
I was disappointed, then, that Smash went on to fix Ellis as gay after Cepero exited the cast following season one. Early in the second season Cynthia randomly reappeared to declare that she and Ellis parted ways: "Turns out he was kind of a psychopath. Also gay." Because this information served no purpose for plot development, it seemed solely intended as a wink to viewers who felt they had the savvy to read Ellis's "real" sexuality as gay. In turn it functioned to shut down the possibility that he wasn't gay, closing off much of the first season's interesting cultural work regarding sexuality.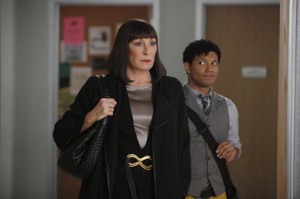 The show's decision to make Ellis gay fits Ron Becker's characterization of "post-closet TV," wherein the ubiquity of openly gay men on television has led to the notion that all gay men are out and, if they're not, they must be outed in order to maintain clarity in the distinction between gay and straight. It's particularly frustrating that Smash imposed a post-closet narrative on Ellis considering the different approach of season one. Taking advantage of gay men's expected presence in musical theater, the show featured more gay characters — and featured them more effortlessly — than any network series I've seen. Ellis's disruption to hegemonic thinking about sexuality was a welcome addition to a cast that was otherwise overwhelmingly normative with regards to both hetero- and homosexuality. The subsequent categorization of him as gay, then, was a disappointing reminder that even shows with significant gay inclusion rarely embrace queer sexualities and often demand just as much gay/straight clarity as shows that aren't so gay-friendly.
I should note that my opening comments weren't intended to dismiss concern over the dwindling numbers of gay and lesbian characters on television. But it's worth remembering that these numbers tend to fluctuate between seasons and that, though less true for lesbian representations, departing gay characters are often quickly replaced with new ones. (For instance, NBC just canceled the affluent gay white dads comedy The New Normal but picked up the affluent gay white dad comedy Sean Saves the World.) As a result, I worry more when television loses — or otherwise works to contain, as with Ellis — the rare characters that call for viewers to think past conventional categorizations of sexuality altogether.