Steven Soderbergh's Spectacular Un-Retirement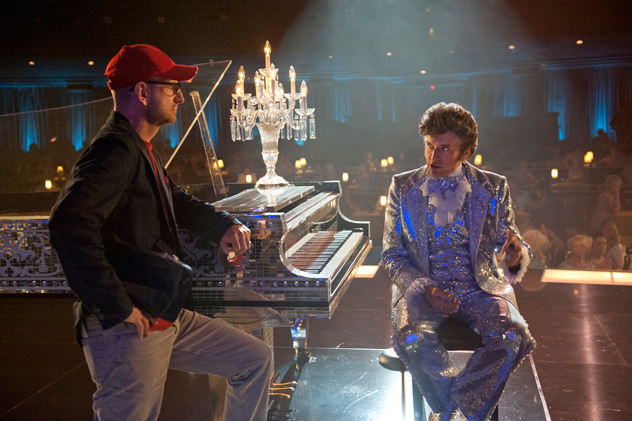 Since announcing his retirement from filmmaking, Steven Soderbergh amped up his famously prolific output, releasing a staggering eight films between 2009 and 2013. This phase contains some of the most-successful and best-reviewed works of his career, including Contagion, Magic Mike, Haywire, Side Effects, and the Liberace biopic Behind the Candelabra, which premiered in competition at the Cannes Film Festival last week.
With the airing of Candelabra – the highest rated film for HBO since 2004  – Soderbergh announced that while he sees this as his last movie, this does not mean that he is retiring from artistic ventures per se. Instead, the director has been setting the stage for his second-act as TV/stage director-painter-novelist-t-shirt entrepreneur and headphone designer-hyphenate.
Some of these roles are obviously on the traditional side of art and industry, as are his plans to direct for the Broadway stage – several plays that screenwriter partner Scott Z. Burns (The Informant!, Contagion, and Side Effects) wrote – and two musicals. The first of these is the inevitable stage adaptation of Magic Mike, slated for Broadway next season and which could feature audience participation in the form of lap dances. The director plans to stage his long-gestating Cleopatra musical, possibly starring Catherine Zeta-Jones.
The director's recent statements at the State of Cinema Address at the San Francisco Film Festival seemingly provide his rationale for leaving filmmaking. In the 45-minute speech, Soderbergh described the new conservatism of Hollywood Studios. In the current economic climate,  these risk-averse studios will not even fund pre-sold properties with A-list stars such as Michael Douglas and Matt Damon. According to the director, every studio turned Candelabra away, because the film was deemed "too gay."
Given the film's extremely positive reviews, its bravura performances by Michael Douglas and Matt Damon and its big numbers for HBO, Soderbergh may not simply be having the last laugh, but is leaving the film industry on a high note and under his own terms.
Citing the creative possibilities of the medium and the sophistication of TV audiences, it may not be too surprising that the director announced that he is migrating to the medium. First up, he will be making a ten-part series, entitled "The Knick" – a series which takes place in the Knickerbocker Hospital at the turn of the 20th Century for HBO affiliate, Cinemax. Soderbergh is also adapting John Barthes' cult 1960s novel The Sot-Weed Factor into a 12-episode series that he intends to either distribute through television or via Netflix.
Soderbergh is also exploring the creative possibilities of the Internet. One such project is his live-tweeting a spy novella entitled "Glue" via his twitter handle @bitchuation. The novella is distinguished by way of its second-person narration and is occasionally accentuated by pictures of its European setting.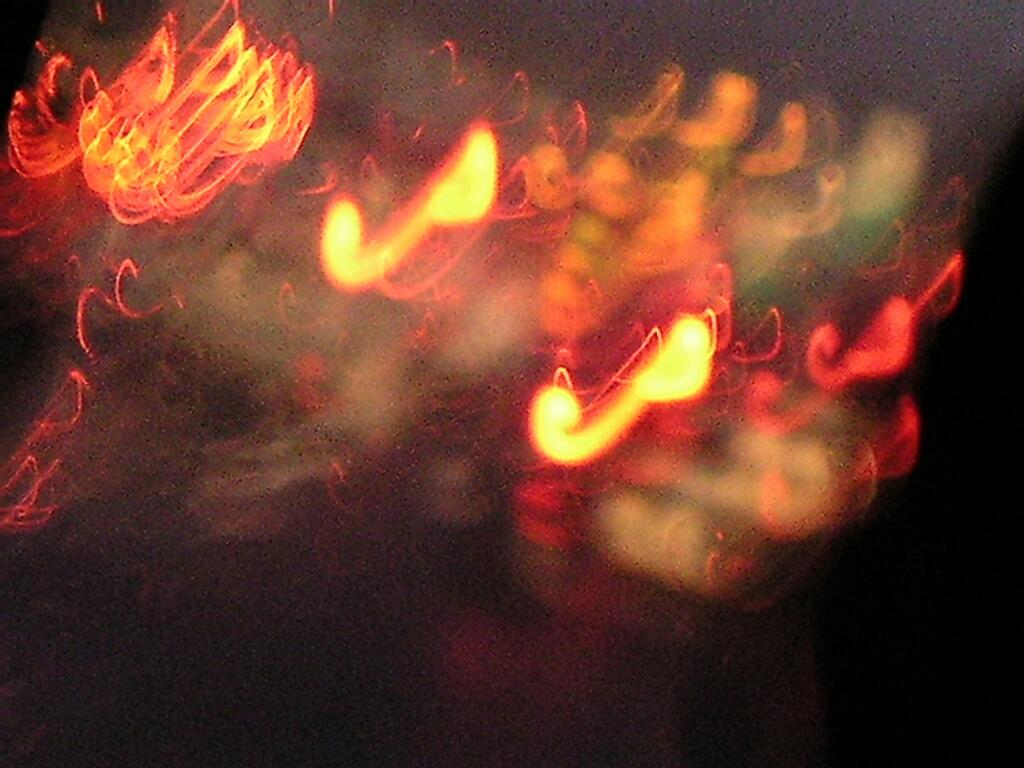 Perhaps even more strange is the release of Soderbergh's new website Extension 765 (itself an obscure reference to Francis Ford Coppola's The Conversation). The site is billed as a "One-of-a-kind marketplace from Steven Soderbergh" and fans can not only purchase souvenir items from his various productions (such as the clapboard from Erin Brockovich) but can also buy one of Soderbergh's new film-savvy line of T-Shirts, each of which contains an obscure reference to a canonical film.
Strangest of all is a page related to the director's enterprise as a would-be Bolivian liquor salesman – which consists of some purple prose describing the drink, a bizarre poster of Soderbergh as spokesman, and a brief video of a roller derby team in motion, rendered in the director's signature style. To my mind, the page and the website verge on the territory explored by Banksy in Exit Through the Gift-Shop and I would not be entirely surprised if, given the director's proclivity for experimentation combined with dry wit if the whole Bolivian liquor venture turned out to be the director's attempt to synthesize advertising, enterprise and art.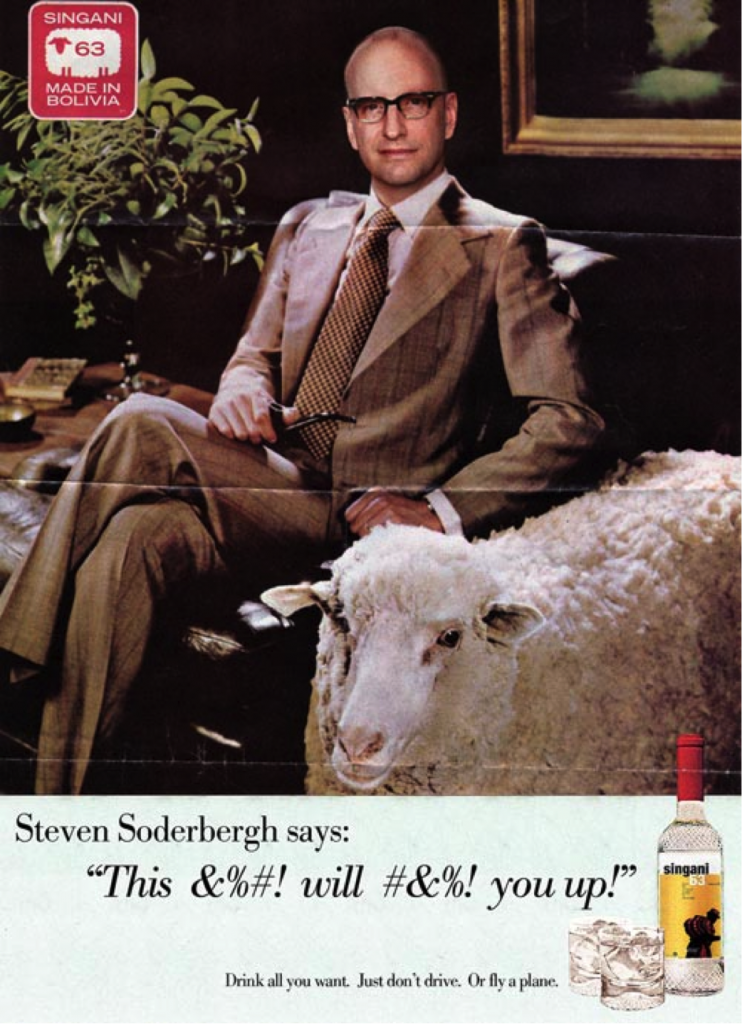 While many artists have famously crossed into other arts and enterprises and back again, what seems unique in this case is how determined Soderbergh is to free himself of the constraints of studio filmmaking at the height of their conservatism and find a new sandbox to play in. Perhaps one of the most distinguishing features of the director's career is his uncanny ability to be on the cutting edge of new technologies (which may also account for his desire to collaborate on a headphone line with the makers of the RED-one camera) and to ride ahead of the crest of industry trends. Perhaps even more ironically, Soderbergh's new role as a media polymath and industry soothsayer seems to have given Soderbergh some the best press of his career, not to mention the auteur status that has largely eluded him for most of his time as a filmmaker.
Clearly, Soderbergh is not going anywhere. Instead, he may simply be migrating to where he believes his audiences are, finding the best ways to interact with them — whether by way of television, via twitter or by simply inventing his own marketplace from scratch.