Send in the Clones: Tatiana Maslany vs. The Emmy Awards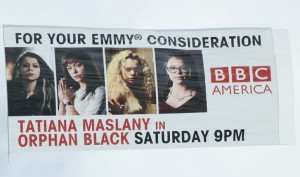 By the traditional logic of the Emmy Awards, Tatiana Maslany is the ultimate dark horse. The star of Space and BBC America's Orphan Black, where she plays over five different characters who are all clones of one another, faces a number of considerable handicaps: her low-rated series appears on a basic cable channel that isn't AMC or FX, genre shows have historically struggled at the Emmys, and I'm not sure there's ever been an actor or actress from a Canadian import nominated for an Emmy Award.
However, BBC America's campaign to earn Maslany an Emmy nomination comes at a time when the Academy's traditional logics—while still present—are being challenged by new spaces for Emmy campaigning. Regardless of whether or not the campaign to earn her a nomination is successful, Maslany offers a valuable case study for understanding the value of an Emmy nomination and strategies available to harness and/or generate that value for those connected to the television industry.
Although BBC America may lack the prestige that AMC and FX have tapped into in recent years, they are one of a number of cable outlets that see the Emmys as an opportunity for legitimation. In 2010, USA made a flashy push for Emmy attention by flying banners over Los Angeles; while they were supporting specific candidates, they were also reinforcing that they deserved to be part of the conversation. Although USA has been shut-out since breaking through with two acting nominations that year, their example—outlined by their executives here—is one that a channel like BBC America can follow as it moves away from airing imported series and begins building an original content brand based around shows like Orphan Black, Copper, and Ripper Street. Maslany's campaign came with its very own banner flying over Los Angeles pictured above, a splashy pronouncement not just for Maslany's performance but also for BBC America's desire to be perceived as an award-winning channel (outside of the marginalized miniseries category, where they have had success with imports The Hour and Luther).
Maslany's campaign also comes at a time when the Emmys are beginning to function similarly to the Oscars in terms of an "awards season." While the Screen Actors Guild and Golden Globes feature TV awards, they operate off-cycle from the Emmys, and happen too early in the year to function as clear precursors. However, the Broadcast Television Journalists Association has been bullish in promoting their Critics' Choice Television Awards as a predictor of Emmy success, scheduling their awards for the day Emmy ballots became available to voters and touting throughout their streaming webcast how many of last year's Emmy winners they had predicted, so as to spotlight their own legitimacy.
In truth, treating the CCTAs—or the long-standing Television Critics Association Awards, which have by default become part of the newly-formed "Emmy season"—as a precursor is ill-advised: the CCTA nominees are determined by small juries, and—like the TCAs—winners are voted on by a small, marginal membership with neither the Emmy crossover of the Screen Actors Guild members nor the decades of precedent held by the Golden Globes' Hollywood Foreign Press Association. However, they function as a promotional precursor by offering channels like BBC America a platform; even Maslany's nomination for a CCTA was a boost to BBC America's campaign, but her eventual win for Best Actress in a Drama Series offers considerable momentum for her Emmy campaign. It also doesn't hurt that a room of industry elites—read: Emmy voters—saw Maslany defeat Emmy champions Claire Danes and Julianna Margulies: chances are some of the looks of surprise in this video will increase the likelihood of curious actors or producers digging through their pile of channel-provided screeners to find out what the fuss is about.
That narrative of discovery is the ultimate goal of an Emmy campaign, but it doesn't only have to happen within the safe space of award shows or guild-sponsored Q&As or the pages of glossy Emmy inserts from industry trade journals. While fans have often led informal social media campaigns in support of particular shows or performers, BBC America has been actively pushing Maslany through their official Twitter accounts by highlighting nominations and retweeting praise from fans and critics as the first season unfolded this Spring. By actively encouraging fans to get involved in the campaign on platforms like Twitter or Tumblr—on which BBC America has also been active—in this way, the channel seeks to blend their promotional campaign with the existing grassroots fan community around the series, known affectionately as "#CloneClub," and as seen in this tweet from Maslany herself.
Although there is no clear evidence to suggest this kind of Twitter campaigning is reaching Emmy voters en masse, the #CloneClub has gained a few famous followers. Lost co-creator Damon Lindelof effusively praised Maslany's performance on Twitter; Patton Oswalt excitedly live-tweeted his experience watching the series and tweeted about his thrill at meeting Maslany at the CCTAs; both Shawn Ryan and Kevin Williamson tweeted about watching the series, the latter isolating Maslany's performance. Not all Emmy voters are likely tied into this community of industry professionals active on Twitter, but this convergence between industry and fandom nonetheless highlights the potential for buzz to translate to legitimate consideration.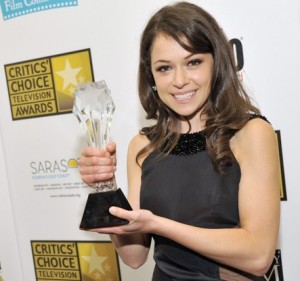 Odds are that the obstacles facing Orphan Black and Maslany will prove more difficult for the Academy to embrace: even if BBC America is flying banners over Los Angeles, and even if Maslany adds a TCA award to her CCTA, much of Maslany's buzz is isolated in critical communities likely only visible to a small niche of industry professionals whose influence within the mass popular vote-driven nominating process is limited. It's difficult, though, to root against something that would challenge the traditional logics of the often stodgy Emmys, and it's easy—if also somewhat optimistic—to imagine how the industry could embrace an underdog like Maslany when her example could open up doors for other performers, other channels, and other organizations that seek to acquire or determine television value.