What Are You Missing? June 10 – June 23
Before we get to the industry news, I would like to update you on WAYM news. I (Andrew Zolides, by the way) will be taking over the 'What Are You Missing?' Column. This will always be Chris Becker's column, but I want to sincerely thank her for giving me the opportunity to write this terrific feature. I hope to keep up the quality you'd expect from the column, providing a slew of news from a range of media industries, including film, television, digital, video games, music, and more. If you have any questions, comments, suggestions, or news you'd like to share, I'd like to encourage you to add those to the comments. With that, onto the news!
Ten (or more) media industry news items you might have missed recently.
1) Two weeks ago was E3 (Electronics Entertainment Expo), the largest trade fair for the video game industry, and, as usual, there were several major stories coming out of the event. The biggest seemed to be Sony's massive 'victory' over Microsoft in the press conferences focusing on each's next-generation entertainment consoles available this holiday, the PlayStation 4 and XBox One, respectively. Besides undercutting Microsoft's console by $100, Sony scored major consumer points by directly attacking Microsoft's announced DRM policies including a required internet connection and restrictions on sharing/loaning games. Sony was clearly feeling confident, releasing this humorous video of PlayStation execs showing people the 'complicated' process of sharing games on their new system:
2) Yet the even bigger news took place the week following E3, as Microsoft, following an outpouring of negative consumer and media feedback and loss of pre-sales on Amazon against the PlayStation, pulled a complete 180 on the XBox One's restrictive DRM policies. Gone are the regular on-line checks and restrictions on borrowing. While it is too early to tell if such a bold reversal will affect Microsoft's PR woes in the long-run, they have already overtaken the PS4 on UK Amazon pre-orders.
3) Fox Searchlight Pictures has lost a lawsuit brought against them by two interns on the film Black Swan after a Federal District Court found them in violation of minimum-wage laws for not paying the production interns who were treated essentially as regular employees. The judge found the environment too similar to a regular waged position and not enough of a training/educational program to be considered unpaid. While this is a massive victory for unpaid labor in the film and media industry, many have already noted this could become a landmark decision for future cases of internship exploitation in a variety of fields.
4) Attention bachelorettes: Rupert Murdoch will soon be back on the market. Murdoch and wife Wendi Deng have filed for divorce. While Deng and the couple's children will retain financial interest in News Corp, they do not get voting rights. In slightly less tabloid-y news, News Corp's publishing and entertainment arms have started trading separately as a preliminary stage before the official split later this month.
5) And just to keep things going on the TMZ-front, Kanye West and Kim Kardashian are now parents of a baby girl. More interestingly, this news came just one day after West's hotly anticipated new album, Yeezus, leaked to the internet, and three days before the album's official release. As expected, the child of Kanye and Kim has already learned the power of synergistic corporate marketing strategies.
6) More Netflix original programming is on the way, this time from the folks over at DreamWorks Animation. The deal involves over 300 hours of new content, making it the largest in Netflix's short history. This is part of a larger initiative from DreamWorks to branch out into the television marketplace. They are confident their TV deals (including Netflix) will generate $100m in revenue for the company.
7) Senior Senator John McCain has asked the FCC to research and consider the benefits of a la carte cable pricing. This is in line with proposals and urgings from McCain for years to offer more options to television consumers, including proposed legislation. McCain calls the current system restrictive saying in a letter to acting FCC Chair Mignon Clybrun, "This is wrong, and action should be taken."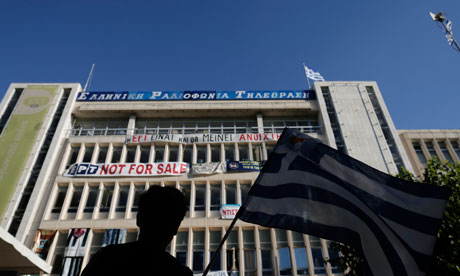 8) The economic and financial upheaval in Greece hit the media sector these past weeks after the government shut down public broadcaster Hellenic Broadcasting Corp. (ERT). The canceling of all state-run broadcasts and massive layoffs led to protests around the country, which eventually spread to other European broadcasters (including Britain, Spain, France, Germany, and Italy) signing a petition and speaking out. The movements proved successful, as the Greek PM Antonis Samaras offered to bring ERT back on air with a limited staff after a court reversed an early decision siding with Samaras.
9) This past week saw the annual Licensing Expo in Las Vegas, with the entire industry reporting growth of 2.5% in 2012 by bringing in approx. $110 billion. Disney has been the unchallenged king (or princess!) for years, ranking as the world's #1 licensor generating $39.4 billion. And they are only growing, with recent purchases of Marvel and Star Wars giving them six of the top 10 franchises worldwide.
10) Our tenth story is a bit of old fashioned rivalry between… talent agencies. An extended prank by William Morris Endeavor (WME) against rival Creative Artists Agency (CAA) saw the company put up posters around Hollywood featuring "CAAN'T" that parodied CAA's iconic white-on-red logo. The stunt even extended to t-shirts spotted in the background of the Today show and a website, caant.com. Unfortunately for us watching, Phase 2 of the ad blitz was shut-down, with the WME claiming it is "not worth it" and "The fun we had is done."
11) To end on a somber note, celebrated actor and terrific human being James Gandolfini passed away June 19, 2013 while vacationing in Italy. Best known for his work as Tony Soprano, Gandolfini's work extended beyond television to film, the stage, and even voice-work (see below). The outpour of tributes, honors, and reflections speaks more for how loved he was than I ever could alone. That said, I'll leave you this week with one of my favorite memories of his work: