ESPN, Wimbledon, and the Limits of Broadcasting Equality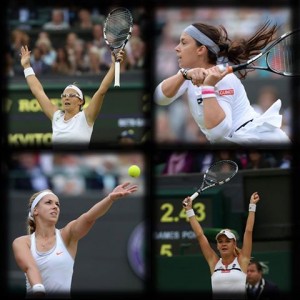 On Tuesday, ESPN debuted the first film in its Nine for IX series, focusing on women's equality in the sports world. The first entry, Venus Vs., documents tennis player Venus Williams' career and her role as a prominent advocate for equal prize money at the grand slam championships (which culminated in a battle against the establishment of Wimbledon, the last hold-outs despite an incredibly small margin between the men's and women's prizes).
I have a range of thoughts about Nine for IX, which is a step forward for the role of women in ESPN's 30 for 30 documentary series but also exists outside of the 30 for 30 series in a way that seems problematic: why does there have to be a distinct reason to highlight women in sports compared to the more general goals of 30 for 30, which should be equal across both genders? However, today's broadcast of the Wimbledon Women's Semi-Finals foregrounds this question of equality not only within sports, but also specifically within the broadcast coverage of those sports on channels like ESPN (which starting in 2012 became the exclusive television home of Wimbledon).
Today's 10th day of play at Wimbledon featured two pairs of semi-finals taking place simultaneously: the Women's Semi-Finals on Centre Court, and the Men's Doubles Semi-Finals on Court 1. ESPN's broadcast coverage was scheduled as the Women' Semi-Finals, with coverage of Court 1 streaming live online on ESPN3.com (where ESPN has featured streams of all televised courts throughout their coverage of the event). However, throughout the primary coverage of Marion Bartoli's routine victory over Kirsten Flipkens and Sabine Lisicki's tense three-set win over Agnieszka Radwanska, ESPN consistently shifted to Court 1 for key moments in the Bob and Mike Bryan's five-set win over Rohan Bopanna and Edouard Roger-Vasselin.
To be clear, these were not simply short, 15-second status updates encouraging viewers to check out the full match on ESPN3. These were also not short updates taking place during breaks of play on Centre Court, as though to ensure there was active tennis for as many consecutive minutes as possible during coverage. Rather, these were long interludes of play necessitating cross-court updates in the top right corner of the screen on the women's semi-final that was still ongoing on Centre Court, and in many cases still ongoing with tense back-and-forth tennis (specifically in the case of the Lisicki/Radwanska semi-final, which commentator Chrissie Evert lauded for its show of shot diversity and skill).
Some could argue that this decision speaks primarily to the ethnocentrism of ESPN's tennis coverage. With no American player advancing to the semi-finals after Serena Williams' exit in the Round of 16 and Sloane Stephens' quarter-final loss to Bartoli, ESPN lost a national narrative during what they likely saw as a particularly national timeslot on the morning of the Fourth of July. The Bryan Brothers are long-time stalwarts for American tennis internationally, and are also competing for their fourth-straight major title—ESPN's choice to highlight their efforts appealed to those who see tennis through the lens of those three-letter abbreviations after each player's name, some of whom took to Twitter to advocate for more coverage of the Bryan Brothers' match on nationalist grounds.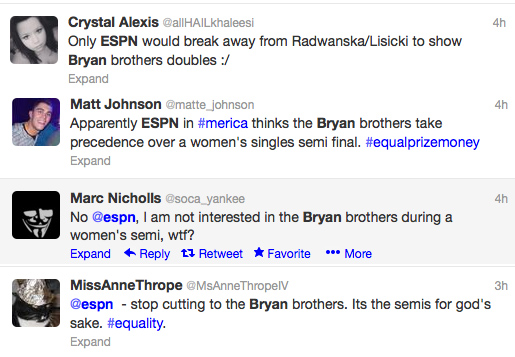 However, particularly only days after the debut of Nine for IX, it is hard not to see this as a blow against broadcast equality, a narrative also present on social media during ESPN's coverage as per the above image. What are the chances of ESPN cutting away from tomorrow's Men's Semi-Finals between Novak Djokovic and Juan Martin Del Potro to highlight the Women's Doubles Semi-Finals? Even if we explore the hypothetical of a prominent American women's doubles pairing like Liezel Huber and Lisa Raymond—who are no longer playing as a team—competing in the Women's event, would ESPN ever shift away from Andy Murray's quest to become the first British man since Fred Perry to win Wimbledon to document the American team's efforts to make the doubles final instead?
Within Venus Vs., director Ava DuVernay highlights many of the flawed arguments levied equal prize money and equality within tennis in general: men argued—and often still argue—the women's game is less taxing, less exciting, and less popular (both in terms of attendance and broadcast ratings). Various representatives of the WTA and women's tennis identified the flaws in these arguments, and in the case of broadcast ratings the counter-argument was that they were cyclical: sometimes women's tennis is a larger draw, and sometimes men's tennis is a larger draw.
However, I would argue that if we were to strip away the variables of nationhood and star power driving those cycles, ESPN and other broadcasters still believe men's tennis is inherently a larger draw than women's tennis. ESPN wouldn't have cut away from marquee matchups featuring players like Serena Williams or Maria Sharapova as they did the matchups between these four players, which demonstrates the respect that the highest-ranked—and most recognizable—players on the women's side have earned. With those players eliminated from the tournament, though, ESPN's broadcasting decisions reveal their respect for those marquee players has not trickled down to the underdogs, creating a scenario where a battle between the number four women's tennis player in the world seeking her second-straight Wimbledon final and a perpetual underdog trying to reach her first Wimbledon final is perceived as temporarily dispensable despite a high level of play.
It has long been common knowledge that ESPN's coverage will be dictated by a homerism toward American contenders and global stars: you could hear the ESPN executives' dismay when Williams and Stephens both exited, while the early exits of top contenders in both the Women's and Men's fields (Sharapova, Azarenka, Federer, Nadal) robbed them of many high-profile matchups later in the tournament. Today's coverage, however, reaffirmed the intersectionality of sports and sports broadcasting: while the potential for gender equality may exist, it depends on circumstances in which gender equality is properly incentivized relative to higher priorities (and other hierarchies), circumstances that were apparently absent during today's broadcast.