Comic-Con 2013: The Fan Convention as Industry Space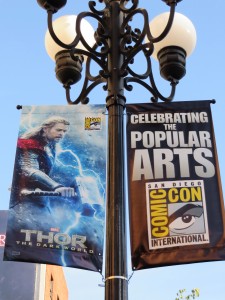 In early 1970, a small group of comic book, fantasy, and pop culture fans in San Diego founded the organization now known as Comic-Con International.  Following a one-day "minicon" in March of 1970, the group held the first Comic-Con that August in the basement of the U.S. Grant Hotel. In the forty-four summers since, Comic-Con has grown from a grassroots convention with three hundred in attendance to an event that draws over 130,000 attendees, occupies all 615,700 square feet of the San Diego Convention center, and even spreads out into adjoining hotels and large portions of the downtown core. Comic-Con's growth is so substantial that the convention center is on the verge of expanding in the hopes that they can provide a venue large enough keep the event in San Diego.  This comes as no surprise, given that Comic-Con brings approximately 180 million dollars in revenue to the city each year.  Jonah Weiland, editor of the Comic Book Resources website, provides an apt description, likening the event to "a city erupt[ing] inside a city."  As coverage of the event frequently suggests, the convention's growth is directly related to the increased recognition Comic-Con has received from the media industries as a promotional venue.
For many academics, Comic-Con provides a significant opportunity to study media audiences, as its diverse programming attracts an array of fandoms and subcultures.  But it is the massive marketing presence of the media industries (usually coded in trade and popular discourses as "Hollywood") that makes Comic-Con a unique space in which to examine a kind of corporeal convergence culture.  In this space, many of the more troubling implications of participatory culture, fan labor, media conglomeration, and horizontal and vertical integration collide in a messy, crowded, overgrown spectacle deeply rooted in the liveness and materiality of the event itself.  Despite what seems to be an ongoing ambivalence about the viability of Comic-Con's attendees as a demographic, Hollywood's marketing presence defines the event for many (whether they actively seek out this promotion, or bemoan the unavoidable impact of the accompanying crowds and spectacle).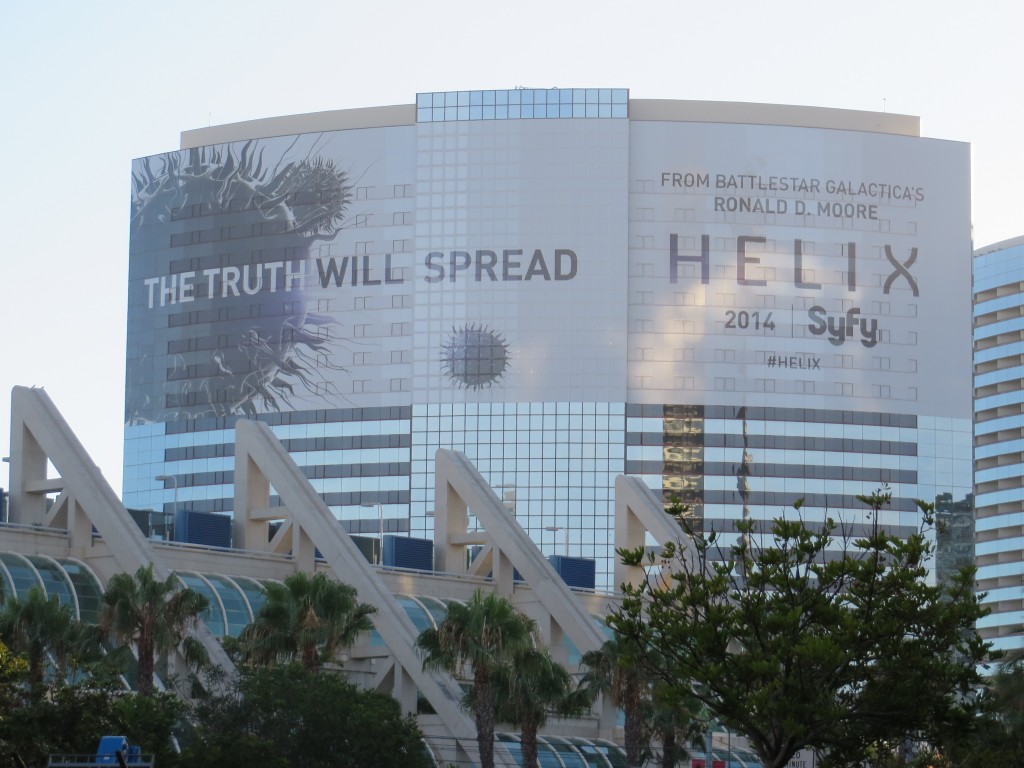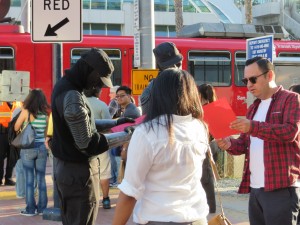 When I arrived yesterday, Comic-Con's preview night was already underway. As I approached downtown San Diego, I saw the iconic street banners which, this year, advertised Marvel's upcoming Captain America and Thor sequels, and, closer to the convention center, HBO's True Blood.  In the Gaslamp Quarter, restaurants and stores were occupied by Disney, SyFy, and NBC, elaborate off-site experiences promoting Godzilla and Ender's Game were already underway, a massive advertisement for the new SyFy show, Helix, covered the side of the Marriott Hotel, and within several minutes a masked man handed me an invitation to attend a "fan screening" of Escape Plan hosted by Sylvester Stallone and Arnold Schwarzenegger.  Well before I even set foot in the convention center, it was clear that even the space around it had been thoroughly colonized by industry promotion.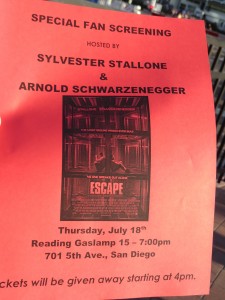 As Alisa Perren has pointed out, Comic-Con is so incredibly multi-faceted that one can hardly imagine a universal fan experience.  However, when it comes to Hollywood promotion at Comic-Con, a kind of controlled and universal experience is exactly the goal.  Even though Comic-Con caters to an array of fans and fandoms, this promotional presence works to reshape the event, visually and discursively, as an industry space.  But what are the implications of the media industries occupying what is coded as a space for fans as opposed to an industry trade show?  How do the particular promotional strategies employed at Comic-Con seek to mine, shape, and control fan culture, just as the industry reshapes the city of San Diego in its own image?  Finally, what can Comic-Con tell us about how media consumers, more broadly, are invited to engage with the media industries, their texts, and their paratexts?  My next post, after Comic-Con, will provide an overview of the event (as I experienced it) in an attempt to explore these questions.